When we started this research, very little was known about William Cowle other than that in 1900 he had bequeathed a small fortune to found and fund a Science Institute in Stroud - a trust still administered for the Stroud District (Cowle) Museum. In 2009, the museum's own archive had one surviving scrapbook and a few letters. That was it. Nothing was known of the man, or his background, or his family.
The ponyskin trunk
In the middle of 2012 we realised that 2013 would be the 140th anniversary of William's first auction of The Field estate. I asked the museum if it was time to celebrate the man who had funded it, and the museum staff agreed with enthusiasm. "And wouldn't it be nice to have a book, too, if we are having an exhibition?". This required a change of pace, and direction, when we were suddenly researching the man himself rather than his development of a new suburb for Stroud. Marion started writing, and Tony spent hours in Stroud library reading about what William had done as a member of the Local Board of Health. (This side of our research is in our book).
More people became involved as the exhibition took shape and in March 2013, through one of those tenuous links forged during this kind of research, we were offered a box of old papers that had been locked away for 100 years. The owner - a local auctioneer - knew that the box contained something about The Field estate but no more. Would we like to borrow the box? This is what we were lent:
When we got the box home I telephoned our go-between - the Stroud Local History Society's chairman Howard Beard who lives just up the road. "I'm on my way" he said and it was Howard who pulled the first clue out of the box when we started to unpack it. "This is a bank book" - he said - "Oh - it's William Cowle's bank book!".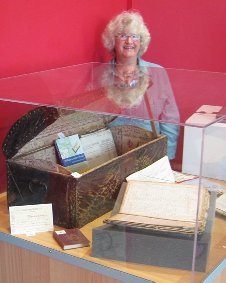 This was the beginning of an afternoon of astonishment as we took out envelopes marked "Cancelled Wills", "Not to be shown" (oooh!) then dozens of parchment indentures. Because the names were all familiar (to me at least) we soon identified them as the title deeds of the old White Hart inn in Stroud - owned by William's mother-in-law and bought by him when she died, and for The Field estate - including leases signed by the HAWKINS family and some 18thC papers from the ARUNDELL family. The oldest document is dated 1634. The most recent document is dated 1913. Nobody had looked at them since that date and - since William and Helen had no children - nobody had gone looking for them later. They were only rescued at all because they were in a locked iron box and the auctioneer responsible for clearing the building in 2011 was intrigued and had taken it home rather than have it put in the skip. He had finally got a locksmith to open the box, and moved the papers to a nicer trunk of his own, a few months before he heard about our research. This is what we call serendipity. I was grinning for days and, over course of the summer, Tony photographed every document in the trunk.
We soon worked out that the original iron box had belonged to Edward Davies, William's solicitor and executor in 1900, who must have locked everything away when he had finished tidying up William's estate. When Edward Davies died his legal practice was taken over by another firm of solicitors in Stroud, the deed box was pushed away in a strong room, the key was lost, and a hundred years went by.
Fortunately our book about William was still being written. The rescued documents confirmed many of the assumptions we had had to make about William's funding, and plans, so we did not have to start again and my husband John - then editing like mad - added a section about William's financial arrangements and huge overdraft. The ponyskin trunk and some of the deeds became exhibits at the exhibition. The auctioneer said he would like his trunk back please but very kindly said we should keep all the papers. In January 2014 Tony and I donated what we thought was the complete collection to the Museum in the Park in Stroud, and everyone was very satisfied. What an unexpected consequence.
Then in February 2014 the auctioneer telephoned again. He was very sorry but when he moved the papers out of the old box he had temporarily put some of them in a drawer and had just found them. Would I like to go and pick them up? By this time I was deep in compiling the digital archive, with a release deadline of 8th May. The new papers included William's chequebooks, his bank account book for The Field estate project itself, his notebooks and lists of payments made to the men who made all the roads, and individual receipts from Wilberforce Heelas, his solicitor, of deposits paid and final payments made for each of the lots sold at the 1873 auction. It was interesting to note that William charged interest for late payments but, apart from making a quick and partial inventory for the FEWC archive (filed in folder 000W), that is as far as I have been able to get for now. When the digital archive is finally put to bed, and out on the internet, I shall revisit, and update this page.