This is one section of a series of essays about the people who owned the land in Gloucestershire on which our house was built. The title deeds of our house took me to the grandchildren, and the grandchildren took me into the Bay of Bengal and a Wiltshire vicarage. The links on the left help you navigate around this page, or return to the separate home pages for Families, and The Field Estate.
Although my research was supposed to concentrate on the Hawkins family, the Calland family turned out to be so ... idiosyncratic ... that there was a lot to discover in the contemporary newspapers, and the later censuses revealed the odd scandal. So, although this chapter continues the story of John Calland when he returned from Madras, and the lives of his sons, I have added links to separate pages containing biographical details about of his ancestors and the many Calland children and grandchildren. The drill-down links are in the text, and also in the left-hand margin.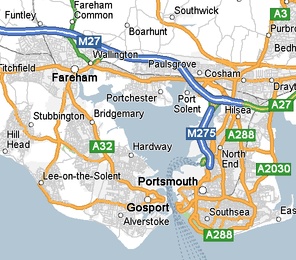 When John Calland returned in disgrace, but rich, from his employment with the East India Company in Madras (click here for the story), he went straight back to Alverstoke - the town on the Solent that he had left twenty-five years earlier. His father had died and it is possible that John and his small family lived in one of the three Gosport High Street houses which his father had left to his brother Robert in his very uneven will (details in the Madras chapter). Whatever the short-term arrangement, John and Elizabeth lived for a few years in and around Alverstoke and Fareham.
This was probably all a shock for Elizabeth Calland. Her father, John de MORGAN, had been the Governor of Fort St George in Madras and Elizabeth was born out in India in 1734 and baptised, at Fort St David, in 1737.
She had been married twice and widowed twice out there before she met and married John Calland. I do not know if her trip to England was the first time she had ever left India but travelling with her baby daughter Sarah on a sea voyage which usually took six months could not have been easy for her. She and John had already lost two daughters and baptised two other children out in Tamil Nadu: John (bapt 1763) and Sarah (bapt 1768). They now had three more sons, all born and baptised in Hampshire: Charles bapt Nov 1771 at Alverstoke, George bapt May 1772 at Fareham and Augustus bapt June 1773 at Fareham.
I tried to find John Calland's immediate ancestors. If you would like to read about them, please click here, or the drill-down link on the left, to open a separate page. You can get back again easily. There are quite a few different Johns in this story so, from now on, where necessary, I shall use 'Madras John' to identify our John Calland.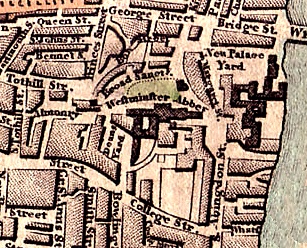 Having found his English legs again, and sent his eldest son John off to Trinity College Oxford, John Calland moved to London to register his younger sons at Westminster school. Charles, George and Augustus all started there on 12th January 1784. The Westminster school records show that and John and Elizabeth were nicely settled in Abingdon Street, Westminster. This 1801 map by John Fairburn shows exactly where they lived.
John Calland now started making serious plans to invest some of his money. Just up the road, in New Palace Yard, a young solicitor called Samuel HAWKINS specialised in ecclesiastical and East India Company work, and the two men met. The story of Samuel Hawkins and Sarah Calland has its own chapter but Samuel quickly got busy on John's behalf.
One of Madras John's early concerns was finding a living for his eldest son. Literally so, because his son, also named John, had been ordained as a deacon in 1786. By 1791, the Revd John Calland was installed as Rector of Bentworth church by the simple process of Madras John having bought the job and the whole rectory for £7,000. This was, in fact, the second living which Madras John had bought but unfortunately the person who sold him the first one - at Bletchingley, Surrey - had not been entitled to do so. The 1796 appeal Calland v Troward, in the Court of Common Pleas was later reported in English Law Reports [on Google books]. Richard Troward, having received £7,000 of 'lawful money of Great Britain' from John Calland, had sold 'the advowson, donation, free disposition, and right of patronage and presentation in and to the rectory, parsonage, or parish church of Bletchingley, with all its appurtenances'. Unfortunately, the previous owner of the rectory had subsequently been made a bishop and the right to dispose of the living was automatically passed to the monarch, who had given it to somebody else. So Madras John now wanted his money back. In fact he demanded £10,000. The judgement goes on for pages, with precedents and arguments being chewed thoroughly and the judge saying 'we all remember the case of the Grocers' Company v The Archbishop of Canterbury'. Then, abruptly, 'judgement for the Plaintiff'. So that's alright, but if Madras John could pay out a second £7,000 without getting the first one back it is an indication of the size of his bank balance.
John now set about sorting out his son George. In later family notes (once on www rivenhall.org.uk at just the right time for these essays, but (2014) the website is no longer available) Robert Hawkins describes George as a handsome, very strong six-footer and his father decided that the senior regiment of the Household Cavalry was the right place for him. The London Gazette of 16th November 1790 reported his appointment as 'Lieutenant, 2nd Regiment of Lifeguards, by purchase', followed in December 1792 by promotion to Captain, by purchase. So that was George settled.
I think Charles was earmarked to manage his father's planned new businesses because Charles, who matriculated from Christ's Church Oxford in 1788, was admitted to Lincoln's Inn in 1789, and then settled into Samuel Hawkin's Pall Mall office as a junior solicitor. John now started spending serious money. The papers of the Calland investments in Wales - and of the connected Popkins - are stored at the West Glamorgan archive service, whose online catalogue gives a good idea of what was going on, so I shall not repeat all the details here.
Samuel Hawkins (solicitor and now son-in-law) had been at school with a John Bennett POPKIN, a Welshman whose family had long owned a chunk of Glamorganshire. In 1730 Robert Popkin had been granted a lease to work coal and iron in Llanrhidian parish, and the family was still mining - or at least receiving regular income from other people doing the actual digging. In 1783 John Popkin had had to mortgage the estate, and within ten years a series of lawsuits meant that he quickly had to sell it. Samuel was acting on his behalf and the fact that John Calland bought what was known as the Forrest Estate makes me assume that Samuel arranged it. The title to the land had been piecemeal and complicated and the subsequent legal struggle became a textbook example [fortunately for us! - search for Popkin +Forest to find many internet hits]. It seems that some of the original estate had been held as copyhold from the Duke of Beaufort. This land was all bundled in when John Calland bought the estate and all was quiet until a canal was planned across part of the estate and the Duke of Beaufort realised he could be losing out. The following transcript describes the subsequent events, and neatly jumps us over to John Calland's next lawsuit:
The English Reports in Law and Equity by Edmund Hatch Bennett, pub 1854 Boston Mass [on Google books] contains the Beaufort v Patrick case description, which nicely groups familiar names:
"In the year 1783, Popkin mortgaged an estate called the Forest estate, which included the copyhold lands and hereditaments comprised in the lease to Morris, to John Parry in trust for Albany Wallis. In the years 1793 and 1794, orders were made, in a suit against Popkin, for the sale of the Forest estate. In 1800, John Calland was declared the purchaser, and having paid the purchase money was let into possession. The particulars of sale under which Calland bought, were prepared after the canal act had been passed, but before the canal would be made through the estate. Calland died in 1803, having devised the estate to the defendants. The purchase was finally completed, in pursuance of an order made in the suit, dated the 22d of February, 1822, and on the 27th December 1827, the customary heirs of John Parry surrendered to the use of Calland and Hawkins "all and singular, the customary messuages, lands and heraditaments, surrendered by John Bennett Popkin, to the use of Albany Wallis, his heirs and assigns, at a court holden for the said manor on or about the 4th of April 1783. Popkin died in 1804. In the year 1808 the agent of the duke wrote and sent a letter to the solicitors of the devisees under Calland's will, in which the following passage occurs:- "If you can give me any information upon the subject of the consideration to be paid by the Duke of Beaufort for the land taken from Mr Popkin's property, it will be very acceptable, as the business must now be brought to a conclusion, either by a settlement between the parties interested, or by calling out the commissioners."
John Calland might have brought a guilty conscience back with him when he returned to Madras. Or maybe it was the heady delight of having more money than he could possibly spend on himself. For whatever reason, he was a generous and clearly impulsive man. When Samuel and Sarah married, it can only have been he who set them up in a house in Pall Mall and I suspect that he bought and furnished the huge house in Finchley which was put up for sale in 1800 (described in the Samuel and Sarah chapter). In 1768 John had travelled back from Madras with his wife's sister and her family. Susanna de Morgan had married a Campbell - Colonel Charles Campbell of Barbreck. The de Morgan's are easily traced on-line, as is the story of the Campbells of Barbreck [see bibiography below]. At some point, Madras John lent a considerable sum of money to Charles Campbell, who died suddenly and much in debt, leaving a son Donald to face the music. In 1796 John Calland was in court again, this time chasing Donald Campbell and this time in Scotland:
from Decisions of the Court of sessions, from 1752 to (1808) By Faculty of Advocates (Scotland) Published 1798 [on Google books]
No CCXXI, June 10 1796; JOHN CALLAND and his Attorney AGAINST DONALD CAMPBELL
Act 1695, c.24 :- An heir-apparent does not incur a passive title by purchasing a debt affecting the estate of his ancestor, unless he possess the estate in consequence of it.
"Colonel Campbell of Barbreck having died much in debt, Captain Donald Campbell, his eldest son, declined representing him, and brought a sale of the estate, as apparent heir. He afterwards entered into a transaction with John Calland of London, by which the latter agreed to make over to him certain heritable and personal bonds due by Colonel Campbell, in return for some contingent securities which Captain Campbell held from the Earl of Glencairn.
"The transaction was preceded by a communing for several months, and it was completed by the parties themselves in London without the presence of any person acquainted with the law of Scotland, by missives, obliging themselves to grant regular conveyances of the securities hinc inde.
"Captain Campbell afterwards became apprehensive, that the acquisiting of Calland's debt would involve him in a passive title, in terms of the act 1795, c 24, and refused to grant the conveyances on his part. After this, Calland brought an action against him for implement, in which he contended, that as the transaction was fair and deliberate, its validity could not be affected by its having consequences of which the parties were not aware at the time." ... muttering and a page of precedents and then ... "The defender, by bringing the estate to sale, had acted fairly and had constitued himself trustee for all concerned ... Found the defender bound to fulfil the agreement entered into with the pursuer, in terms libelled."
Calland 2: opposition Nil.
The visit by Donald Campbell to London may well be the one during which he stabbed Charles Calland - I describe that event later, in the paragraphs about Charles.
If you have already read the Hawkins chapter you will recognise the name 'the Earl of Glencairn' - he was a godfather at the baptism of Samuel and Sarah's eldest son John. I do not know if Madras John already knew the Earl and Countess of Glencairn and had separately lent money to the Earl, or if the following case was connected with the Campbell case, but yet another lawsuit was reported in the newspapers, this time it was The Times of Fri 9 Jun 1797 - the cutting is here, on the right:
Thousands of pounds was at stake again, and this time John was not so lucky. It seems that he had taken out an insurance policy on the life of the Earl - a man apparently in his prime - who had then suddenly died. Since the policy was to cover the eventuality of the Earl's death within one year, this was a bit suspicious and the insurance underwriters refused to pay up. John took them to court. The newspaper report explains it all clearly. John Calland produced witnesses to say how the Earl was in excellent health, and the defendants produced other witnesses to say he was not in good health and therefore the policy was null and void. This time, the court found for the defendant. Calland 2: opposition 1.
In 1785 John's daughter Sarah was in Paris, sponsored and chaperoned by her mother's sister, now a Campbell and a lady in waiting at the royal Court. There is a prized letter transcribed by David Nash which describes Sarah's meeting with Queen Marie Antoinette. Sarah Charlotte Poulleau, (nee Hawkins) wrote:
"Our dearest Mother often related the following episode of her life: -
During Louis 16th's reign, Mrs.Campbell our Mother's Aunt, had a 'tabouret a la cour', that is to say, she was a lady of honour to the Queen, the interesting and unfortunate Marie Antoinette; needless to add that she was in the very best French society and just the person, both from her position and natural taste and acquirements to carry out the views of our Grandfather and Grandmother, which were to give the last polish to their daughter who had received a distinguished education in one of the fashionable schools of the time.
A very handsome allowance was made by our Grandfather [John Calland] to Mrs. Campbell for his daughter. But our Mother often amused us by saying that her Aunt did not scruple to spend a part of it in having her diamonds, which were very valuable, newly set. When all was in readiness, our Mother was presented to the Queen. Her costume was as follows: -

The hair powdered, brushed off the forehead and falling in long curls on the neck and shoulders with pink and white roses intermingled. The dress was of rich brocaded silk, wreaths of pink roses on a white ground the under skirt of blue silk trimmed with lace, the upper skirt looped up all round with bouquets of roses the body trimmed in the same manner, finishing in a long point. The ornaments were two small watches, one set in turquoises, the other in rubies, hanging on each side to a chain which linked the two.
Marie Antoinette was pleased to remark her and said these words to her Aunt: - 'Mademoiselle votre niece est charmante; il lui faudrait seulement un peu de rouge et deux mouches.' At the next drawing room our Mother appeared having followed the feminine advice of the dear Queen who this time said: 'Mademoiselle votre niece est ravissante.'
Soon after this our Mother's education being accomplished, she returned to her Father and Mother in England and was, before long, united to Samuel Hawkins, then practising as a solicitor in London, (1787)."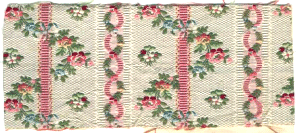 This is one of the Hawkins family's favourite stories, of course. One of the family chroniclers with whom I had been swapping transcripts triumphantly tracked down and bought a portrait of Sarah that had just been sold on eBay, and he sent me these two images. When the portrait was delivered he had found a labelled piece of cloth stuck to the back. It was a snippet from Sarah's silk dress, so we know exactly what she wore.
Madras John and Elizabeth had moved to live at 91 Sloane Street, Chelsea, south of Hyde Park and just north of Sloan Square. Until the 1770s this district had been mostly fields and market gardens, part of the Cadogen estate, now it is home to establishments like Harvey Nichols, Louis Vuitton, Gucci, Jimmy Choo and the Peruvian Embassy. In June 2009 Liberty's was unexpectedly offered £700,000 for its lease and a 6-bedroom house could be rented for £4,000 per week. How John Calland would have loved that.
The original development was planned as a whole, with Henry Holland as the builder and his son Henry as the architect. Sloane Street itself was to be 80 ft wide and all the houses would have a similar frontage, with no bay windows or 'any other projections except door-cases, porticoes and iron railings'. You can find details and a photograph at British History Online. The Life Guards' barracks - where George was now a Major - were on the south-west corner of Sloane Square, which might have been a reason for moving there.
The Welsh business was up and running. John and his sons had meetings in London and in Swansea and appointed a local manager and agent - Samuel Bordell - who dealt with the daily running of the business. Their coal works were rented out, new pits were sunk, they leased a wharf at Swansea and owned copper-bearing land there, they had an agreement with the Birmingham Mining and Copper Company to extract coal, culm and ironstone from a 113-acre site at Llansamlet; they sold timber, they owned houses and farms and industrial property.The papers stored at Swansea show that the business was still actively under the control of the Calland family in the 1890s, and in 1847 though Isambard Kingdom Brunel built a viaduct to carry his railway across the river Tawe and Calland land:
At the end of 1800 the young Revd John Calland died suddenly. His parents must have been greatly affected. After the deaths of their two little daughters whilst they were still living in Madras they had managed to keep all their other children healthy and had not suffered the loss of teenagers or young adults which blighted so many families. John and Elizabeth arranged for a memorial to be placed in Bentworth Church, where they had had such hopes of a Calland clergy dynasty. But John Calland did not change his will.
It seems that most of John's Madras booty was invested in Wales. He had houses in London - one in Harley Street was generating a regular rental income - and the University of Nottingham online catalogue has an intriguing document concerning an annuity of £400, with insurance cover, arranged by Robert Arundell Viscount Galway in favour of John Calland, but this annuity is not mentioned in John's will. The Arundell name was unexpected. For months I had been tracking links between the Stroud Arundel family and the wife of John's grandson and then this popped up. Nottingham is a long drive from here so I decided to take it no further. Someone else can go and have a look.
John Calland of Madras died in March 1803. I do not know the exact date but his death was reported in Jackson's Oxford Journal of 19th March. He had made a will in May 1800, before his son John died, but he had not changed it, so his wishes for the disposition of the rectory are still included. The will discloses more loans - one to the another to the Earl of Buckinghamshire, whose son had become the Governor of Madras in the 1790s - I can find no other connection. It is possible to buy a .pdf copy of the will from the National Archives - for £3.50 who could resist that? Not me.
John's will is full of strict instructions, and he pretty much says to each member of his family - even his wife! - 'if you don't do this by then, or don't agree, then you will get nothing'. He says that a balance of £14,000 is due to complete the purchase of the Forest Estate, to be paid as soon as title has been confirmed. Someone only described as 'Sir Robert Baronet' was involved. The Canterbury court's copy clerk had a flourishing but clear writing style (once you get your eye attuned). This is what was said: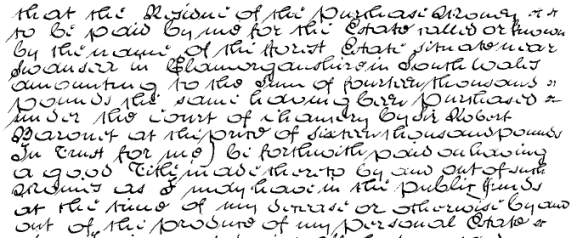 "that the Residue of the purchase money to be paid by me for the Estate called or known by the name of the fforest Estate situate near Swansea in Glamorganshire in South Wales, amounting to the sum of £14,000 (the same having been purchased under the Court of Chancery by Sir Robert Baronet at the price of £16,000 In Trust for me) be forthwith paid on having a good Title made thereto by and out of such Monies as I may have in the public ffunds at the time of my decease or otherwise by and out of the produce of my personal Estate"
The next clause concerns Elizabeth. Its wording illustrates that John had finally learned a lesson from his generous loans to others. She was to get a tax-paid income of £400 pa from the Forest Estate, payments to be made each Quarter Day. If she was not paid within 21 days, she could seize goods and impound them until she was paid. If payment was still outstanding after 40 days, she could commandeer all the income from the Estate until her debt, and her costs in retrieving the debt, were paid. But if she did not agree that these bequests were in complete accordance with their own marriage settlement then she would get nothing
Once Elizabeth had been paid, the remainder of the income from the Forest Estate was to be shared equally between the sons John, Charles, George and Augustus, and the fifth part was to be administered by the sons and Samuel for the sole use and benefit of Sarah. John was reminding Samuel of the pre-nuptual agreement they had all signed in 1787.
The living and rectory at Bentworth was to be somehow kept in the family. John has a series of tortuous clauses which boil down to: if son John has a son who wants to go into the Church, then he should have it, and his son should have first refusal. Otherwise, in age order, Charles' son, or his son, and so on through the family. I checked the Church of England clergy database - someone called Joshua Smith was Rector at Bentworth from 1801, until 1829. Unless the Revd John's will arranged otherwise, it looks as though the surviving sons quietly sold the benefit.
The next significant clause concerned a £5,000 life insurance policy on the life of the Dowager Countess of Glencairn which, when paid out, is to be invested in 3% Consols. Hah! He didn't give up, did he?
Footnote: Whilst researching the Glencairns, I discovered that they had a family house at Osborne, on the Isle of Wight. Since the Glencairns were friends of Samuel's and god-parents to at least two of Samuel's children, this may well explain the regular visits to, and mentions of, the Isle of Wight in the Hawkins children's lives.
This next clause suggests that the Earl of Buckinghamshire owed money to John: "The £500pa annuity due to me during the lives of George Earl of Buckinghamshire and his wife Albinia is to be divided four fifths to my four sons, share and share alike, as tenants in common, one fifth to my executors for Sarah, her husband and their children".
The rest of the will is a series of straightforward bequests from a generous and even-handed father. Here is a summary:
My twelve shares of one hundred pounds each in the Swansea Canal are to be divided as follows: four shares to Charles, four shares to Augustus, four shares in trust for Sarah, her husband and their children;
my ten Shares of one hundred pounds each in the Ellesmere Canal I give and bequeath five shares thereof to son John, five shares to son George;
to my son-in-law Samuel HAWKINS I give all monies that may be due from him to me, and discharge him and his heirs from the payment of any part thereof;
to my son John I give my Gold watch by Ellicott with the chain and Seals and also my Cluster Diamond Ring, and the plate Household Goods ffurniture pictures Books Linen China and Earthenware from and after the decease of my said wife
Sarah already has her mother's pearls, and Charles gets to choose one each of my other rings and watches, George and Augustus will then equally divide and share the rest;
to Mrs Poole[?] of ffarnham Hants the Sum of fifty pounds;
to Mrs Eastwood the sum of fifty pounds as some mark of my Affection;
to each domestic servant with more than two years service: £10, and to those with less than two years service £5 for mourning, over and above their due wages;
to show and demonstrate how equally I love and want to treat my children, and taking into consideration the amounts I have already spent on their behalf, and the advances made to Sarah and Samuel, I give the following, with the proviso that any further advances made during my lifetime will be deducted

to my said son John CALLAND £3,000
to my said son Charles CALLAND £5,000
to my said son George CALLAND £2,000
to my said son Augustus CALLAND £5,000

concerning the undivided fifth part of my £500 annuity, and the four shares of the Swansea Canal, given to my Executors on behalf of Sarah and her children; during her lifetime this is to be for her sole benefit and if she wants to manage it herself then she may do so, or they may do so on her behalf (with similar arrangements as already defined for sons aged 21 and daughters marrying);
If the purchase of the Forest Estate fail for any reason, then my sons will, according to the custom of the Manor, return the copyhold portions of the estate to the Lord of the Manor and if they do not do so then any bequest in this will becomes null and void;
all the rest and residue of my personal effects not included in my various legacies are to be held in trust for Sarah and her children as previously described.
Executors will be John, Charles, George, Augustus, and Samuel Hawkins, and I would like to be buried in the family vault at Alverstoke, if there is room and, if not, at Bentworth.
I do not know where he was buried.
Biographies of John Calland's children
The young Revd John Calland did manage a dance with Jane Austen before he fell from his horse. I also find out a bit more about George and Augustus, and a lot more about Charles, and his children. Please click here (or use the drill-down on the left) for further biographies and the occasional scandal. You can easily return to this story, or to the main Introduction page.
Elizabeth Callend's de Morgan family has an active presence on the internet. Here is a good link to a family tree
John Calland's brother-in-law was a Campbell of Barbreck. The family has long military history in India and America, and is well worth researching on-line. Google books offers some interesting hits.
Jane Austen and the Clergy by Irene Collins, pub Hambledon Press, 1994 - a book which might have also informed my chapter on the Hawkins family at Ramsbury Church, but did not. However, another interesting read.
If anyone has information which adds to, or corrects, what I have written in this essay, I would be delighted to hear from you.