This is a transcript of the obituary of my great-uncle John Francis WINTER, whose grandmother, Jane SPENCELEY, was one of the many Swaledale METCALFEs who moved up on to Stainmore. Their story, and many of the people at the funeral, are described in more detail in this separate chapter. Reading between the lines, John Francis did not like school much and was much happier to go off bird-nesting. The author also suggests that John Francis was unable to write, or at least unable to write well enough to describe to a larger audience his innovative developments in the breeding of pure-bred chicks. And his "utter disregard for customs and traditions" must have caused really raised eyebrows in this traditional dales district, for it to be mentioned at all.
In the list of mourners that follows, I have tried to identify each person in relationship to Ann BUXTON (John Francis' step-mother) or John Francis himself. I have put the age they would have been at the time of the funeral, if I knew it, and where they came from. I may not have got them all right, and I have certainly not identified them all.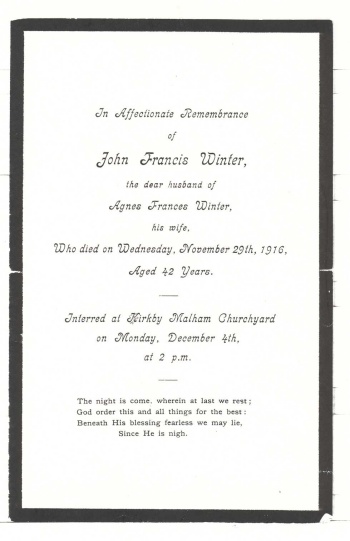 "The news of the death of Mr. John Winter, of the Craven Poultry Farm, Bell Busk, will be received with deep regret by a wide circle of friends. Following a sudden illness lasting only thirty-two hours he passed away on Wednesday morning, November 29th [1916], the cause being heart failure. His constitution was never robust, a series of operations as a youth having left his general health somewhat impaired. His whole career was a splendid example of how a persistent optimistic spirit may overcome the frailties of the flesh.
"Mr Winter was born in Westmorland and went to Otterburn Hall with his father, a farmer, about twenty four years ago. As a boy he had a distinctive detachment of mind and followed his own fancies and interests irrespective of the influences of environment. Early in life he was arrested by the study of ornithology, and personally collected an astonishing number of birds' eggs, often at great risks of life. Over twenty years ago his attention first turned towards poultry, when he began with a small number of fowls, and only as a profitable hobby. Interest once aroused, he followed his bent with a whole-hearted enthusiasm which was essentially typical as touching everything he took in hand. His stock rapidly increased until he owned about a thousand birds kept for egg production. Then he discovered that the food consumed by a pure-bred fowl was no more in cost than that of a mongrel, and consequently his attention became devoted to producing the best pure-bred laying strains. At one time he possessed twenty-six different varieties.
"He was amongst the first to discover the possibilities of trade in day-old chickens, and at the beginning would hatch thousands of chicks each year by natural means. These were dispatched by rail to ready customers. He soon attempted the use of incubators, and in the days when there was widespread prejudice against them. His first efforts were at once amusing and pathetic. In later days he would recall with subdued laughter his many strange blunders. At first he was not successful, but he determined at all costs never to rest until the result of the scientific means was equal to that of the natural. The most admirable phase of his life was the dogged zeal with which he pursued an oftimes discouraging task. His failures, impediments, discouragements and disappointments would have broken the spirit of even a courageous man. A heavy price was paid until at last success rewarded his untiring and unflinching efforts. The method he employed was solely experimental. Text books, instructions, and the ideas of others were discarded. The minutest details of the art of incubation were investigated with his keen analytical mind.
"Sometimes half-a-dozen incubators were being worked in different ways at the same time, to enable him to test the variations of temperature, moisture, and ventilation. At the conclusion of each hatch the chicks were weighed and compared that he might observe the method which produced the best result. Little wonder that thousands of customers testified to his chickens being amongst the finest in the country. There are experts who admit that few men in Great Britain understood incubation so well. Even to the last he possessed ideas all his own. With the faculty for writing, his ideas might have been of universal service.
"Mr Winter was a model man of business - straight, honest and just. His motto was never to turn a customer away dissatisfied. This he practised, not because from a business point of view he considered it politic, but from a strong sense of integrity. In his large stock of poultry he had many possible prize winners, but with the exception of exhibiting to help a local show, he never employed his birds for that purpose, for he considered it damaged his utility for breeding purposes. Pens of birds were selected and mated with scrupulous precision and care, in order that eventually their offspring might satisfy his customers.
"The most attractive feature of Mr Winter's life was not the business side, but his personality. His disposition was frank, open and manly, with a tendency to complete trustfulness. He was easy of access, inspired confidence, and he made his home one of the easiest to enter, and the most difficult to leave. There was nothing of guile, malice or envy in his nature. He had an enviable temperament. The writer after twenty years of close acquaintance cannot remember him showing temper or passion, or the utterance of an unkind word. He took advantage of no man, readily giving assistance to others, and sometimes to his own detriment. The mode of his life was unconventional, with an utter disregard for customs and traditions. Towards the poor and need his sympathy, although often unobserved, was always practical, and his generosity almost a fault.
"His bright cheerful optimism was such that he could always see the bright side to the most distressing circumstances. As a man he was the friend of all, and the enemy of none, being devoid of any quality which creates an enemy.
"Mr Winter's only diversion was in the direction of sport. As a boy he was often a truant from school to get a day's fishing or shooting. He was one of the best shots in the district, and on the Saturday previous to his death spent the day on the moors.
"Few rural men had such a wide circle of friends. He never sought the society of those above his station, but they sought him. He was never ambitious to be popular, but was loved and respected wherever he was known. His locality has lost a great and noble soul, a man who by his originality, perseverance, honesty and personality had won for himself a name which the years cannot wipe out. He was only forty-two years of age, but if life be in deeds and not years he lived his full time. He leaves a widow and son of six years, for whom profoundest sympathy is felt.
"The funeral was on Monday at Kirky [sic] Malham, where already his father, two brothers, and a sister are laid. Short services were held at Otterburn House and at the Church. The officiating ministers were the Rev. D. R. Hall, vicar of Kirkby Malham, and the Rev. E. C. Harris, Wesleyan minister, of Skipton.
Amongst the mourners, and those who came as a mark of respect were Mrs. Winter, wife of the deceased (Agnes Frances) and George, his son; and
Mr and Mrs Spenceley Winter, New Brighton [brother James Spenceley (45), and Hannah (43) my grandparents]
Mrs Winter, mother of deceased [step-mother Ann BUXTON (67)]
Mr W Buxton, Brierfield [between Nelson & Burnley; Ann Buxton's brother William (and George B's grandfather) (62)]
Mrs Cleasby, Stainmore Mary Ann (37), [JFW's cousin, dau of Isaac's sister Annie HALL]
Mr and Mrs George Coates, Bell Busk [Ann's cousin, son of Rosamond (65)]
Mr R Coates, Liverpool [Ann's cousin, son of Rosamond (61)]
Mr George Coward, Kirkby Stephen [son of Isaac's cousin Jane (53)]
Mr Martin Coward, Winton [son of Isaac's cousin Jane (48)]
Mr and Mrs Hall, Hanlith [Kirkby Malham] [possibly Joseph (36), JFW's cousin, son of Isaac's sister Annie HALL]
Mr and Mrs J R Metcalfe, Otterburn Hall [Ann's cousin (54) now living at Otterburn Hall]
Rev W Metcalfe, London [son of J R Metcalfe at Otterburn Hall]
Mr A Rickards, Gargrave [related to Charles (Harry) ? but how?]
Mr Henry Rickards, Kirksyke [farm in Airton?] [husband of JFW's sister Mary Jane]
Mr George A Spenceley, Harrogate [the only George A is George's son George Albert born 1885 Marylebone and now married and living in Harrogate]
Mr George Spcneley [sic], Grassington [was this ex-butler George, victim of a compositor's error? Last heard of at his son's wedding in 1909 and living in Pool (near Bramhope); maybe died Knaresbrough 1825Q1]
Mr Spencley, Threshfield [Grassington] [either Ann SPENCELEY's brother Wm Mason (73), or his son Geo Wm (41) but no trace of him after 1891 Skipton]
Mrs Whitell, Redcar [near Middlesborough?] sister Annie (40)]
"[other friends, customers and unknowns:] - Rev Mr Robinson, Conistone [township with Bell Busk]; Mr and Mrs R Foster, Newfield Grange [Kirby Malham]; Mr Ed Taylor, Airton [Kirkby Malham]; Mrs Ingleby, Throstle Nest [local? too many internet hits!]; Mrs Mackenzie; Mr James Pye, Skipton; Mr George W Willan, Skipton; Mr T Lumb, Skipton; Messrs F R and Fred Smith, Crosshills [no local hit]; Mesrs F R and F Snowden, Cowling [too many possibles]; Mr Arthur Stephenson, Cowling [too many possibles]; Mr and Mrs John Walker, Skellands [farm in Airton?]; Mr John Hopwood, Skipton; Mr John Woodrup, Ormsgill Green [Airton]; Mr Walker Wellock, Pot House [farm in Airton?]; Mr John Hoar, Hellifield [near Otterburn]; Mr and Mrs James Bolland, Malham; Mr and Mrs G Bolland, Dykelands [Kirkby Malham]; Messrs Edward, K R, John and Walter Richardson; Mr and Mrs Dinsdale, Bell Busk; Mr and Mrs Roger Wright and Miss Wright, Bell Busk; Mr Furniss, Coniston [township with Bell Busk]; Messrs R and Mrs Mellin, Hill House [?]; Mr David Bell, Airton [Kirkby Malham]; Mr C Battersby, Otterburn; Mr William Pye, Longpreston [up the A65 towards Settle]; Mr William Ward, Longpreston [up towards Settle]; Mr J Thompson, Lingber [Otterburn]; Mrs Ambler, Skipton; Mrs Bell, Otterburn; Mr E Waller, Low Bentham [up the A65 past Settle]; Mr J Capstick; Mr E Woodrup, Gargrave; Mr Ingleby, Bordley Moor [Kirkby Malham]; Mr Dodgson, Gargrave; Mr Levi Gifford, Bell Busk; Mr T Dinsdale, Calton [Kirkby Malham]; Mr Frank Caton, Malham; Misses Slater, Airton [Kirkby Malham]; Mr T Alderson, Airton [Kirkby Malham]; Mr James Barrett, Airton [Kirkby Malham]; Mr T Blackett and Mr Jerram, Otterburn; Mr Harry Fawcett, Ireby Hall [between Ingleton and Kirkby Lonsdale, up the A65 above Settle] - not a family Fawcett because they all went to the USA in 1865 and there was no Harry [email to Dales group 20/5/10]
"The bearers were Messrs J Coates [George COATES' bro John (43) or bro Joseph A (41)?? many to choose from]; H Coates, W Bell, Alec Strang and John Preston" [this last line damaged on the newspaper cutting; names taken from JCW's partial transcript]