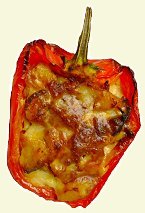 Corned beef hash ...
with ketchup ...
in a
halved and roasted
red pepper ...
with an
eggy sauce.
Preparation
about 30 min.
Cooking
about 30 min.
Thanks to our daughter-in-law Ewa Hearfield (her other work is here and here ) of Ewapix for taking the photographs before we ate the peppers!
Corned beef hash is quick, cheap, simple, and really boring to eat. This recipe is a bit more complicated, but much tastier.
For four people, you will need
4 red peppers
1 7oz. tin corned beef (200g)
1 onion
10 oz. (275g) potatoes
2 tbsp tomato ketchup
1 egg
2 fl.oz. creme fraiche
1 tbsp grated parmesan
cooking oil
Worcester sauce, mustard
Oven preheated to 180 deg.C
1. Corned beef, potatoes & onion
Boil the kettle.
Peel the potatoes, cut them into 1 cm cubes, put them in a pan, just cover with boiling water, simmer for 5 minutes.
In a bowl, mix a generous tablespoon of Worcester sauce and a teaspoon of wholegrain mustard. Cut the corned beef into 1 cm cubes and stir them in.
Peel the onion, slice thinly, cut the strips down to about 2 cm long.
2. Prepare the red peppers
Boil the kettle.
Wash the peppers, cut them in half through the stems, scoop out (and discard) all the seeds and white stringy bits.
Put them in a pan, just cover with boiling water, simmer for 3 minutes.
Take them out and drain them. Be careful - boiling water is hot!
3. Mix the sauce
In a jug (or bowl), crack an egg, add the creme fraiche and parmesan cheese. Whisk them all together.
4. Make corned beef hash
Put a tablespoon of tomato ketchup in a bowl and spread it round the sides.
Fry the onions until they are brown (~3 minutes), turning them as they cook. Add the potato cubes and fry for another 5-6 minutes. Keep turning the mixture over to get everything brown.
Add the corned beef. Continue cooking and turning the mixture gently for another 3 minutes.
Scoop a spoonful out into the bowl. Add more ketchup. Repeat until all the hash is in the bowl, then turn it over to get it even. Try not to break up the lumps too much.
5. Stuff and roast the peppers
Spray (or wipe) the pepper surfaces with oil. Put them on an ovenproof dish, open side up. Scoop the hash into them until each is full. Squash it down a bit.
Pour in the sauce carefully. Stop before it runs down the sides.
Cook in the oven at 180 deg.C (350 deg.F) for about 30 minutes. Check after 20-25 minutes that it's not burning.
Serve by itself or with whatever you feel like eating!