This is a small diversion into Wensleydale from my essays concerning Swaledale and Arkengarthdale. Please click here to go to the main Introduction and contents list.
Here are photographs of the back and front of a Nappa Hall saucer, and this is what I have discovered about it: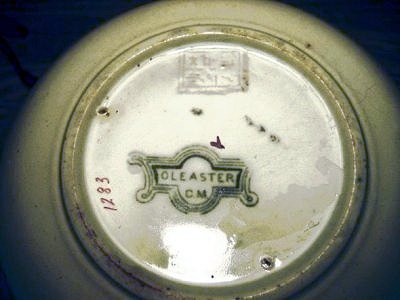 The pattern is known as Oleaster.
C.M. is the mark of Charles Meigh who worked in Hanley, Staffs, in the 1800s. It was used during Charles' first production period from about 1839 to 1846 (another reference says 1835-49). Later periods usually used a different mark.
The red number should correspond to a production type and might have been traceable through a sales book from the Meigh workshops, if the pottery had not closed down for good in 1904.
The faint printed rectangle is a mark identifying that this is 'imitation' china. The pottery continued under one name or another until it was demolished in 1904 (so there go the sales books).
The saucer is one piece of a very partial breakfast- or tea-service which was on our dining room dresser when I was a child in the 1950s. It was very partial indeed and my mother had spent a long time trying to arrange the uneven number of cups, saucers, side plates and eggcups into a pleasing symmetry. She always said there was only one way to do it, so dusting was fraught. One piece which just would not fit was a not-to-scale bowl - far too big to be a sugar bowl - which might have been used to hold dregs and cold tea so you could have a fresh cup. This bowl sat on one side of the dresser. My father always said the service (I can't call it china) had come from Nappa Hall. That's all we know.
The most likely link is through my father's father James Spenceley WINTER (b 1871), son of Isaac WINTER and Ann SPENCELEY. Isaac's branch of the WINTER family was in Westmorland for some generations back, so Ann SPENCELEY is a better bet. Her parents were James SPENCELEY (b.Whitaside 1799) and Jane METCALFE (b.Ivelet 1808), who spent much of their married lives at Widdymans in Coverdale, where James was gamekeeper for Sir William Chaytor. James had lived in Coverdale since 1829 when he married his first wife (Mary FALSHAW) who died in 1830. His second wife (Elizabeth GRAHAM) died in 1836, so James brought two young daughters to his marriage with Jane in 1838. James and Jane were living at Widdymans in 1841, 1851 and 1861. In 1871, they were briefly living in Barnsley near their son William, and James' brother Thomas. But they quickly moved back into the Pennines to live with their son-in-law Isaac Winter and his family in Stainmore, Westmorland, although their daughter Ann had died some years before.
More crucially, James and Jane were a young married couple at the time the Oleaster tableware was being made (1839-46). But how did they get it from Nappa Hall? Was it a belated wedding present? Or a thankyou?
The Metcalfes were long gone from Nappa Hall, so a tenuous link back through Jane METCALFE is not likely, and in any case she is from a different Metcalfe branch. From the early 1800s Nappa Hall was occupied by the WINN family, until some time before 1861 when Richard and his family moved to Kendal.
But Nappa Hall is a good ten miles from Coverdale so the Winns were not close neighbours. It is likely, however, that James' employer knew the family. Maybe James himself did a favour either for George or for Richard. He was certainly an assiduous gamekeeper, and regularly prosecuted poachers at Leyburn petty sessions on his employer's behalf; he would have been well known in the valley. Oleaster stoneware was not the best china but it would have been a very acceptable gift to the young Spenceleys. I just don't know. So my questions are:
Did one of the Nappa Hall people give the breakfast set to James?
If so, why?
Does anyone recognise the Oleaster pattern as something they saw in their own childhood households?
Did the WINNs have a big garage sale before they moved to Kendal, and James and Jane bought the set for themselves?
Can anyone help me to pin this story down more accurately?
Here are some websites I came across whilst doing this research:
Unfortunately, "Oleaster" does not result in any relevant hits on the internet search engines but I do now know that it is a useful shrub for hedging.