The Field Estate of William COWLE is the full title of this research project - FEWC for short. The WC bit was added in 2010 when we realised that the man himself was as interesting as the building development that he envisioned. Since The Field estate had previously belonged to the ARUNDELL then the HAWKINS families, FEWC was a logical way to attach the land firmly to this enterprising Victorian grocer.
This website method of publishing some of the highlights from our research as they surface has at times been awkward to manage, although I hope the links in each page's left-hand margin will help you to navigate around the different aspects of the project. The original research has expanded in content and scope in the past four years, as have the stories on this website (and I'm sorry that some of the pages are now far too long). This page summarises the whole project to date and the 2010 research in detail. Once our active research has finished (planned for the end of 2012), it will be easier to sort it all out neatly! so this (Sept 2012) will probably be the last work-in-progress revision.
Once past this introduction you will find a list of the roads now within the The Field estate (and a map), links to some of the early maps, a biographical list of all the people who bought the original building Lots, a brief diversion into Middle Street, and finally a list of the local organisations and websites that have helped.
PHASE 1 You can read about the original 2009 research here, where I wrote about the ARUNDELL and HAWKINS families who owned the land, and the purchase of the whole estate in 1873 by William COWLE.
PHASE 2 - on the rest of this page - was the 2010 phase, when our research switched from the early owners (the ARUNDELLs and HAWKINSes) to the events that followed the 1873 sale of The Field Estate to William COWLE. I have added and amended the page as time has gone by, but the structure is unchanged.
PHASE 3 - great neighbourly activity in 2011, a local radio interview and an open day at the local pub resulted in many more title deeds being made available for the archive, as well as other local records and resources. We had a very busy year. Here is a link to the discoveries and progress we made in 2011.
PHASE 4 - By September 2012 we realised we could start winding up our active research, and there is (as yet) no new webpage. We have been lent the title deeds of more than fifty of the houses which, between them, cover all the various stages of development of The Field estate. The images of these primary documents will be available when the FEWC archive is compiled in 2013. At that point the Gloucestershire Archives will store a copy, for visiting researchers to use freely. To those title deeds images we have added:
Lot Histories - a short note containing the auction description and location of each lot, its original buyer and early development, the houses now built there, and any stories that have surfaced during our research.
House Histories - a detailed summary of the title deeds we have been lent, naming all the people involved as houses were built and sold, and sold on. These deeds have revealed much more than the names of the owners; they list tenants, and neighbours, and mortgage lenders' names, and will be a unique source of research for family and social historians.
People stories - Not only about William COWLE and his rich and influential friends and partners, but also the stories of some of the ordinary people who came and went as The Field estate filled up with roads and houses. The FEWC archive will also contain transcripts of the censuses taken during the development of The Field estate. listing all the residents in 1871, 1881, 1891, 1901 and 1911, together with their ages, places of birth, and occupations.
OS Maps and Trade Directories - Stroud District Council has been helpful and generous in arranging for relevant sections of historical OS maps to be made available to this archive, and our backroom maps cover each decade from the 1880s to the 1950s. (They can not be published here for copyright reasons but some will be in the archive). Some maps have been redrawn by John Hearfield, who has also produced transcripts of Stroud's trade directories from the 1820s to the 1930s. These are stored separately, in the History section of our own website. These maps and directories have helped a great deal in working out who was who, and when houses were built and occupied.
PHASE 5 - logically, there will have to be a Phase 5, in 2013. This is when we will compile the digital archive, tidy everything up, add an index and other useful summaries, before lodging it with the Gloucestershire Archives, and with the Museum in the Park. It is early days yet but the Museum also wants to put on an exhibition in October 2013 - the 140th anniversary of the 1873 auction that started this project off. So that is what Tony and I will be working on over the next year. MH Sept 2012
A PLEA ABOUT YOUR OWN TITLE DEEDS
Wherever you live, please try to retrieve your Deeds before they are destroyed. If you bought your house in Stroud before 1st November 1986 the Title Deeds will still be the legal means of proving ownership (and will be held by your building society or bank if you still have a mortgage). After that date (they do vary slightly between counties), the compulsory registration of houses coming on to the market meant that the Land Registry entry, a soulless and measly one-side-of-A4 summary sheet, became the legal proof and the rich, unique contents of Title Deeds became a bulky irrelevance to be disposed of quietly and without further warning if no-one made a fuss or said they would like them back. Local historians were horrified, and still are.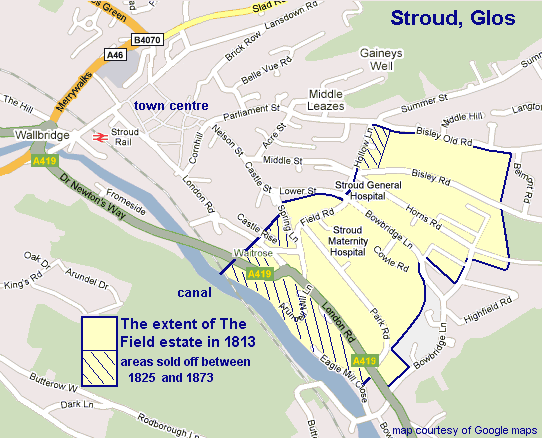 Travelling downhill (north-west to south-east), the Estate includes:
Bisley Old Road (south side) up to Belmont Road / Bisley Road up to the back gardens of Belmont Road / Upper and Lower Lypiatt Terraces (now numbered as part of Horns Road) / Horns Road and Nursery Close / Daisy Bank / Upper and Lower Churchfield Roads / Bowbridge Lane (west side) / Cowle Road (a later development in the 1940s) / Field Road / London Road to Bowbridge (north side) / the Upper and Lower Dorington Terraces and Spring Lane / Park Road / Spider Lane (west side). The westerly edge containing Field House Gardens and Weyhouse Close are built on land that used to belong to the Arundells, so are still of interest although we have not looked hard, because they are too modern for this project.
William Cowle bought the estate in 1873 and immediately divided it up and auctioned it as new housing Lots (here is a map so you can find your house). He earmarked a very nice position for his new home - Park House - gave a plot of land to the Trustees for a new General Hospital and in due course built an observatory on the corner "for the gratification of the lovers of Astronomy and for the edification of people generally" [Libby]. He kept some choice Lots back so he could do a bit of development himself later, in his immediate neighbourhood. In his will he left a bequest to fund a local museum. The Museum in the Park, also called the Cowle Museum, is the latest beneficiary of that bequest.
As a result of my 2009 essays, a neighbour (Tony Macer) emailed to say that he had some Deeds which I might not have seen, and would I like to? You bet. The elegant stone lintel over his front door in Bowbridge Lane says W. C. 1884, although the deeds relate to a purchase in 1900. Might W.C. be William Cowle?

The reason for the different dates turned out to be that William COWLE had rented out his elegant villas to tenants, and the houses were only sold after his death, in 1900. The land was part of the earlier Arundell domestic buildings described in great detail in the 1873 auction catalogue - Tony also had a copy of that. This was great news and in March 2010 we started collecting maps and deeds and wills to widen the scope of my original research, and to provide a research resource for the Cowle Museum. In the hope that more neighbours will come forward with Deeds and maps and stories, I am quickly (2010) publishing a site plan of the building development, and have many more names to add to the list of very early Lot-buyers I found last year.
In writing this story it has been easier to assume that readers are familiar with the district and its landmarks; if you are not then I hope you will quickly be able to pick up the geography [the Workhouse label on the OS map below is misleading - the actual building is the huge multi-winged block at the edge of the map, with its own gateway into the cemetery opposite]. The map does not show how steep this hillside is. The far end of our back garden is halfway between Bisley Road and Old Bisley Road (you can see the dividing line on the map) and anyone standing there can look see straight across the roof to Rodborough Common on the other side of the river Frome.
The Rev'd John HAWKINS' ownership of the estate is shown clearly on a map of Stroud drawn in 1835 by surveyor John Wood [this map, at the Gloucestershire Archives, is actually owned by the Company of the Proprietors of the Stroudwater Navigation whose Archives Director, Joan Tucker, lives just down the road. The Company has generously given us permission to use details from the map to illustrate the landowners of and around The Field; this has proved extremely useful.].
The map shows that the Field Estate then still included the riverside from the bridge downstream of Brick House to Bowbridge, including the river-side Arundell Mill - that was not sold until 1865 [auction catalogue at Glos Archives; the Mill auction story is WIP]. He acquired control of the estate because James ARUNDELL had died in 1810 with no direct heir and the next in line was an Oxfordshire vicar called John GREGORY, who died when his daughter Elizabeth was still a child. The Revd Gregory apparently had not anticipated that his little daughter would one day grow up and get married and had made no provision in his will of 1800 to protect her against coverture - the automatic transfer of assets to a husband on marriage. Her husband - the Revd John Cunningham Calland Bennett Popkin HAWKINS (JCCBPH for short) - had grown up with wealthy parents and grandparents and many godparents (whom I write about in the HAWKINS part of this story) and knew very well what was possible. Elizabeth's trustees were her mother Elizabeth (now widow of the vicar) and William WARD of Farringdon, to whom John GREGORY bequeathed £50 in thanks. How effortless it now is to summarise six month's baffling research!
William Ward's name appears in many of the indentures related to mortgage transactions undertaken by widow Elizabeth GREGORY and JCCBPH. There was an attorney of that name in Farringdon but he died in 1805; then there was a Gent ... his son? As early as 1809 a piece of land in Kelmscott, Oxfordshire, originally owned by Elizabeth GREGORY and mortgaged to a William WARD, was being sold to Charles Scudamore WARD. Rowles SCUDAMORE was an early tenant of Arundell's fulling mill. Robert ROWLES was one of the Stroud men who later bought out Elizabeth's mortgages on the Field Estate. This fascinating coincidence of unusual names clearly needs more digging. And quite separately there was also William Ward HEATHCOTE, father of the third husband of JCCBPH's younger sister Eliza Marguerita, married in 1858 in Calcutta, but that is just too unlikely a link and I shall resist going further or I shall never finish this piece.
These trustees did their best but JCCBPH had been a poor vicar for decades, and had at last got his hands on some land of his own. He was not going to hold back.
Next, here is a map from 1887 [a much better one is on its way]. The yellow line identifies the 1873 Estate and shows that new building up to 1887 included the Hospital and Observatory but only a few large villas on Bisley Road, four long terraces at Upper and Lower Lypiatt Terraces, and Upper and Lower Dorington Terraces; a couple of villas on Park Road and William Cowle's own Park House. This map can be found online in square 049/NE from the Gloucestershire OS Epoch 1 series, 1:10,560.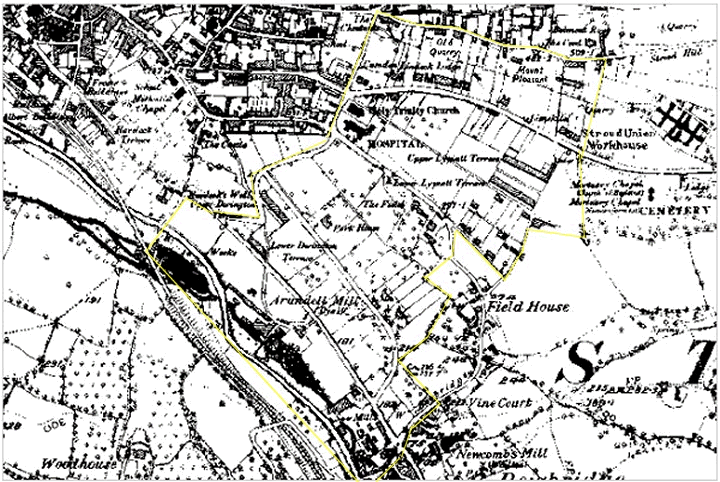 The Arundell Estate had originally been much larger - in the 1600s Richard ARUNDELL had given pubs in Stroud, and land in between Stroud and the mill, to two of his sons, leaving The Field estate to the third son. The predecessors of the FISHER family bought the Castle from Richard ARUNDELL and the Rev Hawkins himself sold parts in 1828 and the 1868. The OS map also clearly shows that the house called Field House was no longer part of the estate. Local historian Ian MacIntosh says that Field House was sold in 1699 to John LONG when he married one of the Arundell daughters, so it sort of stayed in the family but the 1841 Tithe allocation shows it as owned by the CLUTTERBUCK family, with William Clutterbuck CHAMBERS owning adjoining land and much of Thrupp. The National Archives has a letter dated 12th December 1830 written from Field House by Henry WYATT, who had built The Vatch mill in Slad and employed 400 workers before selling it to N S Marling [Topographical Dictionary of England, S Lewis, pub 1835]. Henry was now a town benefactor and Treasurer of this and that, and his letter suggested that 'special constables be placed at turnpike gates when fires have been started in order to stop strangers travelling as he knew of a case in Oxfordshire where scouts sent out by a neighbour found two men trying to start a fire' so he was probably a magistrate as well. But this is straying too far and Field House needs its own page!
Also at some point the Estate had acquired a huge mortgage of £3,000 which was still unpaid at JCCBPH's death. I first thought that this must be JCCBPH's doing but I now know differently, and tell the full story elsewhere [STILL WIP].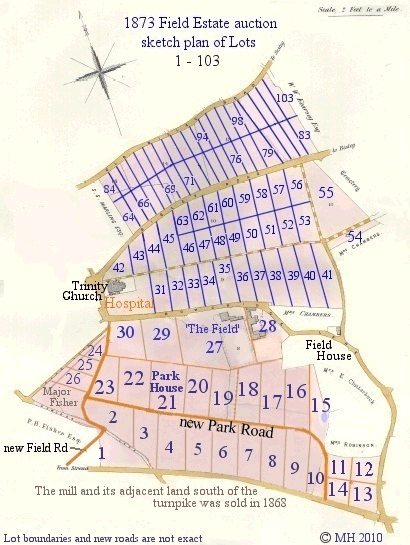 Next, here is a copy of the Field Estate site plan which accompanied William Cowle's Abstract of Title of 1873, onto which I have sketched Lot boundaries and a few Lot numbers to help you find your way around. The Stroud Museum has an auction plan for the top half of the estate which shows the exact boundaries, and I copied those here. In 2010 a neighbour very kindly donated his map of Lots 1-30 to the project, and another donated a wonderfully tatty copy of Lots 31-103; this enabled me to update my previous guesses. Lots 64-103 each had a frontage to the road of about 60'; the other Lots had about 100'. The Lots were sold in stages between 19th December 1873 and August 1875 (I have shown the dates against the buyers); most of the rest by July 1879. Each lot now has at least two houses on it; sometimes more.
In Tony Macer's Deed of 1900, only Lots 16-17, 21-23, 27-30 did not show a buyer. We know that Lot 21 was spoken for by William Cowle himself for Park House, 27 was The Field, 28 was The Field's domestic buildings (and in due course became the site of Berkshire House and Devonshire House). Lots 29 and 30 were also being kept back, presumably until all the racket and mess of road and hospital-building had died down. This had been an extremely successful sale. William Cowle paid £16,500 for the whole estate but it is too soon to say what he made on it. And it was all long before the days of the Stroud Planning Department, whose Head recently told me that in fact the modern planning system did not come into existence until 1948, so no planning files exist at all for the time in question. Which is why everyone's Title Deeds are so important.
Below is a list of the early Lot buyers, taken from that original Deed of Mutual Covenant. By September 2012, more information had surfaced and some of the names were now familiar, especially when they appeared in the title deeds that formed the basis of the individual House Histories that are part of the FEWC archive.
My sources for the additional detail below are their own entries in the censuses, Stroud Reference Library's useful copies of local trade directories and Libby's 20 Years History of Stroud, and my own copy of Fisher's Notes and Recollections. I have compared the original plans with the planning maps available on the Stroud District Council's website which shows current house numbers (odd numbers are mostly on the North side of each road). This has enabled me to link many of the modern addresses to the original Lots and their original buyers [B = Bisley Rd; H = Horns Rd in the list below]. Quite few of the existing buildings in Horns Road and Old Bisley Road cross original lot boundaries, and title deeds have shown that there were subsequently a few small auctions, and building plans, that split and re-divided them.
In trying to identify the buyers I have assumed that if there was a local person (usually male) who matched then it was probably him, but at this stage I can give no guarantees. If I am right in my tentative identifications it seems that being a local tradesman - grocer or baker or hatter, or being connected with the building trade - brought in enough money to have some spare for a nice little pension from rental income. All their local street addresses are within a few minutes' walk of the new development. I have also assigned each a 19thC status, to indicate the spread of investors - B = builder, G = gentry, M = millowner, P = professional, T = tradesman/shopkeeper. This crude but effective division - prompted by Stroud Local History Society's Barry Harrison asking if I knew how many of the buyers were builders - shows that of the 42 early lot-buyers, seven were builders, who between them bought fourteen Lots, mostly near the top of the hill; fifteen were tradesmen (who bought 33) and ten were millowners or gentry (who bought 18).
Not all Lots were put up for sale immediately, and it seems that some did remain unsold. The 1873 auction catalogue shows that the central block of land - Field Park - was to remain unsold for the time being. This would allow William COWLE to build his own new house - Park House - on Lot 21, and settle in without a lot of noisy neighbours doing the same thing. He and his wife Helen moved into The Field whilst the building work was being carried out. Most of the available Lots were indeed sold immediately and, eighteen months later, a further auction was held to clear the rest.
The auction of May 1875 [This paragraph was added June 2012]
The following Lots were offered at this second auction. The small print of the auction advertisement in the Stroud Journal was illuminating. It said that The Proprietor (Wm COWLE) had withstood many requests to sell individual Lots in order to allow the best range to be available to buyers at the auction. I interpreted this to mean no prior cherry-picking that might leave less-desirable lots unsold. It also very specifically said that since this was going to be a once-only opportunity The Proprietor had arranged his Reserves to allow lots to be bought with a 4% mortgage to be allowed on two-thirds of the purchase price. I interpret this to mean he wanted to be rid of the whole lot, even if he had to lend money himself to the purchasers. One of the unsolved mysteries (apart from how he raised the cash in the first place) is how he could possibly expect to recoup his initial outlay of £16,500 for the whole hillside, when lots were being sold at auction for between £100 and £200 each. Even allowing an average selling price of £150, his gross income could not be more than £15,000, and his solicitors and surveyors, and the auctioneers, would have charged substantial fees. Later maps show that the land on which the Maternity Hospital and Weavers Croft now stand did indeed remain empty pasture land well into the 20thC, with some local residents remembering gymkhanas and open-air tea parties being held on the grass. When Lot 30 remained unsold, William COWLE built an astronomical observatory on the corner near the hospital in the hope that local residents would come to share his passion for observing the night skies.
15, 16, 17, 18, 19, 22, 23, 34, 27, 28, 29, 30 - the central Field Park lots. Lots 27 and 28 had been re-arranged by enlarging 27 and decreasing 28, and removing the Wheelwright's and Smith's Shops. William COWLE retained Lots 16, 17, 18 and 28 and arranged for four pairs of large, semi-detached villas to be built and to generate rental income for himself. This could have been part of his original plan, or it could have been that they were not sold.
31, 32 - these would become the site of the Nurses' Home next to the hospital on Bowbridge Lane, north side
33, 34, 35, 36 - along Bowbridge Lane, north side
55 - Daisy Bank - would be bought by George HOLLOWAY as a recreation ground for his new tenants of the Lypiatt Terraces
74, 75, 76, 77, 78, 80, 81, 82 - the upper end of Bisley Road, north side
98, 99, 100, 100, 101, 102, and 103 - the upper end of Bisley Old Road, south side.
I was surprised to see how few of the early buyers actually lived in any of the houses they later built, which suggests that for most of them this development was an investment opportunity for property which they could rent out to the incoming middle-class residents of the new development. The 1881 and 1891 censuses confirm this idea - many occupants of the larger villas had moved to Stroud from elsewhere.
Remember that each Lot would eventually contain more than one house - semi-detached villas, or short terraces. I have taken the Lot descriptions from the 1873 Field Estate auction catalogue. Lots 64 to 83 on the north (uphill) side of Bisley Road increased from 1,250 sq yds to 1,700, as the Bisley and Old Bisley roads diverged. Bisley Old Road (south side) lots (84 to 103) were 1,200-1,500 sq yds, Horns Road (north side - Lots 42 to 53) were mostly 1 rood 30 perches, which is just over 1/4 acre. The Bowbridge Lane (north side) lots - 31 to 41 - were larger, and locals will realise that Lots 31, 32 are now occupied by the old Nurses Home and present Physiotherapy Department. [For younger listeners, 1 acre = 4840 sq yds; 1 rood = 1/4 acre and there are 40 sq perches in a rood (thank you Wikipedia et al). There are 2.47 acres in a hectare; after this you are on your own.]
After the initial sales in 1873-5, some Lots quickly changed hands. Everyone was eager for a profit, although the subsequent development was more leisurely than it would be today. As early as 1882 there was another auction on the 24th August, at the Stroud Corn Hall, to dispose of what looks on the auction plan like the original lots 43, 44 and 45, now subdivided into twelve much narrower 25' strips. The late Henry Lewis (marked on the west boundary) had originally bought Lot 44, which has to push the auction lots higher up from the corner of Bisley Road, but Henry Bennett (named on the east boundary) had originally only bought Lot 99, up on the Old Bisley Road. I am not sure about the exact location but the houses there now seem to reflect the earlier, wider, boundaries, so another small mystery has to be sorted out.
I absolutely do not intend to disclose the homes or personal details of the current residents of the Field Estate roads, but Google Earth does let you peer at rooftops and back gardens ...
| | | | | |
| --- | --- | --- | --- | --- |
| Buyer / purchased | Lot(s) | House # | Status | possible identity |
| ALDRIDGE William, Dec 1875 | 13 | # | B | Probably William Pitt ALDRIDGE b ~1820, a local builder. There were other Wm Aldridges in Stroud but this was the only local man still alive in 1873; living at Tower Hill in 1861 and 81; died 1883. In 1867 a Mrs Aldridge of 23 Tower Hill was a marine store dealer. Lot 13 was on the corner of Chalford Road (now London Road) and Bowbridge Lane, just opposite the British Oak. |
| BAXTER Nathaniel, July 1879 (with Walter TAYLOR - see separate entry) | 101 | # | B | Bricklayer, b ~1846, living at the bottom of Slad Rd in 1871; wife Caroline (nee JONES). Lot 101 was on Old Bisley Road, two lots up from the pitch. |
| BENNETT Henry, Aug 1875 | 99 | # | ? | Too many local matches in 1871 census; no match in 1867 directory, or Fisher or Libby name indices, but in 1867 a Mrs Bennett had a home for female invalids at Tower Hill House ... Lot 99 was on the Old Bisley Road, on the downhill side of the pitch. |
| BISHOP William, Aug 1875 | 18 | # | T | Possibly the retired ironmonger b ~1801, living on London Rd in 1871, wife Charlotte? others of same name in Paganhill, Oakridge, Nibley, all equally old! Or the 1867 directory lists a Wm BISHOP of Havelock House, London Rd, a member of the Board of Health. Fisher says that William Bishop owned Albert Buildings [which from the 1867 directory (and Google) seem to be a block of apartments at what is now 43 London Road]. Libby says that he was treasurer of the Stroud Club, which from 1882 gave "the young men of the town an opportunity of meeting each other without the temptation of hotel life". This sounds worthy but not much fun. Lot 18 is described as a one-acre lot fronting Park Road, adjoining Lot 27 - which was The Field itself. Since William Cowle was building his own Park House nearby on Lot 21 I suspect it was the Board of Health chap - was he also the retired ironmonger? But there is another possible clue in Fisher's Notes and Recollections, where he says that Hill House, inherited by James Arundel's widow Ann, was given by her to her nephew Thomas Handy BISHOP, who then sold it in 1853 to Mr Richard Wyatt, one-time barrister now County Magistrate and Deputy Lieutenant. Are these Bishops connected? Is Henry Wyatt of Field House connected to Richard Wyatt? I don't yet know. |
| BROWN James, Dec 1873 | 45-47, 62-63 | 20-24B 26-32B 11-15H 17-49H | T | Almost certainly Cowle's counterman b ~1839 Leamington Spa; later a grocer in his own right, in 1867 being a partner in Brown & Husseys at The Cross; living at 72 Middle St in 1891. Lots 45 to 47 are on Horns Road and now contain a number of brick cottages which start at No 17 and go on for nine houses along the road frontage and a further row behind; I think the highest house # is 47 or 49, which straddles the boundary. Together with lots 62+63 they make a very substantial block between Bisley Road and Horns Road. Lot 62, which is just opposite our house, was a builder and undertaker's yard for many years, and the house still sports a wonderful stone eagle on the gable end. I have always assumed it was an unpaid-for memorial, but even the present owner - a direct descendant - does not know! I realised quite soon that Brown and Hussey had actually worked together in William COWLE's George Street shop, but it took me a few years to work out that James BROWN was actually Helen COWLE's nephew. He sold all his building Lots in an auction in 1882. All the details are in the FEWC archive. |
| CLARK George, Dec 1875 | 14 | # | M | Is this the George b ~1826 of W CLARK & SONS, Bowbridge sawmill and timber merchants in Morris's 1867 directory? They were trading on London Road, and Lot 14 was described as a corner piece of land fronting the Chalford Road (now London Rd) and adjoining Park Road, so it was very close to the sawmill works. This lot now contains two big bay-windowed houses with dormer windows and fireplaces on the outside walls (easy when you have a bird's-eye view). |
| CLARK William, Mar 1874-Aug 1875 | 8, 24, 67, 68, 98 | # | M | Is this the Wm b ~1816 of W CLARK & SONS, Bowbridge sawmill timber merchants in Morris's 1867 directory? Lot 8 was just along from Mr Dangerfield's No 5; Lot 24 was just over half an acre on Field Road, next to property owned by Major C H Fisher. I think Lot 68 quickly became the early-build brick terraces-of-three (now #31, 33 and 35 Bisley Road but at one time called Derwent Villas, and earlier Winchcombe Villas) - they are on the museum's 1884 map. Lot 98 was a more modest plot on Old Bisley Road, next door to Mr Bennett's. |
| CLARKE Thomas James, Dec 1873 | 85, 97 | # | B | The only one in Stroud in 1871 was aged 20, the son of a 68-year-old builder and carpenter living in Summer Street. The 1867 directory adds his father was also a beer retailer. By 1881 his parents must have died, but he is still in Summer Street and describes himself as a master builder. His wife Eliza has taken over the beer-selling business, and little Girty (3) no doubt wants to play with her dad's saw. Lot 85 was 1100 sq yds and Lot 97 was 1400 sq yds, both on the Old Bisley Road (see plan). |
| CURRY John, Dec 1873 | 61 | 34, 36, 38B | T | No-one of this name born locally; the only one in 1871 Stroud is a brewery cooper, 45, b Somerset. In 1871 he was living in Badbrook (so presumably working at the brewery there), with a wife born in Ebley. In 1881 his address was given as Lansdowne, so still near the brewery but away from the flooding that regularly affected this the lowest part of town. Lot 61 was on Bisley Rd (S), next to Mr Brown's large group; the three houses there now are modern. |
| DANGERFIELD Thomas, Dec 1873 | 5 | # | ? | There are at least six local possibles in the 1871 census; I need more information. Lot No 5 was the second of eight lots fronting the Chalford Road between Helmlock Well Lane (now called Spring Lane) and the junction with Park Road, and extending back to Park Road - if you look on Google maps and divide the frontage into eight, the garage now fronts the London Road but there is still a lovely big house behind it. |
| ENGLISH Richard Aldridge, Sep 1879 (with Danl HOOPER, see separate entry) | 78 | # | B | There was a builder of this name living at Piccadilly, Lower St; by 1881 he was living in Bisley Rd (no house number given) employing 27 men and 2 boys, which is a sizeable workforce. Lot 78 is on the north side of Bisley Road up near the cemetery gates, two down from the pitch. The 1884 map doesn't yet show a house on that site but there are three pairs of semis a bit higher up, and the museum's large scale 1884 maps shows a handy quarry and lime kiln behind them. In 1889 English & Co got the contract to build Marling School, and in 1869 one of the Mr Englishes was responsible for the woodwork during an upgrade to the Subscription Rooms [Libby]. |
| GREENHILL Reuben Usher, Mar 1874 | 51-3, 56-8, 90 | # | - | This one is a real mystery. There was only one man in England with this name at that time and his family owned a farm in Wiltshire. In 1861 his widowed mother, farmer of 190 acres at Road Common Farm, said he was her eldest son at home, an engineer apprentice. But also in the 1861 census he was recorded by Mrs Lydia White, widowed baker of Frome, as being one of her two boarders at No 6 Chapell St. By 1871 he was back in Wiltshire, a married dairy farmer at Park Farm, Bradford on Avon, and he was still there in 1881. However, Lots 51, 52 and 53 are where Upper and Lower Lyppiatt Terraces were, according to John Libby "quite a new suburb, built .. by Mr Holloway .. for the occupation of working men, many of whom have acquired the ownership of their dwellings". Was Mr Greenhill a proxy? How did he know the Holloway brothers? Or were his parents friends of JCCBPH's family at the Wiltshire vicarage of Ramsbury, or was he himself a client of the young Richard Hawkins who started his legal career in Highworth? It would be good to find out....... in January 2011 I did! The answer was: none of the above. Here is a link to the story. |
| GREENSLADE James, Aug 1875 | 80-82 | # | B | A builder, b ~1844 Devon; not local in 1871; living at Field Farm, Bowbridge Lane in 1881 wife Anne (b Stroud Bowbridge, nee HOLLAND). James Greenslade of Bowbridge built the very expensive foundations and chimney for All Saint's Church at Thrupp, says John Libby [p29]. Lots 80-82 were at the top end of Bisley Road (N); is that where those very handsome yellow brick villas now overlook the cemetery and the common beyond? Someone who could build 14' foundations would have no difficulty in realising those. |
| GRIMES John, Dec 1875 | 20 | # | ? | There were three in 1871, all born Stroud and about the same age, so need I need more information. In the 1861 census they were respectively a woollen cloth marker, a carrier, and a scripture reader, none of which helps very much. In our earlier Mutual Deed (a typed and duplicated copy), he is listed as having bought Lot 28, which is site of The Field's domestic buildings. This might have been a typo because Tony's manuscript Deed says he bought Lot 20, a 3-rood (3/4 acre) plot fronting Park Road and backing on to the The Field. |
| GRIST Samuel, Aug 1875 | 33-35 | # | M | There were two in Stroud in 1871, both mill-owners and of an age to be cousins rather than father/son. The one aged 43 was at Merretts Mills (wife Eliza, nephew Wathen - a significant name locally and Samuel's assistant); the other aged 39 (wife Emily, toddlers Annie Elizabeth and Robert Barroughs, brother John Jabez, sister Harriet) was a flock manufacturer in Chalford. Either would have been in a position to invest in three half-acre plots on Bowbridge Lane (N). In 1881 Samuel+Eliza were living at St Chloe's Green (and by 1891 had retired to Hampstead) but Merretts Mills House was now occupied by Matthew Grist and his young family, including a five-year-old called Samuel (a 53-yr-old Samuel died in Stroud in Sept 82). Hm. Would need to see wills to be able to investigate further. The houses built here are much more recent - I wonder what was there before? Behind them was, for a long time, a nursery that has now been built up as Nursery Close. |
| HAWKINS Benjamin, Dec 1875 | 91, 94-6 | # | B | The best match in the 1881 census is a local builder, b ~1828 in Stroud. When I first found him I assumed he was one of 'my' Hawkinses, but he was stubbornly local; earlier censuses show that his father was a stonemason called William. In 1881 Benjamin was living at Mount Pleasant, shown on the 1887 map above as being between Old Bisley Road and Bisley Road. The same map shows just one pair of houses already built on Bisley Road, but his lots were all on the Old Bisley Road side, starting just uphill of the Mount Pleasant boundary shown on the Cowle Title Deed plan. But the 1881 census enumerator used "Mount Pleasant" to describe all the houses on the Old Bisley Road - he walked out of the top of Wood Street, turned right, and all subsequent entries (and there are pages of them) are described as "Mount Pleasant up to Stanley's Cottages", which does not help a lot. One of Benjamin's neighbours on Old Bisley Road was John LEWIS (see separate entry). |
| HILL Charles, Aug+Dec 1785 | 9, 10, 103 | # | P | The best local match in the 1881 census is a solicitor's managing clerk, 49, living at Middle Hill. He was working for a solicitor in the 1851 census, so clearly would know what was going on and, if he worked for Wilberforce Heelas himself at the Rowcroft offices (No 10), he would have had day-to-day access to William Cowle's affairs. But I don't know if he did. Lots 9 and 10 were the two lots on the London Road on the town side of the Park Road junction; Lot 103 was at the very top right-hand corner, on Old Bisley Road. Morris's 1867 directory has two men called Charles Hill - one a bootmaker of 67 High Street, the other an agent of the Guardian Insurance Company, and vestry clerk, of Middle Hill, so I suspect it was him. |
| HOBBS William, Dec 1785 | 7 | # | T | The best match in the 1871 census is a George St confectioner, b ~1824. Libby names him as a churchwarden. Morris's 1867 directory says in fact there were two of them, a blacksmith and shopkeeper in Wallbridge, and the pastrycook, confectioner, fancy bread and biscuit baker at 24 George St [next door to the bank]. I know that a few people had two business entries, but I can't see a heavy-fisted blacksmith being a successful pastry cook. In 1881 the confectioner, now a widower, was still in business at No 24 with an apprentice, a shop assistant, a lad, a maid, and five workers in the back, so I am going to assume the buyer was the confectioner. Lot 7 was another one on the London Road, I think it might be the only one that now has a house with a gable at one end and a flat roof (tower?) at the other. |
| HOLLOWAY George, Dec 1785 | 55 | # | G | This has to be one of the Holloway Brothers and later MP for Stroud, described by John Libby as "this captain of industries and promoter of elevating thrift" with his Working Men's Benefit Society (original offices in Badbrook Hall, where the Liberal Club and old courthouse still stand) whose clothing manufactory in the town had a staff of 1,500 and a weekly wages bill of over £1,000. In fact John Libby's book has pages on George and Henry Holloway but the Holloway Friendly Society was their most well-known local enterprise - and of course it now has its own website. Lot 55 is the large triangle between Daisy Bank and the cemetery, where the Daisy Bank playground and field now stand. Did George buy it for the relaxation of his new-suburb workers living on the land bought by Reuben GREENHILL? Well; I found out about this, and a lot more: see the new link in Reuben GREENHILL's entry above. |
| HOOPER Daniel, Jul 1879 | 77,78 | # | T | In 1867, a Henry HOOPER had the saw mill at Griffin Mill and was a timber dealer, and William HOOPER was a grocer there, Fisher says Charles HOOPER owned Griffin Mill in 1870; Libby says that, together with Messrs Wormans at Woodchester, they employed over 2,000 hands for wood-turning and stick-making; but nobody mentions a Daniel. But there he is, in the 1881 census, aged 39 and a furniture broker in Middle Street. Was he from the same family? I have not checked baptism records. His wife was a 'tayloress', and they had five children 8, 6, 4, 2 and 3 weeks, plus a 19-year-old tailoress called Sarah Young, just visiting. Lots 77 and 78 are next to each other on the north side of Bisley Road. He bought No 77 with Richard ENGLISH (see separate entry) and No 78 with William HURD (see separate entry) but I do not know if he put money in, or effort, or both. |
| HOWELL Frank, Mar 1874 - and an interesting diversion to William Henry C FISHER | 66 | 21,23B | T | If he was local then it could have been the 35-year-old a gas fitter and bell hanger based at 46 High Street. In 1861 he was in Parliament Street and in 1881 he was at the Nelson Inn, but always around. He installed the gas light equipment in the church in 1868 [Fisher]. As far as I can work out, Lot 66 now contains a very elegant pair of gabled stone houses but I don't see how a gas-fitter could afford such a build. I think in 1891 and 1901 they were called Belsize Villa and Rock Villa, and Rock Villa was the home of William Henry FISHER, not an early buyer but a Stroud-born architect, and draughtsman of the original building plots plan. In 1881 he was 39, an unmarried engineer still living at home at 1 Elton Villas at the bottom of Slad Road - two doors away from Police Superintendant William Hanbridge, whose son Samuel bought our house in 1920. By 1891 William had a wife Kate and a maid, and was living in Rock Villa. He was still there in 1901 and his unmarried sister-in-law was staying too so we now know that Kate's maiden name was (probably) PARTRIDGE. Although all three were born in Stroud, the marriage was registered in West Derby (Liverpool) in 1882 Q3 - wonder why? I went to look for Kate Selina PARTRIDGE in the 1881 census and she was at home at Oxford Villa, Cainscross with her mother and sister (so not swanning about in Liverpool then). Mother was a widow (b Uley) with an independent income from - the census says - "Bank Shares and Dyehouse Rent at Bowbridge". The 1887 map above shows Arundell Mill as a dyehouse. Now that's interesting but I think I have wandered far enough for now. |
| HURD William, Jul 1879 and June 1880 | 19, 76-77 | # | ? | William's first purchase was Lot No 77, jointly with Daniel HOOPER. He must have thought he found a good thing, because he later purchased the lot next door (these two lots are on the plan above) plus No 19, which was a 3/4-acre plot on Park Road - we still don't have a plan of these lower lots so its exact location is unknown. His name does not appear in any of my local reference books. A William Henry HURD married either Eliza Alice M M Critchley or Mary Elizabeth Ratcliffe in 1888Q3 in Stroud, but that does not help; I still can't find any local census matches and there were just too many non-Stroud William Hurds around. Anyone know any more? |
| HYDE Enoch, Jul 1879 | 74-75 | # | T | There was a grocer and provision dealer of this name in 1867, at 23 High Street and a death registered in Stroud in 1892 for a 67-year old- so Enoch could well be another local man. Yes, there he is in the High Street in 1871 with his wife Elizabeth and two children. By 1881 he was in Castle Street, a wine merchant. In 1891 he was widowed, retired, and living on his own means which presumably included some kind of income from his property on Bisley Road (N). |
| JACKSON Richard, Dec 1873 | 1-4 | # | P | The best local match in the 1871 census is a 27-year-old Ross-born solicitor, living on the London Road near the Sundial Inn with wife Frances, baby Richard, and a maid. Lots 1, 2, 3 and 4 are described in the auction catalogue thus: 1 - a 1/2-acre triangle bounded by the Chalford Road [now London Road], Field Road and Hemlock Well Lane; 2 - a 3/4-acre corner bounded by Hemlock Well Lane, Field Road, and Park Road; 3 - a 3/4 piece fronting Hemlock Well Lane and Chalford Rd and extended to Park Road; 4 - a 1-acre piece on the Chalford Road extending to Park Road. I think this total area covers the Upper and Lower Dorington Terraces ... maybe he was acting for Sir John DORINGTON, MP, another local benefactor and owner of Lypiatt Park. Richard did not stay around; in 1881 he was in Wootton St Mary (Glos) with three more children and a new maid, and in 1891 he was at Okle Farm, Newent, with his son Compton as farmer and three domestic staff; Okle Farm has its own hits on Google. |
| JENNINGS Thomas, Dec 1875 | 86-87 | # | T | This was another mystery to begin with because on our duplicated copy of the Deed his name had been transcribed as INNINGS. Lots 86 and 87 were on the Old Bisley Road edge of the estate. The only JENNINGS in my local references is a James, a coal dealer at 77 Summer Street in 1867. Unfortunately two Thomas Jenningses married in Stroud (1867 and 1874) and two died - one aged 60 in 1897 (so YoB ~1837) and the other aged 75 in 1891 (so YoB ~1816) - I shall stop there for now; maybe someone else knows more. |
| JONES Charles, Mar 1874 | 26 | # | M | I wonder if this was the Wickwar-born brewer in Church Street in 1861? (and have another look at John CURRY - incomer and brewery barrel-maker). He stayed in the town, in Church Street then Bellview, until he died in 1885 and, if it is the same man, Libby describes a stained-glass window in St Lawrence's Church which commemorates him and his wife Charlotte. Lot 26 is described as a corner piece of land fronting Field Road and adjoining Bowbridge Lane. This is where the Trinity Rooms and the little park now stand. Trinity News of September 1994 says the land was bought from Mr Jones by the Revd Ormerod, a local vicar who financed much of the church's improvements at the time. Jones is a difficult name to research so if anyone knows more please let me know. |
| LARNER John, Dec 1875 | 54 | 15,17, 19B | M | There was a rope-maker of this name in town. In 1861 he was living on Butterow (with a good view of what was happening, then, across the valley), the son-in-law of umbrella-stick manufacturer Henry Hooper (see Daniel HOOPER, listed separately). By 1871 Harriet Larner had died, at the age of 26. John remarried and in 1871 was living in Acre St, a rope and twine manufacturer; his new wife Jane kept a grocery and provision shop (but not on the corner, according to the census enumerator). In 1891 the family was at 12 Kendrick Street, and in 1901 had moved (I think) to the pretty gabled centre terrace house of No 2 Winchcombe Cottages at the bottom of Bisley Road. This was built, as far as logic can take me, on Lot 65. John Larner's purchase of Lot 54 was described in the auction catalogue as 'A piece of LAND adjoining the road to Horns and property belonging to the Representatives of the late Mr Chambers' which makes it the long strip just past the junction of Horns Road and Spinder Lane. This bit is not coloured pink on the Title Deed plan; maybe it should have been. |
| LEWIS Henry, Dec 1873 | 44 | # | T | In the three censuses for 1851, 61 and 71, a Henry LEWIS was a hat manufacturer at 64 High Street. He was born in Randwick in about 1818 and he had wife Mary A and three sons: Francis, Watson and Charles (8, 6, 4). Both Libby and Fisher have Lewis references, but not a Henry. However, the Stroud Valley Illustrated magazine published an undated photograph of Lewis & Godfrey's Drapery Bazaar, which looks as if it took up the whole end block of King Street, opposite the bank on the George St corner (this shop was still a haberdashery and drapery department store when we first moved to Stroud in the early 1980s). I wonder if Henry had a brother, or had put money in with Mr Godfrey? ... no: see James below. Henry's Lot 44 was on the south side of Bisley Road, two up from the corner triangular row of garages. |
| LEWIS James Watkin, Aug 1875 | 36 | # | G | J W Lewis was a member of the Hospital committee along with (amongst others) W Cowle, Sir John Dorington, C H Fisher, W Dangerfield, Richard and W C Grist, C H Hooper, George Holloway, W H Marling - all relatives of surnames appearing in this list. It seems that the local monied families were all eager to invest money locally too. James Watkin LEWIS was born in Carmarthen (so probably not a brother of hatter Henry). In 1871 he was a general draper, living with wife Ellen, children Elizabeth, James W, John B, Ellen, and his nephew and apprentice William Morris (14) in King Street. It looks as if he was living above the shop. In 1881 he was a master draper and had moved to the Slad Road, astonishingly to the house called Woodlands which we bought when we first moved to Stroud. It is now called Slad Valley House but is still as beautiful. I do know something about this house and its originators and plan a separate essay, when I have finished this lot! But back to the Field Estate - Lot 36 is on the north side of Bowbridge Lane, just before the bend. |
| LIDDIATT Thomas Townsend, Jan/Dec 1875 | 6, 79 | # | B | I think this was another local builder, born about 1822. In 1851 he was living at Chalford Hill, son of slater and plasterer William. In 1861 his family was still at Chalford Hill and on the night of the census they had a visitor from Kingston-on-Thames - Peter Dalton, 36, Surveyor and Architect. In 1871 TT's address was Bisley New Road, a house near the original cemetery Lodge - so beyond the Field Estate boundary - a local builder tells me it is on the little lane just opposite the old workhouse and there is a quarry there as well. By 1881 TT was a stone and lime merchant in Bisley Road. Lot No 6 was down on the London Road, but Lot 79 is up at the top of Bisley Road and could well be where he had his business. It is certainly close to another quarry and limekiln marked on the 1884 map at the museum, but the land up behind Bisley Road actually had three quarries, all within the Field Estate boundary. |
| LONGFORD Joseph, Dec 1873 and March 1874 | 37-38, 48-49, 59, 69, 88-89, 102 | inc 37,39B | T | One of the very early buyers, and clearly a serious investor (he paid £372 for his first five lots). He bought by far the largest number of building lots and his son bought yet another one (separate entry). If I have the right man he was a local baker, living successively in Ryleaze Place (1841), Summer Street (1851), Chapel Street (1861), can't find him in 1871 but I think he died in August 1880, aged 60. In 1881 his [?]widow Eliza (61) was a live-in domestic servant in one of the Winchcombe cottages in Bisley Road although his will had asked his executors to ensure her an annual income of £300 - maybe she liked the company. Morris's trade directory of 1867 says Joseph was a baker and butcher at 26 Acre Street. With so many addresses I suspect he was renting rather than a house-owner, but I don't know - he might have been an inveterate property developer, moving in, renovating, and moving on, long before the invention of television programs about them. Lots 37 and 38 were between Bowbridge Lane and Horns Road, Lot 38 was 'adjoining property of the Representatives of the late Mr Chambers'. Lots 48 and 49 are smaller lots on the north side in the middle of Horns Road; Lot 59 is on Bisley Road south side, Lot 69 is on Bisley Road north side and now contains house-numbers 37 and 39; Lots 88 and 89 and 102 are all on Old Bisley Road - he covered his bets nicely and had land on each road! |
| LONGFORD Thomas, Dec 1893 | 50 | # | T | I think he must have been son of Joseph, and from 1871 onwards he lived in Parliament Street, then back at 26 Acre St in 1901, baker, with one daughter a milliner and the other a dressmaker. Lot 50 was on the eastern side of the two bought by his father on Horns Road. |
| MARLING Samuel Stephens, Dec 1875 | 64, 84 | 5,7B | G | S S MARLING MP was from an old local family with many landmarks to their name, so I need say little here. His properties on the lower corner with Hollow Lane pre-dated the Field Estate sale and appear on early censuses of Whitehall as Granville Cottages (the pair of stone houses on the corner - now #1 and 3) and Camden and Linstock Lodges (5,7). Lot 64 now contains a much more modern building than on the rest of the road so it looks as if Mr Marling was ensuring his tenants' privacy. We recently found auction details of the whole of this block - from The Chestnuts down to Linstock Lodge - but the sale was in the 1920s so early information is still missing. We dearly want to know who sold this strip of land to Mr Marling, and when. |
| MILTON Ann, Dec 1875 | 83 | # | ? | Ann MILTON is one of just two women buying land in their own names. In Sept 2012 I finally found her in the 1881 census, a single lady dressmaker living alone at No 6 Lower Dorington Terrace. She was born in Stratton, Glos, but had been living with her parents (father Joseph, farm bailiff) in The Heavens in 1871, so she would have seen all the preparations for the 1873 auction. Later in 1881 she married William Henry PRITCHARD and they were still at No 6 in the 1891 census, with her young niece Jane. Lot 83 is on the easterly boundary of the Field Estate, backing on to the back gardens of Belmont Road. |
| NASH Walter Llewyllyn, Aug 1875 | 31-32 | # | P | The 1871 census has Walter Llewellyn Nash, 29, General Practitioner MRCS b Bloomsbury and living on Rowcroft, who looks a good bet. By 1881 he had moved on and was living at 39 London Road in Reading. Lots 31 and 32 are I think where the hospital expansion took place, although as yet I do not know when - that needs a bit more research. |
| OGDEN William James, Jan 1875 | 73 | # | T | The only local match is a draper at West End, Minchinhampton, in 1881. He was 35, born in Minchinhampton, son of linen draper William (1851 census) but his wife Fanny was from Staffordshire, which might explain his absence from the local 1871 census and my local reference books. They married in Newport in 1875, on the border of Staffs and Shropshire and stayed in Minchinhampton, where Fanny's babies arrived with typical 19thC regularity (and maybe an infant death in about 1889 where there is a gap in the family) and in due course young Arthur joined the family business. Lot 73 is on the north side of Bisley Road, as you can see on the plan. |
| OKEY James, Dec 1875 | 43 | 8,10, 12B | T | This might well be the bootmaker born about 1822 in Stroud and employing nine men in George St in 1871. He was another local man who stayed put and was in George Street until he died in 1897. He was also on the library's Management Committee [Libby], so would have known the other local buyers well. His Lot No 43 on the right as you turn into Bisley Road and I think now contains house numbers 8, 10 and 12. |
| OSBORNE Thomas Skipp, Feb 1874 | 25 | # | G | Thomas Osborne was another member of the library Management Committee [Libby], with a home at 74 Middle Street [Morris]. Unmarried, born 1821, he described himself in successive censuses as 'Landholder', 'following no profession', 'living on his own means'. In 1901 he had moved to 35 Lower Street, with yet another housekeeper. I can't find him in the 1841, 51 or 61 censuses - why am I thinking 'soldier'? I did a quick search but could find no mention of him in the London Gazette. Lot No 25 was 1/4-acre up Field Road, next to that belonging to Major Fisher (whose father lived at The Castle). |
| PARTRIDGE Lucy, Dec 1875 | 11-12 | # | G | I now know that architect William Henry FISHER [see Frank Howell's entry above] married Kate PARTRIDGE, and there was a covey of them in the 1867 directory: N Partridge & Co, fancy woollen dyers at Bowbridge; Miss Charlotte at Bowbridge House; the Misses Partridge at Vine Cottage [at the bottom of Bowbridge Lane - see the 1887 map]; William, paper merchant, printer, and publisher of the Stroud Journal of Russell Street. In 1881 Lucy was 69, unmarried, living with her niece Emily (61) at the house next to [or opposite] the vicar at Devonshire House. In 1871 she was unfortunately visiting her widowed sister-in-law (I think) in Bristol, so I don't know her home address but in 1861 she and her sisters were living at Woodhouse Farm on Butterow. Lots 11 and 12 were described in the auction catalogue as [presumably adjoining] quarter-acre lots, one adjoining Park Road and the next adjoining Bowbridge Lane, but without a plan I cannot be more exact, but she and her sisters were all of independent means, with incomes from land and property. |
| PARTRIDGE Thomas (undated but after 1880) | 15 | # | P | The censuses have a surprising number of Thomas Partridges born in or near Stroud, including a cloth dresser, an ag lab, a guest at H M Prison in Gloucester, a cowman, and a small farmer at Horsepools. But there was also a physician and surgeon b 1831 in Stroud in 1871 and the same man was Physician and Medical Officer of Health living in Bowbridge in 1881. I suspect it was him. Lot 15 was on Park Road, adjoining land belonging to Mrs Clutterbuck, so you can make a guess about its location from the site plan above. |
| PEGLER James, Feb 1874 | 39-41 | # | T | Morris's directory has this as the name of a member of the Board of Health in 1867, so he looks a good bet. If it was the same man then he was born about 1811 and had a pawnbroking business in Middle Street in 1861 and 71; he died in 1879. Lots 39 to 41 appear on the site plan above and the terms of the sale included a stipulation that those plots had to allow a 15' roadway to give access to lots 37-41. Was a new lane built then along the southern boundaries? |
| PRICE Edgar John, Dec 1875 | 60 | 38a 40 | ? | The only match in the 1871 census is a bit young - 27-year-old Edgar John Price in Gloucester St, a storekeeper born in Gloucester city. If it was the same man he was actually living in Bisley Road in the 1881 census - a warehouseman with a wife, five children (oldest 9!), a domestic servant, a lodger and the lodger's sister visiting. His position in the street is unexpected though because he is immediately before the entry for the Cemetary [sic] Lodge when the enumerator seems to have been walking (maybe criss-cross) up the hill. The 1891 census does not help because although he is still there, all his neighbours are different so I cannot pin him down. Lot No 60 is further down on the same side and now contains a neat detached stone-built house, and a newer house set back from the road. |
| SKINNER Joseph, Dec 1875 | 92-3 | # | T | The 1861 census shows a 34-year-old Joseph Skinner, cordwainer and innkeeper, in Bisley Old Road. Morris's directory has him as a bootmaker in 1867. A cordwainer made fine leather shoes, so that sounds like the same man. There were at least two in the town but our man is the one married to Selina who, in 1861, worked with him in his business, as a shoe binder. His father had been a stonemason in Bisley Old Road. They never had any children - or at least any who survived to the next census, and by 1881 Joseph had become a butcher and his niece was living with them. I have noticed that childless couples often had nephews or nieces around - it was not unusual for a large family to place their older children with relatives, which made a bit more space at home as well as providing help in a time when household chores took such a long time to complete. Lots 92 and 93 were also on the Old Bisley Road but I do not know how they fitted in with their existing home. |
| TAYLOR Walter, Jan 1875 | 65, 70-72, 100 | 9,11,13 41,43, 45,47, 49,51 # | ? | There were many TAYLORs in Stroud, including a tailor and livery maker, a blacksmith, a nail maker, a bootmaker, and Frederick at Downfield Villa, but no Walter. Neither Libby nor Fisher names him so he was not on any local committees - I am stuck. Lot 65 quickly became Winchcombe Cottages 1-3; the central three lots were on the north side of Bisley Road and now have very handsome villas, so he was not poor, whoever he was. Haven't yet got to Lot 100. |
| THOMAS Christopher and WORSLEY John, Jun 1874 | 42 | 2,4, 6B; 1H | ? | Neither of these two men was local, or easily identifiable in the 1871 census. Their jointly-bought lot was the triangular piece of land at the bottom of Bisley Road where garages for nearby houses were built later. The modern Stroud District Council on-line planning map shows that Lot 42 includes 2,4 and 6 Bisley Road and 1 Horns Rd. |
| initially unsold | 16, 17, 21-23, 27-30 | # | - | Lots 16 and 17 became substantial semi-detached villas built on Park Road by (or for) William COWLE and sold by his executors in 1900. Lot 21 was W COWLE's's own home at Park House which is now an administrative building for the hospital. Lots 22 and 23 now contain Weavers' Croft - part of the hospital site. Lot 27 was The Field itself and its cottages, Daneway and Mulberry Cottage (now called Huckvales) which are also more prosaically known as Nos 6 and 4 Bowbridge Lane. Lot 28 became Berkshire and Devonshire Houses at 8 and 10 Bowbridge Lane, sold in 1900 by WC's executors (each in turn later described as being occupied by a Vicar of Holy Trinity Church). Lots 29 and 30 now contain the Maternity Hospital. We do now know that Ulrich HOLBOROW acquired a lot of this central parkland from Wm COWLE's executors, and that in the 1930s the a local building company developed Cowle Road in the immediate grounds of The Field. |
My comparison with a modern Planning Department map of this part of town shows that some of today's houses do not match the original Lots - particularly along the top edge of Mount Pleasant, and along Horns Road. Their subdivisions into terraces, or wider plots, make some comparisons difficult. The only way I know to make the link is to find early Deeds that show a particular house was built on a particular Plot. For example, our own Deeds start with Joseph LONGFORD and he only bought one Lot on Bisley Road, so that is unambiguous.
Researching this list took me into the 1881 census pages for Middle Street, just down the hill from the new Field Estate development. Middle Street was - and still is - an ancient and very busy little street, with 89 households in it but the census gives very few clues about who was in which house. The enumerators were supposed to indicate, for the first time in any census, if a household had the use of less than four rooms. None of these houses was so marked but a lot of them must have been fairly crowded and very few had live-in domestic staff.
The census enumerator (Mr John William WAGER) walked from Castle Villas into Middle Street - so presumably started at the lower, town, end - then out into Whitehall. This suggests he went from side to side up the hill and Daniel HOOPER (who started this diversion off) must have been near the top. The occupations of the residents, many with working wives, were wide-ranging. Everyone was employed apart from the younger children still at school. Many worked in tailoring or carpentry. There were master craftsmen and leather workers, a rope maker, a couple of non-conformist ministers and an unemployed clergyman from Norfolk, a vet at Fern Royal House, a cabinet maker with an upholsterer wife, and a strap worker at York Buildings. Edwin Lodge was the innkeeper of the Bisley House, there was a lodging-house keeper five doors away, plenty of sawmill and dyehouse workers, a groom-cum-coachman, a couple of ladies of independent means, a sculptor, and a pawnbroker-cum-grocer.
The last entry before Whitehall was for Joseph Harris, a young lithographic printer, his wife Elizabeth, a tailor's machinist, and their one-year-old Annie. There were of course many small children in the street. Who looked after them whilst their mothers were working? It's difficult to say. When I was researching the mill-town of Haworth in Yorkshire I found dreadful references in the 1850s newspapers about the popularity of soporific and opiate linctuses, very popular with the working mothers of young children, as well as the mothers themselves. The Northern Star wrote of Lancashire druggist shops selling " 'Baby's Mixture', 'Mother's Quietness', 'Child's Cordial', 'Soothing Syrup' and so forth, every one of these lulling beverages being a sweetened preparation of laudanum". So I am not prepared to speculate further, except to hope that in the more settled structure of Stroud there were still plenty of aunts and grandmothers around. And although the Mr Pegler who had a pawnbroker business in the street in 1861 and 1871 had died in 1879, the length of his stay, and the continuation of his trade by the local grocer, suggested there was still a need.
What Tony Macer and I (and a growing number of others) would like to do is to place every existing house on a Lot, identify the people who actually bought the new houses, or rented them from their owners, and find out more about their lives. The available censuses of 1881, 1891 and 1901 do not say whether the occupant was owner or tenant but in our own case - the house on Bisley Road occasionally called Mansfield - the people named in the early deeds were not those who appeared in the censuses, so renting was still the norm.
It is accepted practice when writing family histories not to include anyone who might still be alive. I usually extend this in my own writing to exclude the children of people born in the late 19thC, since they could well still be alive too. Our house deeds do go up to 1980 and the compromise I plan to make is to give names only; no biographical details, once we are into the 20thC, although I still plan to include the purchase prices, since they are astonishing! This summary, and any more we can find, will we hope eventually be part of the resources held at the Museum.
In the longer term, I plan to transcribe the 1881, 1891 and 1901 censuses for all the roads within the Field Estate, as a research resource to be used at the Stroud Museum and to give me material for new essays. This will take some time and might have to wait until the autumn. Or next year. At least it's on my To Do list. And after researching Swaledale in Yorkshire for so long, it is very satisfying to be researching something that I can actually see out of my window.
This research is being carried out in collaboration with the Cowle Museum, also called the Museum in the Park. The museum's website is here; the Museum's Collections Officer David Mullin is being extremely helpful and deserves a grateful thankyou.
Stroud District Council's Planning Department has a large scale, if temperamental, online map that can be useful to dip into. But since Phase 2 started the Council has been especially helpful, particularly with the modern and historical large scale maps that are so essential in research of this kind. The copyright conditions under which Ordnance Survey maps can be used - and added to - are very strict and licensed copies have been specially produced for this research project because of our collaboration with the Cowle Museum, who will in due course become the custodians of this research. Unauthorised reproduction of Ordnance Survey maps infringes Crown Copyright. I am most grateful for the thoughtful co-operation of Council staff, and also for that of the Glos County Library staff in Stroud and elsewhere. The Council's website for historical researchers is here, and offers more links.
Other local organisations have their own websites which are worth tracking down although some are now static. But do try the following:
If anyone has information which adds to, or corrects, what I have written, or if you want me to add another local website link, I would be delighted to hear from you - my email link is on the left.