This was the first of a series of essays about the people who owned the land in Gloucestershire on which our house was built. The links on the left help you navigate through this page, or return to the main Introduction.
My reason for searching out the family is that twelve people called HAWKINS inherited an estate called The Field in Stroud, Gloucestershire, but there was no local trace of them. The estate occupied many acres immediately to the east of the then town boundary - from the ridge to the river - and had been for a long time in the ownership of the Arundell family, who owned the fulling mill in the valley and all the hillside above it.
In 1873 the HAWKINS siblings sold the Field estate to a local man - William COWLE - who then divided it up into 103 building plots plus a new hospital and a nice big Italianate house for himself. In 1988 my husband and I bought one of the houses and in January 2009 I got the title deeds and found not only all the HAWKINS names on the original indenture, but also the local buyers of the first-phase individual plots.
But where had the HAWKINS siblings come from? By June I had exhausted all online resources and was digging in the Oxfordshire county archives. I had uncovered a story which includes the East India Company and hiding the family silver from Napoleon, all of which can be read separately on the CALLANDS and HAWKINS pages.
The story centered on the occupants of a Wiltshire vicarage. I write the story of their lives up to, and after, the sale separately but briefly they were: The Revd John Cunningham Calland Bennett Popkin HAWKINS, father (whom I shall now call JCCBPH), 1793-1871; his wife Elizabeth HAWKINS nee GREGORY, 1797-1851; and their thirteen children:
Elizabeth Gregory 1817-1884, who never married and died at Ramsgate
Harriet Catherine 1818-1897, who never married and died at Ramsgate
Isabella Eliza1820-1901 who married her father's curate John BARTON but died at Ramsgate
John Gregory 1821-1853 who died aged 33, chaplain at the British Embassy in Vienna
Sarah Charlotte 1823-1899, who never married and died at Ramsgate
Richard Berens Bradford 1824-1894 who married and made a successful career as a solicitor
Louisa Elizabeth 1826-1896, who never married and died at Ramsgate
Caroline 1828-1878, who never married and died at Ramsgate
Emily Calland 1830-1897, who never married and died at Ramsgate
Croft Augustus Charles 1831-1884, who joined the East India Company, married the sister of Richard's wife, retired on half pay and died on the Isle of Man
Francis Goodlake 1834-1897, who clerked a bit for Richard and was a great worry to his father, but who never married and died at Ramsgate
Arthur 1837-1897, who went to British Columbia, and eventually died there
Fanny 1839-1895, who never married and died at Ramsgate
How these Hawkinses came to be in possession of land in Stroud was the mystery. Their London-born father had been a vicar in Ramsbury, Wiltshire. Their mother was the wife of one Oxfordshire vicar and the daughter of another. Stroud had for centuries been a rich and busy wool district with strings of water-powered mills and weavers along its many valleys. Exhaustive searching through censuses and Stroud trade directories and local history sources brought up a few tempting HAWKINSes, including a vicar from Ireland, but I could find absolutely no link with the Wiltshire vicar and his wife. And yet on the 1839 tithe map of Stroud, the hillside in question was marked to show that the owner was J Hawkins. What had happened?
My first piece of good fortune was to find the on-line transcripts of the Revd David Nash, now retired in Cornwall, who had been given a box of letters and family papers by a descendant of one of my Hawkins' uncle Bradford Denne Hawkins. David had systematically transcribed many of the papers for the village of Rivenhall in Essex, where Bradford had been vicar for many years. All of these papers are available on the Rivenhall website so I have no intention or need to repeat them here, but they gave me a family to look for, back in February. My second piece of good fortune is that the Revd Nash has collaborated with enthusiasm during my wider research on the family, and has sent me copies of other papers, and pictures, and given his generous permission to publish, copy, and quote from them. As he says, at the age of 84 there is not much point in keeping researches to oneself. My third bonus was to find crucial family papers lodged in the Oxfordshire archives.
So, this whole part of the story is a combination of the sources in Cornwall and Oxford, and occasional extracts from the Rivenhall papers, bulked out by information from censuses, journals and newspapers of the time, Google books, and the very few other Hawkins researchers on-line. Through age and inclination I do most of my research on the internet, but for this chapter it was worth getting in the car and visiting the county archives in Oxford, which has one of the best and most detailed on-line archive indices that I have ever seen - because there in Cowley was the marriage settlement of JCCBP Hawkins and Elizabeth Gregory, and many mysterious mortgages with her name on them.
I knew that the Arundells had owned the land in question. The memorial to the family in the old Stroud parish church gave quite a few of their names, including that of Thomas Arundell and his wife Anne, who was described as "daughter of Thos Gregory, of Hordley, in Oxfordshire, Esq". But even though Anne had died in 1742 and generations of sons followed, as was often the case in those days even an heir and a spare was not enough. The very last son of the Stroud Arundell line, Fream, died aged 19, leaving his father James to die in 1813 without a direct heir. So I wondered: was Anne Gregory born about 1692 any connection to Elizabeth Gregory born in 1798? Well, yes, as it turns out. It looks very much as if she was her great-grandmother.
One key document in Oxford which links the two families is a Lease and Release with Assignment dated June 1757, concerning property held in trust for Thomas GREGORY. The parties were: (1) Friam Arundell of Stroud, Gloucs., gent., devisee in trust in the [1754] will of John GREGORY & Thomas GREGORY of Hordley, clerk, eldest son of Blagrave GREGORY, (2) Thomas DURNFORD of Dulwich, Surrey, gent. You can imagine my satisfaction when I found that. I had already found a description of the inheritance line in British History Online so now two sources said that the Thomas for which the property was being held in trust was the Rev Thomas GREGORY, nephew of the John who made the 1754 will, brother-in-law of Friam [Fream] the trustee, and grandfather of the little heiress Elizabeth.
This diagram identifies the families involved as the Stroud Arundell estate passed down, in trust, to successive generations. There are still some queries and uncertainties, especially since very few Oxfordshire parish registers are available online. However, I am fairly confident that the diagram is true. The people involved are described underneath, in detail. Those who died without children are in grey italics: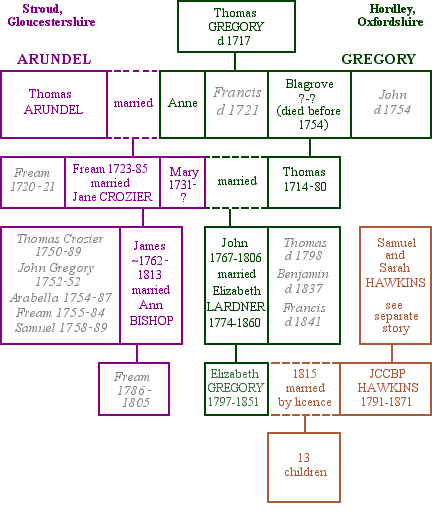 Arundell Mill, Bowbridge, Stroud, was in the Arundell family since the 17thC. They lived at The Field, off Bowbridge Lane, Stroud. The name Fream is from the Freams of Lower Lypiatt [Fisher].
The Hordley and Wootton estates in Oxfordshire had been in the GREGORY family since the 16thC. John Gregory [d 1547] bought Studley priory after the Dissolution; in 1606 John GREGORY of Hordley was a landowner [BHOnline]. Frequently-used family names were John, Thomas, Francis.
Thomas GREGORY Esq of Hordley, Oxon, b abt 1660 died 1717, had a daughter called Anne. He also had three sons: Francis, John and Blagrove (or Blagrave).
Anne GREGORY married Thomas Arundell in Cirencester on 24 June 1719 and they had three children: Fream who died as a baby, Fream b 1723 who had a wife Jane, and Mary bap 1731 in Stroud.
Fream and Jane had a number of children in Stroud (including one with the encouraging Christian name of John Gregory); the only survivor was James b 1762. James and his wife Ann did have a son Fream but he died aged 19 and there was no-one left in the direct line.
Francis GREGORY was the eldest son of Thomas but he died in 1721. He left the family estates to his brother John, then a citizen and fishmonger of London who later returned to Oxfordshire. John must have had no children because his 1754 will left the family estates to his nephew Thomas, son of his brother Blagrave.
Brother Blagrave (whose birth and death I cannot find) had possibly married Marie STILGOE in 1712 in London; he certainly baptised a son called Thomas, in 1714 in Banbury. This young man inherited the family estates from his uncle John.
This Rev Thomas GREGORY married Mary Arundell, daughter of Thomas and Anne, in 1762 in Oxfordshire. The Rev Thomas GREGORY died in 1780. His four sons were: Thomas, Francis, Benjamin and John.
Thomas (Esq, of Hordley) died in 1798; he was probably the eldest son. That left Francis, Benjamin and John, with their widowed mother Mary.
In 1792 Mary, Benjamin and John leased out a 400-acre farm from their Wootton property, so Mary was clearly intended to be still benefitting from the family estates. The lease described Benjamin as a grocer and tallow-chandler living in Stow-on-the-Wold, and John as the rector of Stonesfield. Since Francis is not mentioned in that lease he must already have inherited the Hordley part of the estate, which he sold in 1811 to the Duke of Marlborough. Benjamin died in Teignmouth in 1837; no mention of widow or children, described in his obituary [Gentleman's Magazine 22 Aug 1837] only as "brother of Francis of Cutslow, Oxon". That left Francis and John.
Francis had inherited, and disposed of, the Wootton estate. The only other interested party had been James Arundell and he had died in 1813. John inherited the Hordley section of the Oxfordshire estate and in due course his estate also acquired the Stroud property - still in trust. He had already taken holy orders and was married. When he died in 1806 he was only 39 years old, and left a widow, Elizabeth, and a young daughter, also Elizabeth. Centuries of ancestors and their accumulated property were now resting, in trust, on eight-year-old Elizabeth's little shoulders.
In 1815, little Elizabeth married J C C B P HAWKINS. I am sure that their thirteen children brought great delight to their widowed grandmother Elizabeth GREGORY of Hordley, whose subsequent Christian generosity in giving everything to others would have made her father proud. I cannot see how they would have managed without her.
GREGORY loose ends
During my attempts to establish the link between the Arundells and Gregorys there were too many Thomas GREGORYs for comfort. A particularly awkward one was the Rev Thomas GREGORY, incumbent at Uley (10 miles SW of Stroud) from 1748 to 59. He buried his first wife Mary [BARNES] there in 1745, and soon re-married a Uley widow called Susannah THOMAS; they baptised three children, Mary, Susannah and William; wife Susannah did not die until 1789. This suggests that the Uley Rev Thos GREGORY could not be the same as the Wootton (Oxon) Rev Thos GREGORY. The Uley Revd Thomas was followed by Revd John GREGORY, first mentioned in 1778, but this can't be the John GREGORY we want because he was born in 1767. In 2010 I found the answer in the Gloucestershire Archives, and I am now fairly confident that these GREGORYs had been in the county since the 1600s, with connections to the Bishop and other county bigwigs.
But I am still unable to find the maiden name JCCBPH's mother-in-law Elizabeth GREGORY widow of Rev John GREGORY. If anyone can tell please please get in touch.
POST SCRIPT: And in February 2011 somebody did, and told me that she was a descendant of one of Elizabeth GREGORY's sisters. Hooray. Many other familiar names now fall into place. Elizabeth GREGORY was the daughter of Joseph LARDNER, a blanket weaver of Cogges, near Witney, Oxfordshire, and his wife Martha nee BROOKS. Elizabeth was born in 1774 and married the Revd John GREGORY in 1795. Her sister Sarah married Revd George FOXTON (whose name appears in the early papers after Elizabeth HAWKINS inherited The Field estate). Other sisters Ann and Martha married two WARD brothers - Henry, and William. This must be the William WARD nominated as a guardian and trustee for little Elizabeth in John GREGORY's will, and he is my correspondent's direct ancestor. William WARD's other brother was baptised Charles Scudamore WARD (their father was also called William). Sheila also has CLUTTERBUCKs and SIMMs names in her own research. The CLUTTERBUCKs landholdings in Thrupp share the shared boundary of Bowbridge Lane with The Field estate. Ann SIMMs who married Freame CLUTTERBUCK in 1708 was born in Kelmscott, Oxfordshire, and one of the houses in Bisley Road is called Kelsmcott. We are still trying to join all these names up!
The widow Elizabeth GREGORY's own 1860 will is mentioned in the Probate Index and identifies her own executors as JCCBPH and his son Richard. Her estate was valued then at £600. I think we know where most of it had gone.
The Oxford archives contain many mortgages taken out by Elizabeth GREGORY, some in Oxfordshire (involving people called BROOKS and WARD), some in Stroud. I soon realised that the Elizabeth in the mortgages was not JCCBPH's wife, but his mother-in-law. The older Elizabeth shared the Stroud property equally with her daughter, who had been left the Oxfordshire estates entirely. No doubt the landholdings were all in trust for eight-year-old Elizabeth, who was the last of her line, and John GREGORY's will appointed William WARD (a solicitor and, we now know, little Elizabeth's uncle) as a joint trustee for this suddenly-rich little girl. When Elizabeth married John Cunningham Calland Bennett Popkin HAWKINS in November 1815, in St Aldate's, Oxford, by licence, it was with the permission of her guardian, Henry Wightwick [possibly the Revd Henry Wightwick, another Pembroke man, Rector of of Little Somerford, Wilts from 1794?]. JCCBPH was a young curate with little money of his own. Elizabeth was then not quite 17 and her mother and guardian tied up her inheritance very firmly indeed - this part of the story is expanded in the 2010 research.
In 1817 JCCBPH was ordained by Bishop John Fisher in the chapel of the Bishops' Palace, Salisbury, and licensed as stipendiary curate at Compton Beauchamp, Berkshire, where his stipend was £80 plus rectory house, garden and offices. JCCBPH and his wife Elizabeth settled into the rectory, and in 1817 Elizabeth went home to her mother in Little Coxwell to give birth to the first of their thirteen children. I cannot find the family anywhere in the 1841 census, but JCCBPH's father Samuel Hawkins had recently died in France, and his wife Sarah was very ill. However, by 1851 the family was established at the vicarage in Ramsbury, Wiltshire, where they stayed until JCCBPH's death in 1871.
This map shows the various places in this story and illustrates their distance from Stroud. But Thomas Arundell of Stroud married Anne GREGORY in Cirencester, which at least shows willing. [Our own daughter chose Cirencester as the place for her wedding to an Oxford man - wonder if she realised that she was repeating history?]

By 1835 JCCBPH and Elizabeth had eleven children, and JCCBPH and his mother-in-law Elizabeth Gregory were signing what I thought were the first of many mortgage documents, using the Wootton (Oxon) and Stroud (Glos) inheritance as security. [I was wrong; see more in the 2010 research.] But by then JCCBPH had finally wrestled control of Elizabeth's inheritance from her trustees, so his name appeared on the 1841 Tithe Allocation for Stroud. If you scroll up a bit you can see it again - he's the one I have coloured yellow.
I did not know until our Oxford visit that it was common for mortgages to be repaid within six months or a year, with an interest rate (in Elizabeth's case) of 5%. This sound to me much more like a bridging loan, but they were called mortgages then, and carried with them the same risk of losing the security if the loan was not repaid. It must have been possible to extend these short-term loans because this is what Elizabeth and her son-in-law did. JCCBPH eventually had insurance policies in place, presumably to cover at least the capital involved, and half-yearly interest payments were still being made after both had died. To begin with, the mortgages were taken out with Oxfordshire people but gradually they were transferred and moved on until William CAPEL, whose family already owned much of the land to the north-west of Stroud, bought the outstanding mortgages in 1853. CAPEL is the one coloured pink on the Tithe map and his family already owned large chunks of Stroud.
The 1853 mortgage transfer was the first one I found that gives any description at all of The Field estate. It also contained the signatures of both JCCBPH and his mother-in-law. I found out later that the Rev John GREGORY had substantial landholdings in Oxfordshire and his will spelt out in detail how they were to be managed for little Elizabeth, and gave £50 to his friend William WARD as a thank-you for being her trustee. At the time of his will his distant cousin James was alive and had a son, so just to keep things tidy the Rev John left 'the residue and remainder of my real estates goods, chattels, credits, personal estates and effects to be equally divided between my wife Elizabeth and her daughter Elizabeth GREGORY'. The 'residue and remainder' now included The Field estate, with its income-generating mills and tenants! This 1853 mortgage lists everything and contains names which will be familiar to many Stroud historians. My comments are in [italicised square brackets]. A moiety is a half-share, seized means legally owns; messuage is a dwelling house; a close is a fenced field; a hereditament is anything that has been inherited.
I'm sorry it is so long; solicitors' clerks were paid by the word.
"all that undivided moiety or moieties parts shares and interests whatsoever to which under or by virtue of the said last will and testament of the said John GREGORY [who died 1806] deceased or by way of purchase or otherwise she the said Elizabeth GREGORY is seized or entitled or and in,
firstly: all that messuage tenement or dwelling house with the garden and appurtenances thereunto belonging called the Field, parish of Stroud county of Gloucester, formerly in the possession of James Arundell late of Stroud aforesaid, gentleman, deceased, or his tenants late of Nathaniel WATHEN Esq. [WATHENs were Stroud bankers, attorneys, owners of Lypiatt Park, that sort of thing, although in 1843 Nathaniel [same one?] was living in London at 41 Gordon Square, Bloomsbury; died 1856Q2] or his under tenants
And also all those several closes of arable meadow or pastureland near adjoining to the said messuages and called or known by the name of The Fields heretofore and ascribed as containing by estimation 34 acres ... in the recent occupation of Edward ENGLISH and Thomas PRICE
And also all the close of arable pasture ground lying on the north side of the above closes and heretofore described as being in the possession of Benjamin FISHER as tenant thereof containing by estimation four acres more or less
And also the two orchards nearby of about 16 acres by a later measurement 17 acres and a half (more or less) late in the possession of the said James Arundell or his tenants and afterwards of the said Nathaniel WATHEN [this could have been the land on which the Bisley Road north-side houses were built; there are still apple, pear and plum trees in all the steeply-sloping gardens between Bisley Old Road and Bisley Road. But it wasn't.]
And also that one other messuage or dwelling house and fulling mill adjoining known as Arundell's Mill late in the possession of Rowles SCUDAMORE as tenant [down in the valley on the river Froom]
And also the orchards near the mill about five acres
And also pasture lying on the south side of the river four acres also occupied by Rowles SCUDAMORE [this is still causing a problem - no subsequent deed mentions this four acres on the other side of the river and I still haven't found out who bought it, although JCCBPH did have a selling spree in 1828 for which details are still sparse]
And also that close of pasture ground lying below a place in the parish of Stroud called The Castle heretofore in the possession of Mary LAMBURN afterwards of the said James Arundell or his tenant and since by Thomas SIMS and John CAPEL respectively [by the 1850s The Castle was the home of Paul Hawkins FISHER, the local solicitor and author. His son Charles also gets involved later, and a (cousin?) Joseph FISHER]
And also pasture called Hemlock Well Close containing by estimation five acres formerly in the possession of Benjamin COOKE but since of the said Rowles SCUDAMORE as tenant
And also all that close of pasture ground called The Wool Loft ground containing about eight acres late in the possession of Benjamin COOKE but since of the said Rowles SCUDAMORE
And also that one other place of pasture ground called Winnetts Ground containing about four acres in the possession of Benjamin FISHER and since of Thomas PRICE as tenant
And also that other close of ground called The Fish Pond ground containing three acres late in the possession of James Arundell and since Nathaniel WATHEN
all which said messuage tenements dwelling houses fulling mill closes lands and premises are situate lying in the parish of Stroud"
later in the same document, talking about the same properties, is the following quotation from another document:
"And of and in all the houses and other erections lately made at any part of the said premises save and except out of this assurance the several parcels of land or ground hereinafter mentioned being part of the said Lands and hereditaments ie
a parcel of arable land containing two roods 39 perches and three fourths of a perch being part of the said close called The Field which was in 1827 sold and conveyed to Joseph FISHER of Stroud, gentleman this could well be the land half-way down Hollow Lane shown on the Tithe map as a 3-acre piece number 1165, containing stables. [A perch measures about 16' x 16' - a good-sized living room - and there are 40 perches in a rood. So this is a good match.] Joseph FISHER already owned the big house at the top of Hollow Lane, now called The Chestnuts but then called New Lodge. The same land became Cotteswold Close in the 20thC.]
a close or pasture commonly known as the Upper Castle Ground containing two acres two roods and seventeen perches which was sold to Paul Hawkins FISHER of Stroud, gentleman [the chap at The Castle in whose book I found the original memorial inscription linking the Gregory and Arundell families] by lease and release on 8th and 9th April 1828
and pieces of land near Bowbridge containing two roods being part of a close called Lower Winnetts which in 1828 was sold @@@@@@ [at this point the copy clerk had put symbols very similar to this, clearly intending to mean blah blah blah! I had seen mention of another indenture which hinted that Elizabeth had already sold some of her land; this might be it; I did not investigate further at the time, and now wish I had. Lower Winnetts is possibly the Tithe piece numbered 1190, down at the corner between Bowbridge Lane and the London Road - the Turnpike Trust had a tollhouse on this same corner. But how incomplete is this extract? What else might have been sold off? 'll have to go back to Oxford for another look.]
This same indenture contained a separate Schedule of documents, which contains this information:
Schedule of Deeds and Documents comprised in Securities for £2600
1825 September 15: GREGORY v WARD - attested copy settlement
1836 October 18: HAWKINS to PARKE - mortgage for securing £2000 and interest
1847 December 6: HAWKINS to BARTON [this was Henry Nowell BARTON, son of JCCBPH's sister Eliza Georgiana!] - mortgage for securing £2000 and interest with Bond to accompany
1852 April 12: Further charge endorsed on the last Indenture
1819 July 13: Policy in the Equitable Office on the life of The Revd John HAWKINS for £1000 No 1223
1847 December 6: Copy Notice to the Equitable Office of the transfer of the transfer of the policy [sic] with two receipts for annual premiums attached
1844 July 31: Policy from Imperial Office on life of The Revd John HAWKINS for £1005 No 4367
1847 December 6: Copy Notice to Imperial Office of the transfer of the Policy with receipt for payment of the last premium attached
1853 May 24: Transfer of Mortgage from The Revd H N BARTON [nephew] by direction of the Revd John HAWKINS to Mr James Scarlett PRICE in trust for Mr Thomas SHEAT and others
Received the deeds and documents mentioned in the above Schedule of Messrs Crowdy and Hawkins 24 May 1853, signed Mary Rickards for the Mortgagees [the Highworth, Wiltshire, partnership between Henry Crowdy and RBBH was dissolved in 1855 - London Gazette 11/4/1855]
The mortgage-provider names of William CAPEL, James Scarlett PRICE and Robert ROWLES appear as the first parties in the 1873 Deed of Mutual Covenant resulting from the sale of the Field estate to William COWLE. It does look as though the property remained mortgaged until after JCCBPH's death. Elsewhere, I explain the reason for these huge mortgages - the interest alone was about the same as JCCBPH's annual stipend.
In 1873 the Gregory landholdings in Oxfordshire and Stroud which had been passed down in trust through so many generations of Arundells and Gregorys, were finally turned into cash. JCCBPH's will makes it clear that he had eventually got control of his late wife's inheritance. I can imagine him thinking - what interest did his family have in a hillside in Stroud? The adult children may have visited out of curiosity but had never lived here. Much better to sell, pay off the mortgages and invest the rest in more profitable bonds. He had to do something to support his seven unmarried - and soon to be homeless - daughters and two unmarried sons. Richard had been the only one of the thirteen to marry and have children. He had become a successful solicitor and town clerk in Woodstock, Oxfordshire, his wife was the daughter of what must have been a tax exile on the Isle of Man, if they had such things in those days, and they had only three daughters. What an enviable position to be in. Why hadn't they all done something like that? JCCBPH's will gave his son and executor Richard clear instructions:
"I direct and appoint all the messuages, lands, hereditaments and real estate of every tenure of, or to which I am or on my death shall be seised or entitled at law or in equity or which I have or at my death shall have any general or special power to appoint or dispose of by will ... shall be offered for sale by public auction once at least before the expiration of five years from my death".
He died on 24th November 1871. He had been a widower for 20 years. I almost feel sorry for him now. For over a year, since I first found out about him, I have thought that JCCBPH was greedy, mean, and unhappy. Well he was greedy, mean and unhappy and at the end only his housekeeper was present. He was an old man and died of old age and exhaustion.
Richard wasted no time. He sold the remaining Oxfordshire property to the Duke of Marlborough, the then Lord of the Manor at Hordley, and got in touch with William CAPEL. After paying off the mortgages, the proceeds of the sale would be split between Arthur, Caroline, Croft, Elizabeth, Emily, Fanny, Francis, Isabella and John BARTON, Louisa, Richard and Sarah - grouped variously and sometimes duplicatedly into 6 parties. I am not sure what Richard was doing here - his father's will [which I discuss fully in the Ramsbury chapter] said that Francis and Arthur were not to get their hands directly on any inheritance, so in some instances Richard's own name might just be that of trustee for each brother; I can only make a guess about the significance of the grouping into six parties as described in the Deed of Mutual Covenant, from experience of reading the family's other wills. Whatever the exact outcome, Richard seems to have done well and the sisters badly. Given the effort that Richard had had to put in over the years, and the lack of effort made by his sisters, he probably thought he had earned it.
In 2009 I did not know what William Cowle paid for the Field estate but there was a useful and local comparison in Paul Hawkins Fisher's Notes and Recollections of Stroud. He writes that the new cemetery was built in 1855 on land adjoining the Field estate, and the vestry-appointed Burial Board bought "six acres of land, part of a wood called 'The Conygear' for £757 9s 6d. So an acre was worth about £125. The 1853 mortgage suggested that Richard had about 84 acres, two substantial houses and a working mill to sell, and to a man who knew that he would make money from the site. So the sale of the Field Estate probably made at least £12,000 - enough to pay off the mortgages and set up his many sisters with a home and a modest income. In 2010 I found that he had actually paid £16,500 in total, for just over 60 acres. Something had happened to about 25 acres between 1853 and 1873 and that is still a mystery.
When Ramsbury Vicarage had to be given to the next incumbent, the sisters and Francis moved to a house in Ramsgate, Kent, which they renamed Hordley House - no doubt in honour of the grandmother whose borrowing had kept them going all their lives.
William COWLE of Stroud bought the Field Estate and in 1873 sold building plots for houses on Horns Road and Bisley Road. He swapped plots of land with the Fisher family to be able to make a new road which bent down past the church to join the main London road. He built himself a new house and donated land next to the church for a new hospital.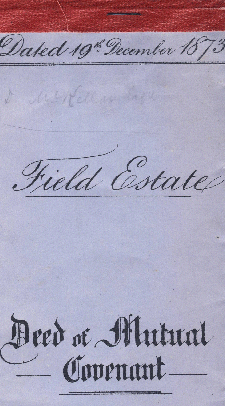 The title deeds to our own house, and indeed to those of every house built on the Field estate (including those of Berkshire House, whose original deed is illustrated here) contain a copy of the Deed of Mutual Covenant entitled FIELD ESTATE, dated 19th December 1873 with 10s stamp duty paid. The original Deed required that a copy of the covenant be included in the title deeds of every house built on the estate. Without that brief requirement, there would have been no story to tell! Our copy, which is itself a typed and duplicated document, unfortunately does not include the original plan to which the various building plots refer, but those plans turned up in 2010. By the time of the 1881 census the first houses had been built. There were rows of workers cottages at Upper and Lower Dorington Terraces, and Upper and Lower Lypiatt Terraces. Some big villas were built on what would become known as Bisley Road. Later houses were built on the newly-created Horns Road and Upper and Lower Churchfield Roads (brick terraces), Field Road (mansions), Park Road (mansions and villas) and Bowbridge Lane (mixed, but mostly much later). The intended value of the different houses may be inferred from the allocated tithe apportionment, which is at the end of the Covenant.
In the following transcript, I have punctuated and spaced the paragraphs to make the names, and the text, easier to read. I have also added explanations of who was whom. It is clear from the various conditions that Mr Cowle intended his land to be occupied by a middle class who could afford houses with a rateable value of at least £20 if not £40, and that there would be no dirty, smelly or noisy businesses nearby. One hundred and forty years on, we local, clean and quiet inhabitants do our best, although we do hear the occasional chicken. When my family moved to this part of town, twenty years ago, we were told that it was known as Stroud's muesli belt. It hasn't changed.
Deed of Mutual Covenant
FIELD ESTATE
DATED 19th December 1873
THIS INDENTURE made the nineteenth day of December One thousand eight hundred and seventy three BETWEEN WILLIAM COWLE of Stroud in the County of Gloucester Gentleman of the one part and the SEVERAL OTHER PERSONS whose names are subscribed and whose Seals are hereunto affixed of the other part
WHEREAS by a Conveyance dated the 17th day of February 1873 and made between:
William CAPEL of the first part [local millowner, landowner and magistrate; the main mortgagor]
James Scarlett PRICE of the second part [must have held mortgages on two separate plots; not a local man but possibly Wm Capel's brother-in-law - a JSP had married Ann CAPEL in 1837 and might be the one who died in Witney, Oxfordshire in 1876]
the said James Scarlett PRICE of the third part
Robert BOWLES of the fourth part [I wonder if this should say ROWLES - the third mortgagor? The only local ROWLES match is a 'circular sawyer' in Chalford but there were others]
Richard Berens Bradford HAWKINS (herein referred to as the said Richard Hawkins) of the fifth part [this must be his own share]
the said Richard HAWKINS and The Reverend John BARTON of the sixth part [maybe as trustees for Isabella Eliza, or another tranche in their own right?]
the said Richard HAWKINS and Francis Goodlake HAWKINS of the seventh part [Richard as trustee for Francis' share]
the said John BARTON and Isabella Eliza BARTON [nee HAWKINS] his wife of the eighth part [a second tranche for Isabella?]
Elizabeth Gregory, Harriett Catherine, Sarah Charlotte, Louisa Elizabeth, Caroline, Emily Callend and Fanny HAWKINS of the ninth part [all the sisters sharing just one tranche?]
the said Richard, Croft Augustus Charles, Francis Goodlake and Arthur HAWKINS of the tenth part [Richard and Croft as trustees for Francis and Arthur?]
and the said William COWLE of the eleventh part
A certain freehold estate situate in the Parish of Stroud in the County of Gloucester and known as "The Field" and "Field Farm" respectively was granted and conveyed unto and to the use of the said William COWLE his heirs and assigns
AND WHEREAS by a Conveyance dated the 31st day of May 1873 and made between Paul Hawkins FISHER of the one part and the said William COWLE of the other part, the said Paul Hawkins FISHER conveyed a small piece of land adjoining the said Estate on the South Western extremity thereof unto the said William COWLE his heirs and assigns
AND WHEREAS by a Conveyance also dated the 31st day of May 1873 the said William COWLE granted and conveyed two pieces or parcels of land certain parts of the said Estate unto and to the use of Charles Hawkins FISHER his heirs and assigns for ever
AND by another Conveyance dated the 16th day of August 1873 the said William COWLE granted and conveyed another part of the said estate unto and to the use of Alfred John STANTON, John Edward DORINGTON the younger, Sidney BIDDELL and the said Charles Hawkins FISHER as Trustees for the purpose (inter alia) of erecting and building an intended New Hospital and Dispensary thereon
AND WHEREAS the said William COWLE has laid out and appropriated other portions of the said Estate and a portion of the said piece of land so conveyed to him by the said Paul Hawkins FISHER as aforesaid for Roads and Footpaths which have been accordingly formed by the said William COWLE and recently dedicated by him as Public Highways and such roads and footpaths are called respectively Field Road and Park Road and the said William COWLE has laid out and divided the remainder of the said Estate and the residue of the said piece of land so conveyed to him by the said Paul Hawkins FISHER as aforesaid into building and other lots as delineated on the plans annexed to these presents [missing] wherein the said building and other lots are delineated by Numbers running consecutively from 1 to 103 both inclusive and the said roads and footpaths are respectively coloured yellow and distinguished by their names hereinbefore mentioned
AND WHEREAS the said William COWLE hath sold many of the said building lots to the several other persons whose names and seals are hereto respectively subscribed and set and the distinctive numbers of the said building lots so sold to such last mentioned persons respectively as numbered on the said Plans are set opposite to their respective signatures and seals to this Deed and the several lots so purchased by them respectively have been conveyed to them respectively in fee simple or for an Estate commensurate therewith
AND WHEREAS it was one of the conditions of the various Contracts for the said Sales of the said Lots respectively that the said several purchasing parties and the said William COWLE should execute this Deed
AND it is also intended that all future purchasers of the remaining Lots shall also execute the same and that in the construction thereof the statements or particulars hereinafter set forth should be taken to have been part of the Contract between the parties
THIS INDENTURE THEREFORE WITNESSETH that in pursuance of the said Contracts respectively and in consideration of the premises the said William COWLE for himself and his heirs and assigns executing this Deed as to such parts of the said Lands as may from time to time remain unsold AND each of the several other parties executing this Deed for himself or herself and his or her heirs and assigns and as to such only of the said building lots as he or she has so purchased as aforesaid respectively do and doth hereby covenant and grant with and to the several other persons who at the time of the executive of this Deed by them his or her (the said covenanting parties or party) are respectively seised of or entitled to any part of the said land delineated in the said plans for any estate or interest whatsoever at Law or in Equity and their respective heirs and assigns in manner following (that is to say)
That they he or she (the said covenanting parties) or their his or her heirs and assigns shall and will from time to time and at all times hereafter pay the apportioned tithe rent charge (if any) on such lots and in such amounts as mentioned in the Schedule hereto which apportionment is now being made And shall be completed by the said William Cowle his heirs executors or administrators at his or their expense;
That until any lot or lots in respect of which the apportioned Tithe Rent charge is payable shall be sold the rent charge so apportioned in respect of such lot or lots shall be paid by the said William COWLE his heirs or assigns, owner for the time being of such unsold lot;
That a right of Roadway ten feet wide as shown on the said Plan shall be and is reserved over Lots 18 to 23 both inclusive for the benefit of the several purchasers of those Lots and of Lots 17, 27, 28, 29 and 30 respectively, such Purchasers to be entitled to the right of user over such part only of the said roadway as lies between the said Road called Field Road and the portion of their lot laying furthest from such lot. [Is this the path along the front of Upper Dorrington Terrace? - no; the recently-discovered map of Lots 1-30 show a right of way running across Field Park parallel with Bowbridge Lane and Park Road - this must be the footpath Fisher wrote about]
That a right of roadway fifteen feet wide as shown on the said plan shall be and is reserved over Lots 37, 38, 39, 40 and 41 for the benefit of the several purchasers of these lots. [This became Upper Churchfield Road]
That the said William COWLE his heirs and assigns shall retain the Ownership of the road between Lots 42 to 55 and 31 to 54 all inclusive and leading from Stroud to the Horns but the several Purchasers of these Lots are to have a right to use such roads for all purposes but only as appurtenant to the respective Lots purchased by them and from the time fixed for the completion of the purchases they he or she (the said Covenanting parties or party) being the Purchasers of Lots 42 to 55 and 31 to 54 all inclusive shall keep in good repair so much of the said road as lies apposite the Lot or Lots purchased by him or her and to the entire width thereof except only where there are two frontages to the said Road and then to a moiety of the width and the said William COWLE his heirs or assigns owner or owners of any unsold Lots will keep in such repair so much of the said road as lies opposite the building frontage of any such unsold Lot or Lots either to the entire or a moiety of the width of such road as before provided until he or they shall procure a Covenant from such other person or persons to repair when this obligation of the said William COWLE his heirs and assigns owner or Owners as aforesaid shall cease and if at any time hereafter such road shall become legally dedicated to the public then all obligations by any person to repair the same shall cease. If any person liable to repairs thereof shall make default any other person interested in the Roads may do such repairs and recover the cost from the defaulting person and if any dispute or question shall arise between any Covenanting party or parties or those claiming under him or them as to repairs to be done by him or them or the sufficiency thereof or otherwise as to the repairs the same shall from time to time be conclusively decided by a person to be named by the said William COWLE his heirs or assigns
AND FURTHER that they or he or she (the said Covenanting parties or party) being the whole of the said parties whose names and Seals are affixed hereto purchasers of any one or more of the said Lots or their his or her heirs or assigns will or shall within three calendar months from the time fixed by his or her Contract for the completion of his or her purchase erect and set upon the Lot or Lots purchased by him or her and from thenceforth keep and maintain good and sufficient fences through the parts or sides of the Lot or respective Lots of land so purchase by them him or her (the said covenanting parties or party) as aforesaid as in the said Plans are marked thus T within the boundary of the said Lots or respective Lot save only that no Purchaser of two or more Lots adjoining together shall be obliged to erect or maintain fences between such Lots
AND that in case any such Fence as aforesaid be so erected as aforesaid then it shall be lawful for the Owner or Owners for the time being of the immediately Freehold of the land between which and the Lot of them him or her (the said Covenanting parties or party) such fence is hereinbefore covenanted to be erected to enter into and upon the said last mentioned Lot of Land and to erect a good and sufficient Fence.
AND the costs and expenses of and incident thereto to recover by Action or Plaint in any Court of Record as and for liquidate damages
AND FURTHER that they he or she (the said Covenanting parties or party) will not and that their his or her heirs or assigns or any persons claiming or to claim through under or in trust for them him or her or by their his or her act deed or default shall not at any time hereafter erect or permit anything to be erected on any Lot or Lots so purchased by them him or her (the said Covenanting parties or party) or use or permit any Lot or Lots to be used in violation of or contrary to the following Conditions or Regulations (that is to say)
1 ALL houses to be erected on Lots 15 to 23 both inclusive are to be built up to the frontage line shown on the plan and no house to be erected on those Lots or on Lots 29 and 30 shall be of such a size or character as when finished will be assessed for parochial purposes on a gross estimated rental of less than Forty pounds per annum. THERE shall not be erected on either of such Lots more than one house or two semidetached houses. No house or house to be erected on Lots 3 to 14 both inclusive on Lots 24, 25 and 26 or on Lots 31 to 36 both inclusive shall be of such a size and character as when finished will be assessed for parochial purposes on a gross estimated rental of less than Twenty pounds per annum.
2 NO building (other than a boundary wall or fence not more than [blank] feet high) to be erected on any of the Lots between the Building line shown on the plans and the respective roads fronting or nearest to such building lines.
3 NO building to be erected on any portion of Lots 1 to 30 both inclusive shall be used as a Slaughter House, Public House, Market or Manufactory using steam power nor shall any of such Lots be used as a Burial ground or Cattle Market.
4 NO Lot shall be used for any noxious offensive or dangerous trade or business or anything which may occasion a nuisance or annoyance to any neighbouring Lot or property.
5 THE Purchasers of Lots 2, 3 and 4 shall not be at liberty to cut down the Ornamental Timber Tree or Trees standing and growing upon each of such Lots respectively within the period of 10 years from the date of their respective purchase deeds.
6 IF any dispute whatever shall arise between any persons in reference to any Conditions as to building or other rights of user or as to boundaries or fencing the same shall from time to time be referred to and be decided by Mr W H C FISHER, Architect and Surveyor of Stroud, aforesaid whose decision shall be final and binding on all parties and in the event of his death or declining to act the same shall be referred to the final decision of the County Surveyor for the time being.
PROVIDED ALWAYS that no covenant or grant hereinbefore contained shall be personally binding on any person or persons except in respect of breaches committed during the time of his her or their joint or sole seisin of or title to the Lot of Land upon or in relation to which such breaches shall have been committed and that no Covenant grant or power hereinbefore contained shall extend or operate to effect or charge any lot of land or the Owner or Owners for the time being of any lot of land other than the particular Lot of land in respect of which the Acts or Default constituting breaches of such Covenant or calling into operation such grant or power shall be done or committed AND the Owners and tenants thereof for the time being (Except only so far as the contrary is hereinbefore expressly provided with respect to the recovery of Contributions to the expenses of repairing and cleansing the said Roads and otherwise) it being the intent and meaning of this Deed that (except as last aforesaid) no one lot of land nor the owners nor occupiers thereof shall by virtue of any thing herein contained be charged or chargeable or in anyway affected by reason or in consequence of any act or omission or breach of Covenant or Condition in respect of any other Lot of land
IN WITNESS whereof the said parties to these presents have hereunto set their hands and seals the day and year first above written [variously December 1873, February, March and June 1874]
SIGNED SEALED AND DELIVERED by the before named John GRIMES, John LARNER, Lucy PARTRIDGE, William HOBBS, Samuel Stephens MARLING, Ann MILTON, Benjamin HAWKINS, George CLARK, Thomas JENNINGS, Joseph SKINNER, William CLARK, James OKEY, Charles HILL, Richard JACKSON, Edgar John PRICE, Thomas Townsend LIDDIATT, William ALDRIDGE, Walter TAYLOR, Thomas DANGERFIELD, Thomas LONGFORD, Joseph LONGFORD, Henry LEWIS, Thomas James CLARK, John CURRY, Richard JACKSON, James BROWN, Thomas Skipp OSBORNE, James PEGLER, and Reuben Usher GREENHILL in the presence of Wilberforce HEELAS, Solicitor, Stroud
SIGNED SEALED AND DELIVERED by the before named Frank HOWELL, William CLARK, Joseph LONGFORD and Charles JONES in the presence of: Edward E DAVIS, Clerk to Mr HEELAS
SIGNED SEALED AND DELIVERED by the before named Christopher James THOMAS and John WORSLEY in the presence of William BUTCHER, Merchant, Rupert Street, Bristol
The Schedule hereinbefore referred to As to the Apportionment of Tithe Rent Charge
On Lots 1 to 10 inclusive:- 6/- each
On Lots 11, 12, 13 and 14:- 5/- each
On Lots 15 to 20:- 8/- each
On Lot 21:- 10/- each
On Lots 22 and 23:- 8/- each
On Lots 24, 25 and 26:- 5/- each
On Lot 27:- £2
On Lot 28:- 10/-
On Lots 29 and 30:- 8/- each
On Lots 31 to 33 inc:- 5/- each
On Lot 55:- 11/-
On Lots 56-63:- 8/- each
NB No Tithe is apportioned on Lots 64 to 103 both inclusive [these are the new plot strips between Bisley Road north side and Bisley Old Road south side - one earlier map identifies this whole block as Mount Pleasant, though the name is restricted to a smaller plot on later maps].
Signed, Sealed and Delivered by WILLIAM COWLE in the presence of Wilberforce Heelas, Solicitor, Stroud
The copy deed in our own Title Deeds contained a list of names, but the copy I saw in February 2010, for a later house sale, contained many more. So this is a good point to move on to the recent research, where I have combined the names into one big list.
Notes and Recollections of Stroud by Paul Hawkins Fisher pub by Alan Sutton, 1986
Twenty Years History of Stroud 1870-1890 by John Libby pub by John Libby and printed by the Stroud News and Gloucester Advertiser [abt 1892]
Stroud museum's website is here
If anyone has information which adds to, or corrects, what I have written in this essay, I would be delighted to hear from you.