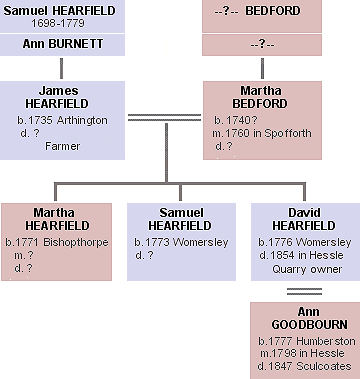 James' baptism
6 September 1735: James Heafield s. of Samuel of Arthington bapt.
Adel PR
Marriage
5 August 1760: James Hearfield m. Martha Bedforth [signed Bedford] both of this parish (Banns) by G. Gowndril. Witnesses Wm Metcalfe, William Bedforth
Spofforth PR
Children (a)
20 August 1771: Martha d. of James Hearfield farmer & Martha bapt

Bishopthorpe PR
Children (b)
5 Oct/Nov/Dec 1773: Samuel son of James Earfield baptized
18 February 1776: David son of James Hearfield, Farmer, Womersley, mother Martha, bapt, born 7 Jan.
Womersley PR
Comment . . . There could well have been other children born between 1760 and 1770, but I can't trace them. Womersley is just east of Pontefract, about 25 miles south of Spofforth (down the A1).