My grandfather Joseph Knight spent twenty years in the Border Regiment. He served in Crete, and in France during the 1914-18 War, and left the regiment in 1919 with the rank of Regimental Quartermaster Serjeant. The family legend is that he ran away from home when his father married for the second time because his new stepmother forced him to eat potatoes, which he loathed. I'm not sure that's a good enough reason to join the army.
The Border Regiment was formed in 1873 by linking the 34th Cumberland Regiment with the 55th Westmorland.
The 1st Battalion was based in Malta when the South African War broke out in 1899, and was sent south to fight to relieve Ladysmith. The photograph on the far left, showing a young Lance-Sergeant J. Knight with his spiked pith helmet, is mounted on a card labelled 'Cassar & Fenech, Valletta'.
A year or two later he had gained a second stripe and was apparently serving in Crete.
War Medals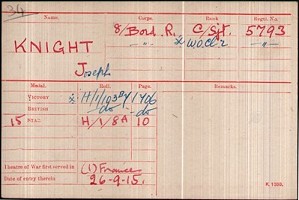 Along with millions of others, he was awarded the usual three war medals, which became known derisively to some as "Pip, Squeak and Wilfred".
The 1914-15 Star ( 5793 C.Sgt. J. Knight, Bord.R.) was awarded to all who served in any theatre of war against Germany between August 1914 and the end of 1915. The British War Medal was for service overseas at any time during the war (and like the Victory Medal is stamped 5793 W.O.Cl 2 J.Knight, Bord.R.).
Meritorious Service Medal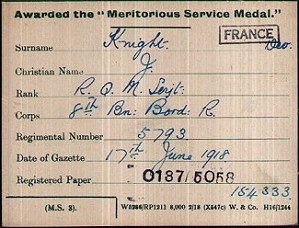 Unusually, he was also awarded the Meritorious Service Medal. This was given to a few Non-Commissioned Officers, either as a long service award or to acknowledge some special service. Medals awarded for the second reason included the recipient's service number, stamped on the rim, and Joe's MSM (stamped 5793 R.Q.M.Sjt J. Knight, 8 / Bord.R.) is of this type. Although some 6 million British War Medals were issued, the number of immediate MSMs was only about 25,000.
My mother, usually quite ruthless in clearing out old unwanted papers, for some reason allowed the ancient memo to survive that instructed Joe Knight to attend the presentation ceremony at Carlisle Castle.
(His reply, apparently dated six weeks later, seems a little odd. Surely the Adjutant would have known that he was on demobilisation leave, especially since he had written to Joe's home address? And how could Joe still have the memo if he had replied and returned it?)
Naturally, Joe took his family to the event, and my mother once told me that she remembers getting up in the middle of the night and being taken by taxi to Carlisle, where her Dad was given a medal in a big square. She would have been seven years old at the time.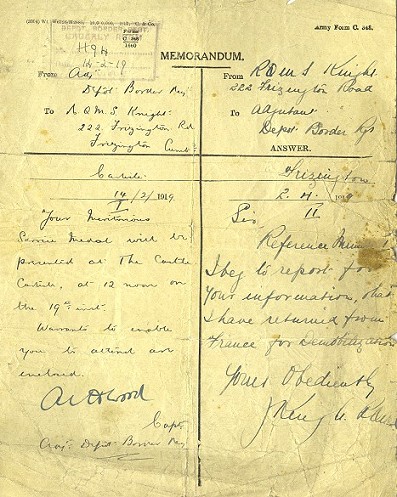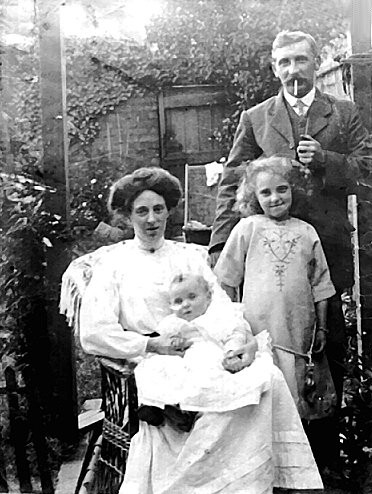 Family photographs too were mostly discarded. This one shows my mother as a baby with her father Joe Knight, his wife Dora Alice and her elder sister Annie. My mother was born in summer 1912, so the picture must have been taken that autumn, in Frizington. Two years later, Joe would have been in France with his regiment.
I assume that Joe himself took the photograph. The rubber bulb in his left hand seems to be connected to a tube that must have led to the camera shutter mechanism. At the time, Joe was 33, his wife was 26, and little Annie was 5.
Marriage
According to his marriage certificate, Joe was in the insurance business in 1906. His father Alexander was pursuing a successful career with the Pearl Assurance Co., (he eventually retired as an Area Manager in Liverpool) and presumably Joe had joined the same firm. Joe's mother Mary had died when he was only twelve, and his father had married again two years later. By the time he married, Joe had four brothers, a step-brother (who was to become my cousin Neville Knight's father) and four step-sisters.
Dora Alice's father, Daniel Briggs, was less successful. Five years earlier he had described himself to the census as a Coal Agent, but ten years before that as a Scavenger, which probably meant he was employed by the town to sweep the streets. I can find no record of where and when he died.