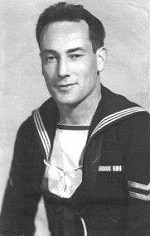 "Why not put my email address on your site somewhere and add something to the effect that there is an old geezer down in Dorset who is willing to share BMD certificates, census returns and photos with anyone who has a family connection?"
My cousin Neville Knight (xknighterrant@btinternet.com) lives in Dorset and has long been interested in the history of the Knight family. These pages were written by him. More material will be added from time to time ...
His daughter Linda has started a blog at http://knightfamilyhistory.blogspot.com/ which gives access to much more detail.
Reflections
I don't remember much about my father or my elder brother Alec. Alec died when I was four and Dad died when I was six. What I can remember is a time of concern, and of not understanding what was happening. I remember getting home from school and day after day finding my mother playing the card game patience at the table. It has stayed in my memory, so it must have been a regular occurrence. I guess it was some form of escape from the traumatic events she had just experienced.
I also remember being in a neighbour's house down the road whilst a lot of activity was going on at my house. It was the funeral of my father, though at the time that did not register with me. I just knew something unusual was happening. Times must have been hard for my mother. This was in the 1930s, long before the welfare state as we know it today.
I can remember going to the cemetery every Sunday to visit my father's grave. From there we used to go to Aunty Jennie's, my father's eldest sister. Aunty Jennie and my cousins Alec, Leslie and Sally were the only relations of my father that I got to know, and that was for a very short time. The last time I has any contact with them was when I was about 11 or 12 years old. Alec and Leslie joined the Armed Forces, and what with the upheaval of the war, I can't remember seeing any of my cousins again. My father's other two sisters lived in London and I only remember meeting them on two occasions. Also my cousins Pat and Alec, the children of my father's sister Lily. I met Pat Haig just the once, when I was in the Navy and visiting Adrian in London, who took me round to Aunty Lily's. My cousins Peter and Tony, children of my father's sister Eleanor ("Nellie") I never met until I was 76 years of age. Strange that a person could live a lifetime and not meet their first cousins. Sad, too.
My younger brother Adrian had kept in touch with my father's side of the family. He lived and worked in London for some years and visited them often. In later years he kept in touch by correspondence.
Adrian had also kept in touch with our cousin Sally Robinson and our cousin Leslie Robinson's widow Nancy. Also, he had contact with Tony, our Aunt Nellie's son. It was through Adrian that I eventually made contact with Peter and Tony. Tony had asked Adrian about family history details. Peter was putting together a family history. Adrian knew of my interest in family history, so put me in touch with them. By a strange twist of fate I was in the USA when I got to know about it, whilst visiting my brother Brian. It turned out that Peter had emigrated to the States in the 1950s and was living in New Jersey. When I got home to England (in January 2005) I started to correspond with Peter, and supplied him with information on the work I had done. Peter and his wife Dorothy made a wonderful trip to England in 2006 on the Queen Mary 2. By good fortune they stayed for the first couple of days with relations in Dorset. That enabled me to meet with them, and I enjoyed our 'historical' get-together.
A few weeks before that I had the pleasure of meeting my cousin Tony Davies and his wife Pat. They had rented a holiday cottage less than a mile from where I live, so we were able to enjoy a short visit.
* * *
From early childhood I had forged strong links with my mother's sister Lily's children Tony and Pat Kelly.
My mother had two sisters, Lily and May. Aunty May remained a spinster but was every child's idea of an Aunty, with a great sense of fun and plenty of time and patience for us children. Aunty Nan (Lily) worked hard all the time to keep her family together, as her husband had deserted her, and was equally as loving and caring. Tony and Pat used to live with us for long periods so we were more like brothers and sister.
Tony and Pat live in North Wales, not far from Adrian, and I visit with them whenever I am in Wales. Indeed our family association with Wales goes back to the 1920s when my mother and her two sisters worked in Llandudno as waitresses. Aunty Nan settled in Llandudno and Aunty May in Llysfaen, just outside Colwyn Bay. Then in the 1970s my brother Adrian moved to Colwyn Bay with his wife Kim and family.
My mother and father moved to Colwyn Bay a couple of years after Adrian. Dad (my stepfather) had retired, and it was a nice area to live in. North Wales - Llandudno in particular - is a very special place to me, my brothers and sister. It holds happy memories of our childhood and even today is a magical place in our thoughts. I remember a holiday that we spent there just before the war . One of the highlights was when we four children (Adrian, Brian, June and myself) went to the Ritz cafe, where Aunty May worked, to get meat and potato pies. We used to take them down to the beach for our lunch. I can still remember how tasty they were. Truly a feast fit for a king.
I can remember that during the war cousin Tony was living with us in Liverpool. His mother, Aunty Nan, was living and working in Llandudno. Tony and I decided to cycle to Wales to see her. We were twelve or thirteen years old at the time. I had a bike but Tony didn't so I borrowed my Dad's bike and Tony had mine. Neither had gears. We left early on a Saturday morning without telling anyone. The weather was fine and sunny.
I left a note for my mother in her cigarette packet telling her of our trip. We cycled to town and through the Mersey tunnel. I can't remember if there was a charge for cylists. Once in Cheshire we headed for Chester. We had no map, and being wartime there were no road signs. We missed Chester and finished up in the Welsh hills. As our jorney went on we both became tired and fell off our bikes a couple of times, the last time as we cycled down the Little Orme into Llandudno. I can remember getting a bag of chips somewhere in Wales and devouring them. Once we got out of the hills it was easier to follow the coast road. We eventually made it to Llandudno early evening. I can still remember the shock on Aunty Nan's face when she saw us. She was working in Payne's corner house, and half the staff there made a big fuss of us. Aunty May turned up. I know we had a big meal and were put to bed, but I don't know where.
Next day we were packed onto the train along with our bikes for the return to Liverpool.
The journey was about 70 or 75 miles. I never made a bicycle trip that long ever again.
* * *
I left school during the war. I was aged 14, which was the age when education finished unless one had passed a scholarship which would permit going to a higher school until aged 16. My brothers Adrian and Brian passed the scholarship. But due to the fact that the Luftwaffe had bombed my school, "nothing personal I hope," I never took the scholarship. So I can blame the Luftwaffe for my lack of education.
I began my working life as an apprentice upholsterer, not my choice but we abided by what our parents decided in those days.
I stayed at it until I was 20 years of age and then joined the Navy, signing on for a term of twelve years. It wasn't a bad life when one was single with no commitments, sailing the seven seas and visiting those far away places with the strange sounding names.
* * *
After serving in the Navy for six years I met and fell in love with Pat Constantine, who was to become my wife. Pat lived in Weymouth, the town which was to become our home, but first we had to got through some trying years with long separations when I was serving overseas.
Pat was married when I met her. She had married at 18 and seperated at 19. Getting a divorce was not easy in those days and we had Linda, our first child, before we could marry. We were able to marry just before our second child, Janice, was born.
I had one or two more postings overseas before I was demobbed in 1962. I managed to get a job in Weymouth, which was good, for it is a nice part of the world to live in. I started work for the Post Office (now known as British Telecom) as a Telephone Technician. The money wasn't high but it was a start. My first job on the Post Office was digging in telephone cables around new housing estates. I found it hard physically at first but stuck with it. I then progressed to cable jointing or splicing, got promoted a couple of times and finished up at retirement as a field manager. In the mean time we had a son, Bradley, and managed to buy a small house that became our permament home.
I lost Pat six years ago. It is still hard adjusting to not having her at my side.
* * *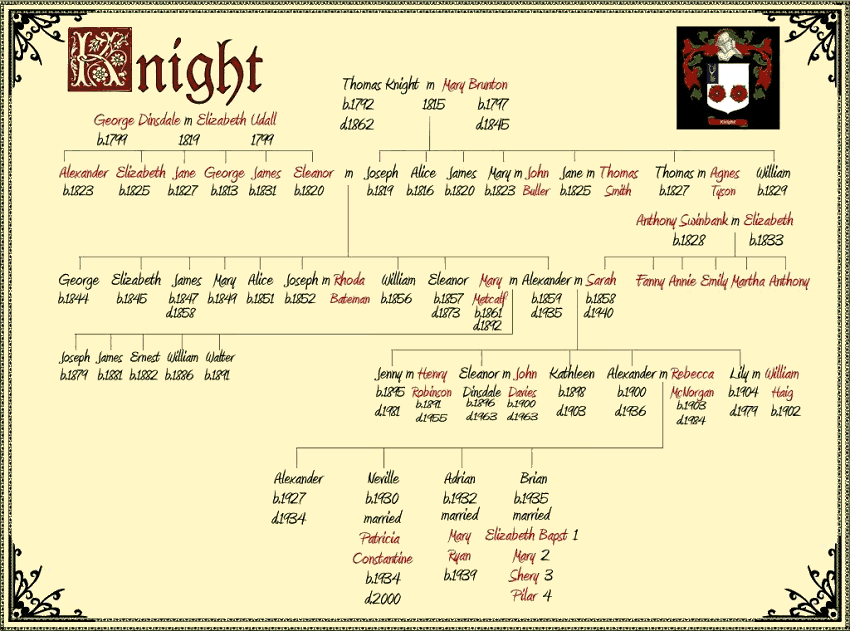 The Knight family tree, showing that my great-grandfather Alexander was Neville's grandfather.