This is one section of Our House, a series of essays about the people who owned the land in Gloucestershire on which our house was built. The title deeds of our house took me to the grandchildren, and the grandchildren took me into the Bay of Bengal and a Wiltshire vicarage. Other essays describe the Calland side of the family, and the final sale of the land. The links on the left help you navigate around this page, or return to the separate home pages for Families, and The Field Estate.
Samuel and Sarah HAWKINS in Westminster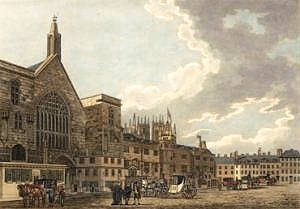 Samuel HAWKINS was a busy London solicitor in 1787. His father had died some time ago but his mother lived comfortably with her brother William, an apothecary who was established in New Palace Yard, Westminster. And this was the address Samuel gave in the pre-nuptual agreement he made before his wedding to Sarah, the daughter of John CALLAND, ex-East-India-man and now a man of substance and property in London.
The Settlement itself is on two stitched sheets of parchment in the Oxfordshire archives, each about one metre wide, difficult to unfold and impossible to copy. I made a summary of the significant points. The agreement concerned Samuel Hawkins of New Palace Yard, Westminster, and Sarah Calland, "spinster, infant aged 19 or thereabouts, only daughter of John Calland of Abingdon St Westminster", and included the phrases
"... since Samuel Hawkins and Sarah Calland his intended wife have determined and agreed to go into parts beyond the seas ... "
and
"because of the love and affection that Samuel Hawkins has for Sarah Calland, this indenture makes provision for her ..."
Put simply: John Calland was a rich man (I write separately about his own early life with the East India Company) and he wanted to prevent Samuel from getting control of Sarah's eventual inheritance. Under the law of coverture at the time, Samuel would have automatically acquired his wife's money and she would have had no further say in what he did with it. So John Calland and his eldest son, also named John, would guard Sarah's inheritance in trust for her and any children she might have, although Sarah herself would be able to change the terms of the trust if she so wished (and clearly she did, as I found out later). Samuel agreed with his future father-in-law's concerns and willingly signed.
The Settlement was signed on the 17th December 1787. The couple must have jumped into a coach and headed for Dover straight away, because their marriage in Lille took place on the 24th December - goodness knows why they wanted to go to Lille - implementing the "parts beyond the seas" intention faster than her father had anticipated! They had done the serious bit with the pre-nuptual settlement, perhaps it was now just a lark. Sarah was only 19 and had lived in France with her mother's sister and been presented to Marie Antoinette at the French court. Maybe she was simply giddy and happy and wanted an adventure. Samuel was ten years older and a busy establishment lawyer but his subsequent letters to his children show that he was an affectionate and funny man and he seems to have been willing to go along with it all. The second marriage was on 27th January 1788, at Stepney, where John Calland gave his daughter his blessing. The marriage lasted for over fifty years and only ended when Samuel died.
By the time their son John was born in 1793, Samuel and Sarah were living at 30 Pall Mall in the newer, posh part of London's West End. The London Metropolitan Archive index has the following intriguing entry for 1795:
MEMORIAL: John Calland of Abingdon Street, Middx. esq., the Revd. John Calland, clerk, son of the above, and William Grant of New Palace Yard, apothecary, to the Lords Commissioners of H.M. Treasury, RECITING that by letters patent 21 February 31 Geo. II [1758] a lease was granted of a Piece of ground on the north side of Pall Mall.
1758? In 1758 John Calland was already out in Madras, a young man making his money with the East India Company. His father had died in Gosport in 1755, but I suspect John still had an uncle named Robert living in London. William Grant - Samuel's mother's brother and his guardian - was aged 23, rather young to be buying a lease. Thomas Grant - Samuel's grandfather - was around. He was the Clerk of Works at Westminster School. It is enough for this story to know that somehow, on either Samuel or Sarah's side, someone had got hold of a building plot on Pall Mall in the 31st year of the reign of George II. The index mentions the Revd John Calland so it is likely that the transaction involved Sarah, since her brother John was one of the trustees named in her pre-nuptual settlement. Mind you, John Calland seems to have been the sort of man who would make sure that his name was first on any list, so I cannot be certain.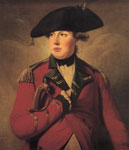 However they got to Pall Mall, John Cunningham Calland Bennett Popkin HAWKINS was born there on the 11th June and baptised at St James', Westminster, on 15th July, 1793. The sponsors (we would probably call them godparents) were Miss Calland, a cousin; John Cunningham, the 15th Earl of Glencairn (pictured left); John Calland, grandfather; and John Bennett Popkin of Kittle Hill, Glamorgan, who had been at Westminster School with Samuel and who would become closely embroiled with the family. Since all the godfathers were called John, they insisted that all their surnames should be included in the baby's baptismal name as well and everyone thought: What a jolly good idea! These names will all crop up again in this intertwining story of repeated riches and bankruptcies, and they allow me to refer to him from now on, uniquely, as JCCBPH.
Thanks to the careful researchers of the Survey of London (on British History online), here is a sketch of Pall Mall in the early 19th century.

The North Side sketch identifies No 29 in the centre of the row. Samuel's daughter Eliza writes that No 30 was directly opposite Carlton Terrace, the home of the then Prince of Wales, which puts the house on the North side too. I can only assume that the convention of odd numbers on one side of a road and even on the other had not yet reached Pall Mall, and maybe Samuel lived in the tall narrow house to the left of No 29.
A modern streetmap places No 30 exactly, in the row of houses which backs on to St James's Square. On a map of the time it would have been here: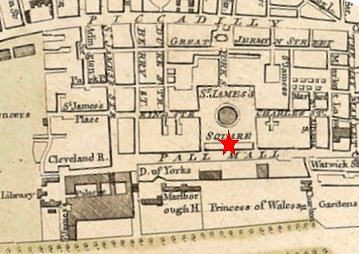 If the young Hawkins family did live there they must have had a noisy and dusty time, because the Survey of London says No 29 was demolished and rebuilt during the time of Sarah's pregnancy with JCCBP. Then I found a house lease sale notice of 1800 which suggests that the family might actually have lived near the church in Finchley, whilst Samuel just kept the Pall Mall house for his business; maybe it was the local demolition work that sent them to Finchley in the first place. Baby John already had two older sisters (one of whom also had Glencairn as a baptismal name and the Earl's wife as a godmother), and Sarah would go on to have seven more children.
On the 6th March 1800, The Times carried the following advertisement: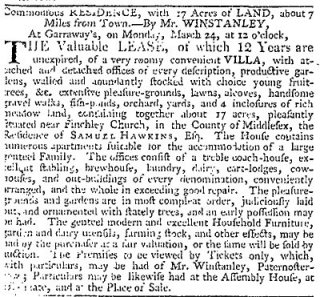 "Commodious RESIDENCE, with 17 acres of LAND, about 7 Miles from Town: THE Valuable LEASE, of which 12 Years are unexpired, of a very roomy convenient VILLA, with attached and detached offices of every description, productive gardens, walled and abundantly stocked with choice young fruit-trees, &c, extensive pleasure-grounds, lawns, alcoves, handsome gravel walks, fish-ponds, orchard, yards, and 4 inclosures of rich meadow land, containing together about 17 acres, pleasantly situated near Finchley Church, in the County of Middlesex, the Residence of SAMUEL HAWKINS, Esq. The House contains numerous apartments suitable for the accommodation of a large genteel Family. The offices consist of a treble coach-house, excellent stabling, brewhouse, laundry, dairy, cart-lodges, cow-houses, and out-buildings of every denomination, conveniently arranged, and the whole in exceeding good repair. The pleasure-grounds and gardens are in most compleat order, judiciously laid out, and ornamented with stately trees, and an early possession may be had. The genteel modern and excellent Household Furniture, garden and dairy utensils, farming stock, and other effects, may be had by the purchaser at a fair valuation, or the same will be sold by auction."
The Morning Herald followed on 9th April 1800 with: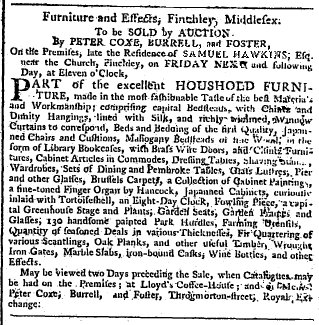 "On the Premises, late the Residence of SAMUEL HAWKINS; Esq. near the Church, Finchley, on FRIDAY NEXT and following Day at Eleven o'clock, PART of the excellent HOUSHOLD FURNITURE, made in the most fashionable Taste of the best Materials and Workmanship; comprising capital Bedsteads, with Chintz and Dimity Hangings, lined with Silk, and richly-trimmed Window Curtains to correspond; Beds and Bedding of the first Quality, Japanned Chairs and Cushions, Mahogany Bedsteads of fine Wood, in the form of Library Bookcases, with Brass Wire Doors, and Chintz Furnitures, Cabinet Articles in Commodes, Dressing Tables, Shaving Stands, Wardrobes, Sets of Dining and Pembroke Tables, Chais Longues, Pier and other Glasses, Brussels Carpets, a Collection of Cabinet Paintings, a fine-toned Finger Organ by Hancock, Japanned Cabinets, curiously-inlaid with Tortoiseshell, an Eight-Day Clock, Fowling Piece, a capital Greenhouse Stage and Plants; Garden Seats, Garden Frames and Glasses; 130 handsome painted Park Hurdles, Farming Utensils, Quantity of seasoned Deals in various Thicknesses, Fir Quartering of various Scantlings, Oak Planks, and other useful Timber; Wrought Iron Gates, Marble Slabs, iron-bound Casks, Wine Bottles, and other Effects."
If this is not actually the house of our Samuel Hawkins, it certainly sounds like the kind of house John Calland would have bought and furnished for his daughter.
Finding the Hawkins family in Pall Mall was a pleasing coincidence for me, because I had just finished researching and writing about 18thC domestic drains and sewers and the building of a new main sewer along Pall Mall in 1729 (I was actually researching cowkeepers at the time but the internet takes you to the strangest places) so it was very satisfying to be able to imagine the effects of such domestic plumbing on this particular family. The "out-buildings of every denomination, conveniently arranged" are estate-agent-speak for outside loo, into which would be emptied, every morning, the "Cabinet Articles in Commodes". Do read either essay some time, when you have not just had lunch.
Samuel and Sarah's biographies, and those of their children, were once on www rivenhall.org.uk at just the right time for these essays, but (2014) the website is no longer available. I have backup copies if you need them. Here are some brief details about their children:
Harriet Calland b 13 Feb 1789 at Abingdon St, Westminster; married at St Thomas's, Bombay, 13 Feb 1816, to Fortunatus Hagley PIERCE b Bristol June 1784. Daughter Harriett Agnes b Bombay Dec 1816; son Fortunatus Augustus b Siroor May 1818. Harriet died at Siroor in June 1818 aged 29.
Catherine Smith b 11 Oct 1790 in Pall Mall; married at Bombay to Charles GRANT b Bideford Devon July 1788. Children: Catherine Ford June 1813, Charles Fortunatus June 1817, George April 1820. Catherine died in London Feb 1827 aged 36. Charles died 1861 in London and had regular connections with the Calland children.
John Cunningham Calland Bennett Popkin b 11 June 1793 at 30 Pall Mall - his children and later life are described in the Ramsbury chapter.
Isabella Glencairn b 28 August 1794 in Lymington, Hampshire (whilst on holiday?); m Henry HESSMAN b 1777 Dinapore. Children: Caroline b Oct 1819, Arthur Jn Stannus b May 1821, Eliza b Jan 23 all b Bombay. Henry died 1833 at sea. Isabella died 1881 Isle of Wight. (Countess of Glencairn, wife of John Cunningham the 15th Earl, was a godmother).
Eliza Georgiana b 9 Nov 1795 Pall Mall; married 1) 1814 Epsom: Felix Caesar O'Neal O'Hanlan (the bigamist); 2) 1821 Bombay: James BARTON who died 1829 Matoonga - their children were Emily Catherine b May 1822, Henry Nowell b Oct 1823 [whose name later appears on one of JCCBPH's mortgages]; Eliza Margarita b Sept 1825, Charles James b April 1827, Lionel Chase b July 1828; 3) 1835 Rivenhall, Essex, by licence: Cockshutt HEATHCOTE b Nov 1793 Derbyshire - had twins Cockshutt Dunsterville and Georgiana Caroline b June 1836, Thornhill B b Mar 1839. Eliza died in Devon 1886; husband Cockshutt had died the year before.
John Croft b 6 April 1798 Pall Mall; Royal Navy then Indian Navy, unmarried, convicted of piracy (a long story) then pardoned by the King; died Bombay 1853 after a road accident.
Bradford Denne b 2 September 1799 at The Parsonage, Bentworth (where his mother Sarah's brother was Rector); married 1828 Tidmarsh near Reading to Sarah HOPKINS b Jan 1806; children all born at Rivenhall, Essex: Sarah Charlotte b Jan 1829, Eliza b Nov 1829, Bradford Robert Jnr b Nov 1830, Robert Samuel b 11 July 1832. Wife Sarah died 17 July 1832 aged 26; Bradford never remarried, died Rivenhall 1882. Many diaries and letters on the Rivenhall website.
Augustus Samuel b 29 October 1803 at Sloane St (home of Sarah HAWKINS parents; John Calland died 1803); a Major General in HM Indian Army; died in England May 1865; married 1) 1841 British Embassy Paris: Esther Elizabeth ARMSTRONG b 1817; son Augustus Richard b May 1842 Guernsey [must have died as a child], dau Esther Julia b Oct 1843 Karachi; wife Esther died Karachi Nov 1843; 2) 1850 Cheltenham: Ann Henrietta Campbell LAMBERT b 1831; children Augustus Richard June 1856, Campbell Bradford b Dec 1858.
Charlotte Sarah b 11 Nov 1805 Brighton; married 1828 British Embassy Paris: Ferdinand POULLEAU; children Ferdinand, Louise, Edmond, all b in France. Ferdinand died before 1837; Charlotte died after 1880, presumably in France.
Caesar Arthur b 7 June 1809 Findon, Worthing. He became a midshipman in the Royal Navy but died aged 20, of tuberculosis, at his uncle Charles CALLAND's house in Norton Street, Mayfair.
The family papers say that Samuel's clients were mainly based in the East India Company or in the church. There is speculation that it was working for John Calland that introduced him to Sarah. He certainly did do a lot of work for John Calland later on, as his son-in-law he was a key member of the family team managing the various estates in Glamorgan, and his name pops up in his professional capacity in various hits on Google books and in the contemporary newspapers. I have selected just a few mentions to give a flavour, and to show that it is easy to get the wrong man.
There was a carpenter of the same name in 1791; and another Samuel Hawkins, who owned a pub in Tower Hamlets, was active there in local politics and died in 1807. One report [Star, March 11, 1795] which must have been about him said:
"Samuel HAWKINS was one of six trustees for an emergency charity set up to relieve the poor of Tower Hamlets suffering after the last severe winter, to redeem from the Shoreditch and Spitalfields pawnbrokers the Working Tools and the most necessary Wearing Apparel pawned by the industrious poor."
This poverty was supposed to be the origin of the nursery rhyme Pop goes the weasel - 'pop' meant 'pawn' and a 'weasel' was a kind of overcoat. Up and down the City Road... How could I resist including that!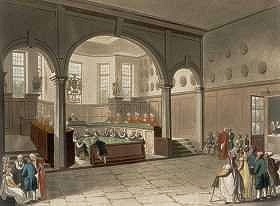 But there were enough reports of the lawyer Samuel Hawkins to reassure me that the Finchley house might well have been his. In 1785 he was an officer in Doctors' Commons (pictured here), a society of lawyers practising civil law in London, and particularly ecclesiastical law, which was one of Samuel's specialities.
If I have the right man, he was a steward for the Middlesex Dispensary and Treasurer of the London Hospital charity and one of the vice-presidents of the Charity Schools. Then, in 1794, there he was acting for John Bennet POPKIN (Samuel's old school friend and JCCBPH's godfather) in a Chancery dispute about the forced sale of the Forest Estate in Glamorgan.
The estate - mostly containing coal-mines, but also containing a copyhold agreement that bedevilled the subsequent Calland estate for decades - was eventually bought by John CALLAND and then shared between his children, including his daughter Sarah. I write about this in more detail in the Calland family story here.
More references put Samuel as a steward of the Whig Club. This sounds like his sort of thing; David Nash notes that later members of the family were Whigs, or at least whiggish. [one simple definition I read recently was that Tories were land owners and Whigs were mill owners - or old and new money]. Two of the other Stewards were the Rt Hon C J Fox, and Lord William Russell, both extremely well-known and influential politicians. Samuel appeared in court regularly, and acted for members of his family where legal help was required. He even took on his brother-in-law Charles Calland as a legal clerk, who probably did not expect that getting stabbed by a client was part of the job description.
Charles Calland was an impetuous and outspoken man, and he and Samuel had their disagreements over the years. After some particularly disagreeable comments by Charles following the trial of Samuel's son Croft (an East Indiaman captain) for piracy, Samuel felt forced to demonstrate his own provenance by listing the distinguished members of his own ancestry [see the Rivenhall website for a full transcript], which included his great-uncle William HAWKINS, an eminent barrister and Serjeant at law; his great-grandfather Dr Samuel BRADFORD, Dean of Westminster and Bishop of Rochester; and great-uncle-by-marriage Dr John DENNE, Archdeacon of Rochester and guardian of his mother Susanna after the early death of her parents. Samuel's grandfather Thomas GRANT had been college butler, brewer and Clerk of Works at Westminster School, where Samuel himself had been a pupil (as had John Bennett Popkin, at the same time). But his father's expectations had been dashed; he wrote:
"as the eldest son and of the oldest branch of the Family being fairly considered as heir apparent to his Uncle the Baron of the Exchequer was consequently looked upon to be provided for - unfortunately for him however the Uncle at an advanced period of life (having no child by his first Marriage) married a second time and tho' it proved the same as digging a grave for himself (for it brought on apoplexy & palsy of which he died) it marred all my Father's expectations by [producing] a male heir."
Samuel also writes ingenuously of making regular visits to "Two of the first people in Oxford - they resided constantly there & I took Mrs H to visit in hopes as they were rich of being recollected" which suggests that he was conscious of not being as financially well-established as Charles.
Samuel's readiness to help out family members is illustrated by this slightly exasperated letter to an old friend of the Denne family, where he wrote [from correspondence at Wilmington Vicarage quoted in John Nichols book Illustrations of the Literary History of the Eighteenth Century pub 1831]:
"there can be no objection to Gough having the refusal of 'your late friend's library' but indeed being unable to find a will for Mr Denne, after most tedious searches at different times, the only chance there is of discovering one is among the leaves of the different books which he may lately have had in use and wherein he may inadvertently have left it."
John Calland died in 1803 and bequeathed his considerable fortune equally between his five children. Sarah and Samuel moved into his house in Sloane Street, Mayfair. Life was good.
Soon afterwards, Sarah's mother Elizabeth also died and Samuel moved his family to Grand Parade, Brighton - or Brighthelmstone as it was then called. He continued his business from Pall Mall, and commuted for weekends at the seaside. The family then moved along the coast to Findon, near Worthing, and shared a house with Samuel's mother and his uncle William. By now Samuel had virtually retired from his London legal practice and he decided to start a bank in Worthing. Unfortunately, Mr Phillips, the manager, was an unscrupulous man. The bank went bust, and Mr Philips was eventually declared a bankrupt. Samuel felt he had to to pay back the £30,000 owed to the bank's creditors. This just about wiped out his own resources, and even intruded onto Sarah's inheritance from her father, so carefully protected by that pre-nuptual Settlement, because in July 1810 Sarah agreed that Samuel could sign over at least some of the income from the Forest Estate. He had other resources too, as the on-line catalogues of various County archives show. Here are the transactions I have found. There may of course be others lurking in dusty boxes:
01 Jan 1808: Counterpart Lease for 13Years and three-quarters (wanting 21 days) £70 for each of first 7 Years, then £75 per annum. [Oxford Archives P19/37/D/1] - Parties: (1) Samuel HAWKINS of Findon, Sussex, Esq., (2) Rev.Thomas BASELEY of New Norfolk St., Park Lane, parish of St. George, Hanover Square, Middx. Property: Part of a field called Upper Hill Field or Fuzzy Close on east side of New Norfolk Street, and the third house southward from Green Street, in the parish of St.George, Hanover Square [Middx.]. Comments: includes schedule of fixtures & fittings of house.
03 Jul 1810: Lease for a Year (Release missing) [Oxford Archives P19/37/D/2] - Parties: (1) Samuel HAWKINS of Worthing, Sussex, banker, (2) John RAMSBOTTOM, Richard RAMSBOTTOM, John NEWMAN, John RAMSBOTTOM the younger & Nicholas GRAHAM, all of Lombard Street, London, bankers & co-partners, Property: Fifth part of property called Forest Estate in Swansea (Glamorgan), devised for life to (1) by will of John CALLAND.
06 Feb 1812: Grant of Annuity of £275 14s.6d. [Oxford Archives P19/37/L/3] - Parties: (1) Samuel HAWKINS of Parliament Street, Westminster, Esq., & Sarah, his wife, (2) William IRONMONGER of Cocohelen, Carnarvon, Esq., (3) William PRICE of Lincolns Inn (trustee), (4) Alexander PRICE of Parliament St. (trustee) [Charles Harrison Wallace's website has a beautiful set of illustrations including Parliament Street of the time, and many more]
08 May 1815: Release of a Moiety of an Annuity [a moiety = a half] of £275 14s.6d. [Oxford Archives P19/37/L/5] - Parties: (1) William IREMONGER of Carnarvon, Esq., (2) Samuel HAWKINS of Parliament Street, Westminster, Esq., & Sarah, his wife, (3) William PRICE of Lincolns Inn, gent., (4) Alexander BRUCE of Parliament St., Westminster, Esq. Consideration: £1017 10s. Comments: yearly sum released to (2).
Then I found the following reference in
Reports of cases argued and determined in the Court of Exchequer
[1814-1824] Published by W. Clarke and Sons, 1816:
"1814 Friday 24th July CASES IN THE EXCHEQUER: HAWKINS V RAMSBOTTOM & CO on 26th August 1809, Matthew Phillips deposited certain deeds with Samuel HAWKINS and Henry Phillips, as security against a loan of £3,000. HAWKINS & Phillips undertook to give six months' notice to M Phillips of any requirement to call in the loan, if he did not repay all principal and interest then they could sell and dispose of all the properties covered by the deeds. On 16th April 1810, S HAWKINS & H Phillips assigned the loans to Ramsbottom & Co on trust and appointed Ramsbottom & Co their attornies."
And, ironically, the East Kent archives index has an entry describing an 1800 letter with a Samuel Hawkins of London [EK-U1453/B3/15/908] concerning the difficulty of collecting debts.
The National Archives index shows that they hold: Court of Chancery: Six Clerks Office: Pleadings 1801-1842 [C 13/141/24 W1811 H46]
"Hawkins v Phillips. Bill and answer. Plaintiffs: Samuel Hawkins. Defendants: Charles Phillips, Henry Phillips and James Penfold. Subject: dispute between the former partners of the insolvent Worthing Bank, and bankrupt wine merchants over debts Date: 1812."
Samuel's daughter writes of watching her father sitting at his desk in their house, paying in full every creditor who came to ask for his money back. He was determined to do so, but the family could no longer afford to live their luxurious and comfortable life and about 1815 they moved to live in France on Sarah's money. They took a house in Tours, with another house in the countryside (relative poverty, then, not actually on any breadline) and their sons Bradford and John commuted to university in Oxford. In 1814 they still managed to arrange a marriage settlement for their daughter in which sums of £8,000 were mentioned (though the original document in Oxford is so faded and complicated that it was hard to tell who was getting what).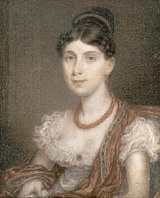 The Findon village website has this portrait of Eliza Georgiana. Her 1814 marriage, with the £8,000 settlement, to the extravagantly-named "Felix Caesar O'Neil O'HANLON of Newry, Ireland, at present living in Spain", was unfortunately a bigamous one, and apparently the bridegroom was arrested at the church. Eliza was packed off to India, where she married James BARTON [there are many internet hits about the Barton family].
After being widowed, she married a third time against great family opposition (according to family letters) and lived in Derbyshire with an indulgent husband, adult step-children, and twins of her own. A visit to see these babies was one of the few times Samuel and Sarah returned to England, as Samuel described with great delight in a letter (below). Eliza must have been a great worry to her parents!
Some in the family think that the shame of Eliza's humiliation contributed to the move to France. But Samuel and Sarah made the best of it and, although their children spread themselves across the empire, or became English vicars, the family remained close and regularly wrote long and chatty letters to each other, including Samuel's story of rushing to bury their valuables in the garden in 1815 as Napoleon's men marched up from the south. (This photograph shows the house at No 12 Place d'Archdeche - now the Place Francois Sicard - where the family lived and where Samuel died. It was sent to me in January 2012 by Ralph Harris, a recently-discovered Hawkins researcher.)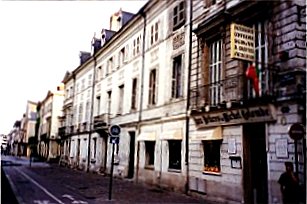 The house in Tours was a regular destination for visitors - friends and family alike - so they did not return to England often. But whilst some extensive house repairs were being carried out, Samuel and Sarah visited their daughter Eliza who, after her third marriage, gave birth to twins in Derbyshire in 1836. Samuel wrote about this happy state to his son Croft, out in India:
"Brad., I dare say, with his usual archness, made known to you how complimentary Eliza had been to her husband, in presenting him with twins! Your mother has had them in her arms, but unfortunately, with defectiveness of sight, was not able to judge so well of them as she could have wished. The boy was lively enough to make formidable attacks upon her spectacles; tho' at present diminutive and delicate, he has a pair of bright eyes and is named after his Dad, Cockshutt. The little lady has the advantage of her brother in size and not behind him in eyes, having two very beautiful blue ones; she is named after her Mamma who is nursing herself the two little dears, - kept laying in so good a stock of capital Derbyshire ale that her arms and other limbs that must be nameless, are double the size and still retain the firmness acquired by that potent and delicious beverage."
And on an earlier, sadder occasion, Sarah had rushed back to nurse her youngest son Caesar Augustus, a midshipman in the Royal Navy, who was ill with tuberculosis at her brother's house in London. He died in 1830, aged just 20.
In his letters Samuel is funny, and rueful, and very outspoken about some members of his extended family. In 1838 he wrote about being Sarah's tall Silver Stick in Waiting:
"I with my right arm as powerful as it was, at least twenty years ago, balance in perfect Security her left Side; and the Stick has proved in her right hand a very complete support, on that quarter that used to be wholly unprotected - for falls upon falls on the right hand occurred, and by her weight, more than once, I was completely floored myself; luckily she does not know it, but many many by their sneers and jeers, look upon it as all pompousness, but I am immoveable at such stupidity, and the higher bred folk look upon the tall Stick in a more dignified point of View. Certainly it is perfectly unique in this part of the world for a lady to be walking out constantly with a Cane of such beauty, peculiarity of appearance in its mounting, and also of its height. Your mother is so great a sufferer in her feet, that I much fear she will be deprived of the greatest pleasure she has In that of walking, and I have proposed either a pony or an ass, but she does not seem inclined to the one or the other."
In his will, Samuel regrets that he has nothing to leave to anyone except his beloved wife,
"who has been a pattern of steadiness and affection for between forty and fifty years past ... and for whom if I had tens of thousands of pounds instead of the few mites left out of a considerable property, I should be rejoiced at having it in my power to give more substantial proofs of my gratitude"
and she must certainly not consider for a moment the
"vain expense of 600 francs for a piece of Burial Ground" but bury him "with the utmost simplicity, or by the side of one of my own Family but let not this latter thought form a question if being wholly impracticable".
Samuel died in France in 1839, Sarah in April 1842, with her daughter Isabella and granddaughter Caroline at her bedside. JCCBPH had written to his brother Bradford in March, passing on a letter from a very distressed Isabella and saying that parish duties meant he really could not go until at least the week after next. A heartless reaction? Certainly self-centered, at a time when some compassion was due. I suspect that JCCBPH still resented his parents' flight and the loss of his inheritance.
Both Samuel and Sarah are buried in Tours. These portraits are from David Nash's treasure box. His biographies of all their children are on the Rivenhall website, so I shall not mention them again (although I do have emergency backup copies here, if anyone has difficulty). But I did find out quite a lot more about JCCBPH himself and his own large family.
If anyone has information which adds to, or corrects, what I have written in this essay, I would be delighted to hear from you.