Neville Knight's BMD records
My cousin Neville Knight (xknighterrant@btinternet.com) lives in Dorset and has long been interested in the history of the Knight family. His daughter Linda has started a blog at http://knightfamilyhistory.blogspot.com/ which gives access to much more detail.
This page shows some of the Birth, Marriage and Death certificates and photographs he has collected, and the Tree showing the whole family.
The family tree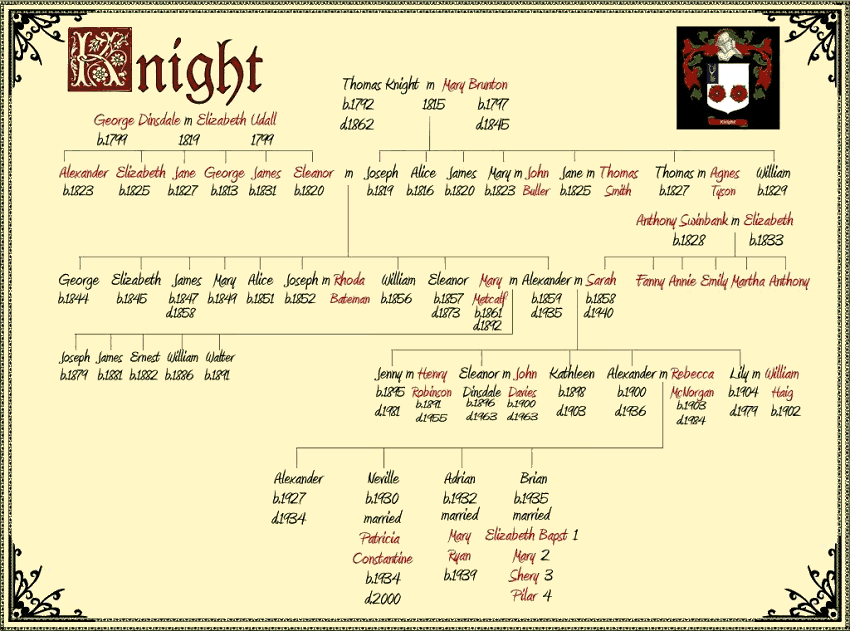 The Knight family tree shows that my great-grandfather Alexander was Neville's grandfather.
Early records
Marriage of Thomas KNIGHT and Mary BRUNTON
Thomas KNIGHT
Mary BRUNTON
1815

"Why not put my email address on your site somewhere and add something to the effect that there is an old geezer down in Dorset who is willing to share BMD certificates, census returns and photos with anyone who has a family connection?"
Marriage of George DINSDALE and Elizabeth UDALL
George DINSDALE
Elizabeth UDALL
1819
George Dinsdale married Elizabeth Udall in Kendal on 7 April 1819, on (or close to) his 20th birthday. He was about eight months older than his bride.
Marriage of Joseph KNIGHT and Eleanor DINSDALE
Joseph KNIGHT
Eleanor DINSDALE
1841
CERTIFIED COPY of an ENTRY OF MARRIAGE
Parish Church, Kendal, Westmorland
When married
Name
Age
Condition
Profession
Residence
Father's name
Father's occupation
30 May 1841
Joseph KNIGHT
of full age
Bachelor
Weaver
Kendal
Thomas KNIGHT
Tobacconist
Eleanor DINSDALE
of full age
Spinster
Servant
Kendal
George DINSDALE
Shoe maker
Witnesses:
William Whinray, Hannah Wrigley
Birth of Sarah Agnes SWINBANK
CERTIFIED COPY of an ENTRY OF BIRTH
Kendal, Westmorland
When & where born
Name
Sex
Father's name
Mother's name
Father's occupation
Informant
When registered
23 August 1858 ... Highgate, Kendal
Sarah Agnes
Girl
Anthony SWINBANK
Elizabeth SWINBANK formerly CLARK
Agricultural labourer
E. Swinbank, Mother; Highgate, Kendal
16 September 1858
Death of Joseph KNIGHT
CERTIFIED COPY of an ENTRY OF DEATH
Kendal, Westmorland
Where & when died
Name
Sex
Age
Occupation
Cause of death
Informant
When registered
17 October 1860 ... Caroline Street, Kendal
Joseph KNIGHT
Male
42 yrs
Linsey weaver
Chronic phthisis Certified
I. Dinsdale, present at the death Stricklandgate, Kendal
21 October 1860
Death of Thomas KNIGHT
CERTIFIED COPY of an ENTRY OF DEATH
Kendal, Westmorland
Where & when died
Name
Sex
Age
Occupation
Cause of death
Informant
When registered
4 April 1862 ... Stricklandgate, Kendal
Thomas KNIGHT
Male
70 yrs
Tobacconist
Old age Certified
J. Knight, present at the death Stricklandgate, Kendal
8 April 1862
Marriage of Joseph KNIGHT and Rhoda BATEMAN
Joseph KNIGHT
Rhoda BATEMAN
1872
CERTIFIED COPY of an ENTRY OF MARRIAGE
Parish Church, Kendal, Westmorland
When married
Name
Age
Condition
Profession
Residence
Father's name
Father's occupation
4 November 1872
Joseph KNIGHT
20
Bachelor
Carpet weaver
Kendal
Joseph KNIGHT
Weaver
Rhoda BATEMAN
17
Spinster
-
Kendal
Robert BATEMAN
Office clerk
Witnesses:
Nicolas Bateman, Mary Knight
Marriage of Alexander KNIGHT and Mary METCALF
Alexander KNIGHT
Mary METCALF
1878
CERTIFIED COPY of an ENTRY OF MARRIAGE
St.George's Parish Church, Kendal, Westmorland
When married
Name
Age
Condition
Profession
Residence
Father's name
Father's occupation
4 November 1872
Alexander KNIGHT
20
Bachelor
Carpet weaver
Kendal
Joseph KNIGHT
Weaver
Mary METCALF
18
Spinster
Servant
Kendal
James METCALF
Tattler
Witnesses:
William Henry Colman X, Isabella Colman
Death of Mary KNIGHT
CERTIFIED COPY of an ENTRY OF DEATH
Kendal, Westmorland
Where & when died
Name
Sex
Age
Occupation
Cause of death
Informant
When registered
17 October 1892 ... 113 Stricklandgate, Kendal
Mary KNIGHT
Female
31 yrs
Wife of Alexander Knight, an Insurance Agent
Uterine haemorrhage, Premature parturition syncope, Certified
Alex Knight, widower of deceased, present at the death, 113 Stricklandgate, Kendal
18 October 1892
Marriage of Alexander KNIGHT and Sarah SWINBANK
Alexander KNIGHT
Sarah SWINBANK
1894
CERTIFIED COPY of an ENTRY OF MARRIAGE
Parish Church, Warton, Lancaster
When married
Name
Age
Condition
Profession
Residence
Father's name
Father's occupation
6 August 1894
Alexander KNIGHT
34
Widower
Insurance agent
Lounds Road, Kendal
Joseph KNIGHT (deceased)
Weaver
Sarah SWINBANK
35
Spinster
-
10 Hunter Street, Carnforth
Anthony SWINBANK
Labourer
Witnesses:
Joseph Knight, Margaret Ellen Swinbank
Marriage of William McNORGAN and Rebecca CROWE
William McNORGAN
Rebecca CROWE
1897
Birth of Alexander Swinbank KNIGHT
Alexander Swinbank KNIGHT
1900
CERTIFIED COPY of an ENTRY OF BIRTH
Kendal, Westmorland
When & where born
Name
Sex
Father's name
Mother's name
Father's occupation
Informant
When registered
27 June 1900 ... 10 Ferney Green, Kendal
Alexander Swinbank
Boy
Alexander KNIGHT
Sarah Agnes KNIGHT, formerly SWINBANK
District Superintendent of Life Assurance Company
A. Knight, Father; 10 Ferney Green, Kendal
4 August 1900
Birth of Rebecca McNORGAN
Marriage of Alexander Swinbank KNIGHT and Rebecca McNORGAN
Alexander Swinbank KNIGHT
Rebecca McNORGAN
1903