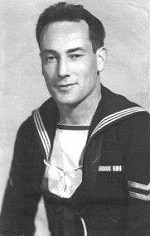 "Why not put my email address on your site somewhere and add something to the effect that there is an old geezer down in Dorset who is willing to share BMD certificates, census returns and photos with anyone who has a family connection?"
Neville's sea stories
I experienced three firsts whilst I was serving on the Wilton - my first flight on an aeroplane, the first (and only) time I fell overboard, and my first taste of surgery. I also managed a trip through the wilds of Scotland.
The Harvard
I have mentioned elsewhere that our duties on the Wilton were to be safety ship for naval pilots learning the art of taking off and landing on the flight deck of an aircraft carrier. One of their shore bases was near Campbeltown on the west coast of Scotland. We paid a call there one weekend for shore leave. It was announced that anyone wanting to have a trip in an aircraft could do so. Not many of the chaps took advantage of this offer, many of them expressing doubt about the expertise of the pilots. I decided to have a go.
We were taken out to the air base and given a short lecture on the 'Mae West' and how to use a parachute. No joking. It was a wonder that the small number of us who turned up didn't dwindle even more. The navy ground crew who fitted our parachutes expressed the belief that we were mad.
Then we were on the tarmac and I was being introduced to the pilot, who turned out to be Canadian. Nice chap. I was helped into the rear seat of a two-seater plane with one propellor - a Harvard trainer. The next thing I know, we are moving down the runway, then into the air. The pilot had warned me before not to touch anything, and being a good seaman, I obeyed. We headed out to sea with the pilot talking to me over the intercom.
I wasn't airsick, so he suggested a few aerobatics. It seemed like a good idea and I managed to survive them without needing the sickbag. If I remember right, he allowed me to hold the joystick for what must have been all of five seconds. It was great! He then proceeded to skim over the surface of the sea at what seemed to me a very low altitude. In fact, we were so low I don't think it qualified as altitude. I was convinced I could see sea spray on the cockpit windows.
In next to no time we were landing safely on the runway. The trip only lasted about twenty minutes, but it was a great experience.
Losing my hat
We were sailing into our base on Rosyth, which is on the Firth of Forth on the east coast of Scotland. I was working on deck, getting the ship ready to enter port. I was on the starboard side, helping to secure the seaboat, a small wooden craft. It was raining, and I was wearing my seaboots and an oilskin on top of my work uniform. I was working outboard of the seaboat with my back pressed against the guardrails. I had a lanyard round my waist with my knife attached.
The next thing I knew I was looking up at the ship as it moved slowly past me. I was in the water (or Oggin, as we seamen called any stretch of water). The ship was about fifty yards from the jetty and had hardly any headway, so I was in no great danger. My oilskin had ballooned up around me, the air trapped by the lanyard round my waist. Just as well, really, for my seaboots had filled with water and were quite heavy.
Someone on the ship had thrown out a lifebelt and lowered a rope ladder. I spluttered to the side of the ship and climbed the ladder onto the deck. I was told to go and change, and report for duty in ten minutes. I was also told that I would be lucky not to be charged with leaving the ship without permission. This was a joke - I think!
The net result was that I had an unwanted bath in cold water, and lost my cap. It floated away before I could rescue it.
Surgery and Scotland
We were headed for Londonderry down Lough Foyle, which is on the north coast of Ireland. Again, I was on deck preparing the ship for entering port. I began to feel very unwell. I had a nasty pain in my side, and a headache. I didn't report sick, but carried on working. The next thing I knew, I was in the sickbay being messed about by the sickbay tiffy. A short while later we had secured alongside and I was whisked away in an ambulance. They took me to the naval air station, HMS Eglinton.
The nurses there put me on a drip of some kind and I drifted off to sleep.
A day or so later the doctor, Commander Watts, told me he wasn't sure what the trouble was but he would like to do an exploratory operation. I said it was fine with me, so the following day I was taken to the op theatre. A little later I woke up to be told that I had some inflammation in the angle between the bowels. I was also informed that my appendix had been taken out, seeing as how the surgeon was in the vicinity. I spent the next two weeks in hospital, with my ship long gone.
I was eventually told I would rejoin my ship. It was now in Invergordon, a small port near the entrance to Cromarty Firth on the north-west coast of Scotland. I was to leave the next day and go by train to Belfast. I would not be taking my kitbag or hammock with me as my wound had not fully healed and my kit was too heavy to lug around. I was a little put out, for in those days if one spent time in hospital one got ten days sick leave. I was informed that my sickleave time had been used up waiting in hospital for my ship to return.
So the next day arrived, and I set off for Invergordon with train tickets and chits to buy meals with. I got to Belfast and caught the overnight ferry to Troon on the west coast of Scotland. Next morning I took the train from Troon to Glasgow, and another train to Invergordon. I arrived there in the early evening and started looking for my ship. Not only was there no sign of it, there were no naval ships in sight - just a few fishing boats.
I wandered round until I found the Harbour Master's office. He informed me that HMS Wilton had not been in Invergordon for months! At this point I felt sorry I hadn't taken the train down to Liverpool when I was in Glasgow. I had been tempted.
Anyway, the Harbour Master, who turned out to be a former naval officer, said he would find out where my ship was and sort things out. He took me home, where his wife fed me and lent me their spare room for the night. Next morning after a good breakfast the Harbour Master informed me that he had discovered that my ship would call at Scapa Flow the following day. Scapa Flow is in the Orkney Isles, off the north coast of Scotland - in other words, at the back of beyond. My new friend gave me a train voucher and some meal chits and sent me on my way.
The journey from Invergordon was a lonely trip, but the train passed though some lovely countryside. I eventually arrived at Thurso, the most northerly town on the British mainland. I found a cafe, and a friendly waitress allowed me to spend some of my meal chits on cigarettes. I meandered down to the docks. I had been told that there would be a fishing boat willing to take me out to Scapa Flow. Sure enough, after a few enquiries I found the boat I wanted and off we went. I forget how long it took to get to Scapa - a couple of hours, I think. When we arrived, the fishermen waved me goodbye and sailed off ...
I had never been to Scapa Flow before, though I knew in times of peace it was pretty desolate. In wartime the Grand Fleet used to anchor there in a large natural harbour. It was in that harbour that the German High Seas Fleet surrendered at the end of the First World War. They subsequently scuppered 51 of their ships. And at the beginning of the Second World War the Royal Navy Battleship HMS Royal Oak was sunk whilst anchored there with the loss of over eight hundred lives. A German submarine had got past the boom defences and put four torpedoes into her.
And desolate it was. After saying goodbye to the fishermen I did not see a single soul. Plenty of seabirds, but no humans.
About a mile from the jetty were some Nissen huts and a couple of stone cottages. I strolled over to them, with still no sign of any inhabitants. I went into the first hut - the door was open - and on the table I found a note addressed to "Sailor". I guessed that was me. The letter informed me that there was a meal in one of the side rooms (there was - a salad) and that I would find a bed in one of the other rooms. After an hour or so, with only the birds for company, I went to bed.
The next morning I was pleased to see a human face. It was a local, who told me my ship would be putting in later that morning. He made some tea and told me he worked at the oiling jetty when required. He also told me one of the cottages served as a small shop and I would be able to get some cigarettes there. The lady serving was kind enough to let me have some on tab. An hour or so later I spied my ship entering the harbour so I made my way to the oiling jetty. The ship came alongside, I hopped aboard, and the ship steamed out to sea again. She didn't even stop to refuel. I guess she didn't need any.
The outcome of this interesting episode was that I still owe that kind lady for a packet of ten cigarettes. Also, for the next five months I had no kit of my own, for it took my kitbag and hammock that long to catch me up. Until it did I had to sleep on the mess table bench.
I also met up again with the doctor who had operated on me. It was in Hong Kong, whilst I was serving on Cockade. I was in the base hospital after falling from the second floor of the China Fleet Club. Dr. Watts was in charge of the hospital. He remembered me from Ireland. I am happy to say I had no serious injuries, just cracked ribs and a broken arm. As to how I came to fall from a balcony in the China Fleet Club, well, that's a story I think I will keep to myself.
Kinrarra
When I was serving on the Cockade in the Far East we were required to go into dry dock at the naval base in Singapore. Whilst the ship was in dry dock, we lived in the naval barracks built for the Navy just before the war by the generosity of the Sultan of Johor.
Due to a lapse on my part of my usual strict adherence to NAVAL DISCIPLINE whilst in Hong Kong, I was labouring under the restriction of being "second class for leave". This meant that I was restricted to the ship for three months, with no shore leave.
Around came Christmas, and it seemed like a lifetime since I had enjoyed a run ashore. Being single and unattached, I decided I would celebrate Christmas by having a Singapore Sling in the famed Raffles Hotel in Singapore, and perhaps take in a few highlights of that exotic port.
A couple of friends helped me to evade the patrolmen at the gates of HMS Terror, the naval barracks, and I made my way into Singapore, a few miles away. I sampled the Singapore Sling, then proceeded to the Union Jack Club for a meal and a few drinks. With the terrorists active in Malaya there were a lot of soldiers around, and the Club was a very popular place to wind down.
The next bit is rather hazy. I remember being held by some military policemen and then taken back to the naval base. There I resided in the cell block until I was up before the Captain's table as a defaulter. The outcome was that I was sentenced to three months in detention on a charge of breaking ship whilst under second class for leave.
The Navy didn't have a detention centre in the Far East. The Army had two - one in Hong Kong, and the other up-country in Malaya. I was destined for Malaya. (In case you are unfamiliar with the geography of that area, Singapore is an island off the tip of Malaya. At that time it was part of the Malay States, but is now independent.)
A couple of days later I was taken to the train station in Singapore and boarded a train for Kuala Lumpur. To escort me I had a Leading Seaman and an Able Seaman, both off the Cockade, so I was among friends. We were all armed with a .303 rifle and ammunition. I say all, but in my case I carried the rifle but the Leading Seaman carried my ammunition. The reason for the arms was that the communist terrorists were active, and it wasn't unknown for them to attack a train during its journey through the miles of jungle.
Next morning we arrived at Kuala Lumpur and then proceeded to Her Majesty's corrective establishment in Kinrarra, which was a few miles outside the town. My escort quickly left me to the tender mercies of the Army.
I was processed, and had an interview with the camp Regimental Sergeant Major which was noisy but very enlightening. The "staff" running the camp were all of sergeant rank and above. They were members of the Military Provost Staff Corps (MPSC), or as we prisoners called their unit, "Mashed Potatoes Sausage and Chips". They were all big men physically, and short-tempered, but in the main, fair. Our quarters were large Nissen huts, each big enough to house about thirty men. Our duties during the day consisted mainly of hard work, digging what to me were useless ditches in a swamp. It was a job I didn't particularly like, for there were a lot of snakes about.
Part of the camp was cordoned off, and the guests there were Asian soldiers - Gurkhas, Chinese and Indians. We had one main meal a day. It consisted mainly of soup. We ate it sitting on the ground. There were lovely tables and benches near the cookhouse, bleached white from the sun and our scrubbing, but we were never allowed to use them. To eat our midday meal we were issued with a spoon and a fork. These we had to hold in our right hand, which was held as far up our back as possible (for they were possible weapons) as we doubled up to the table to collect our food. At the table we would first take a salt tablet, then an anti-malaria tablet, and we were required to swallow them in front of one of the staff. Then we would grab our bowl of soup and march away to eat it.
When we were finished - which didn't take long - we would stand in a line and one of the guards would go down the line giving each man a cigarette. Another guard would follow him, lighting them. We would then stand at ease, smoking away, with the guards shouting at us to puff! puff! puff! We were swaying on our feet from smoking our one cigarette of the day so quickly. When the guards decided we had smoked enough, we were made to double past a bucket of water and drop the remains of our cigarettes into it, with the guards making sure we did so.
The reason for the guards' impatience was that when we had finished our cigarettes we were locked up, and the guards hastened away to their canteen to swill down a few beers.
First thing in the morning, we all had tasks to do before we got our breakfast diet. Mine was to clean out the bathroom. One morning the guard on duty must have had a bad night, for he was in a foul mood. He ordered us to scrub by hand the monsoon drain that ran down the side of the road. These ditches are a feature all over the East. They are usually about a yard wide and the same deep, big enough to carry away the monsoon rains.
I decided I would put a deaf ear to his order, and carried on with my usual task instead. This was not a wise move. After about ten minutes he found me in the bathroom, and was not amused. Just my luck to have a guard on duty that morning who could count. The next thing I know I was being doubled away to be placed on report, and the following morning I was up before the commandant. The outcome was a sentence of three days PD1. That stands for Punishment Diet 1. It meant I would spend three days in solitary confinement on a diet of bread and water.
So off to solitary I went. The cell was the usual small cell with no furniture except a bucket (for personal use) and an army water bottle which was filled with water as soon as I had "registered". About six in the evening, the guard appeared with the evening diet, which consisted of a chunk of bread weighing about four ounces. The first night, he chucked the bread through the cell bars. I must have resented that, for I threw the bread back. The snag was, he kept it.
He came around later with a mattress to lay on the floor, and a blanket to make me cosy. The next morning at about six he appeared again with another chunk of bread, my morning diet, and this time he handed it to me. Honours even.
The three days passed slowly, the main problems being lack of company and boredom.
Being a slow learner, I was put on report again a couple of weeks later. I can't remember exactly why, but I'm pretty sure it was for failing the kit inspection that we had every morning. When I had first arrived I had been issued with army kit - belts, pouches and assorted bits and pieces. These had to be cleaned and laid out in what was to me an intricate pattern. One's mosquito net had to be folded so that it opened like a book. All good stuff.
Anyway, I must have failed the inspection one morning, for there I was, up before the camp commandant again. After listening to the RSM's report, without looking up, the commandant sentenced me to three days loss of remission and stated that he would personally examine my kit in a week's time, and it had better be perfect. The RSM shouted "About turn!" and other orders to double me away from the table and out of the office. I stayed put, not moving a hair. The RSM began bellowing again, but I held my ground. After what seemed an eternity, the commandant looked up and asked if I had anything to say. I then proceeded to explain to him that I had been due for release the following morning, and that the loss of remission was in order but he would not be able to examine my kit in a week's time, for even with three days loss I would have been due for release in four days.
He looked at me for a while. He had my papers in front of him, but I don't think he realised I was due for release the next day. Finally he said that I would be admonished on the charge, that the RSM would examine my kit in the morning, and that if it was up to standard I would be released.
I was one very happy sailor.
When I was marched out of the office the RSM exploded. I can't blame him really, but if I hadn't stood my ground it is quite likely that I would still be in the place. That evening the army lads in the hut worked on my kit. At inspection the next morning it would have done credit to a Grenadier Guardsman. After a lot of huffing and puffing the RSM passed it as reasonable. An hour later, laden down with my kitbag and rifle, plus ten rounds of ammunition, I was dropped off at the railway station at Kuala Lumpur. The train to Singapore wasn't due to leave until later that day.
There was a forces canteen nearby, so I made my way there to enjoy my first taste of freedom. I had no money and no cigarettes and all day to kill. My immediate prospects didn't look good. After about an hour who should enter the club but one of the guards from the camp. He wasn't a member of the MPSC but a member of the military police, training to transfer to the MPSC. His wife was with him. He spied me sitting in a corner and came over. I stuck out like a sore thumb, for I was in Navy blue and everyone else was in khaki. The nice chap bought me a beer and a packet of cigarettes. He was the first of many soldiers who treated me to a beer that day. They all knew where I had been and wanted to be extra friendly. Aboard the train later that evening the Officer in charge of the train came around and organised anti-terrorist watches throughout the night. He took one look at me and decided I would be less of a threat to the train if I was left to sleep. A wise decision.
I arrived in Singapore next morning. Well, not quite Singapore, for I in my usual alert way had got off the train at Johor Baharu, the stop before. Although it was nearer the naval barracks than Singapore, Johor Baharu was on the far side of the causeway joining the mainland to Singapore Island. How I got back to barracks is a story in itself. It required a visit to the local police station, phone calls from there to the ship, and finding a friendly taxi driver who would trust me to pay up when we got to barracks, plus one or two little incidents.
On being released from detention one was required to go before the captain. This I did, where I was informed that I would start second class for leave all over again. No big deal, for thankfully we flew home to England about three weeks later, where I proceeded on three weeks leave.
So ended my time on HMS Cockade, another happy ship.