Royal Navy ships on which Neville served
HMS Vanguard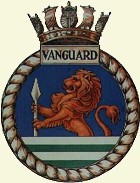 I joined the Vanguard in September 1950 at Weymouth. It was my first visit to the town that was to become my home. The Vanguard was the last Battleship in a long line in the Royal Navy. I did my sea training aboard her during a cruise that took us first to Gibraltar, then Lisbon, the Madeira Isle and Cape Verde Isle. I remember thinking at the time how I had chosen wisely to join the navy. That view altered only a little over the next few years.
Before we went on that cruise I managed to get a weekend off to attend my sister June's wedding. That was the only wedding of my siblings that I managed to attend.
HMS Wilton
I joined my first working ship, the Wilton, again in Weymouth. It was a Sunday evening in February and there was a gale blowing. We sailed next morning for Londonderry and I remember being sea sick. We were based in Rosyth, Scotland, but spent a lot of time at sea. Our job was to act as safety ship for an aircraft carrier and the navy pilots who were learning to take off and land from the carrier deck. These days this task is carried out by helicopters. We circumnavigated the British Isles about three times, calling in at ports in England, Ireland, Scotland and Wales.
I spent two years on the Wilton. It was a happy ship.
HMS Cockade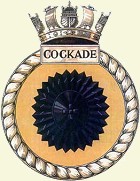 I joined Cockade in Hong Kong after a four week trip out there in a troopship that was full of soldiers on their way to Korea. The war had ended when we got there - "they must have heard I was coming." Cockade was part of the Eigth Destoyer Squadron, China Station. Whilst on Cockade I visited Japan, Korea, Malaya and Singapore.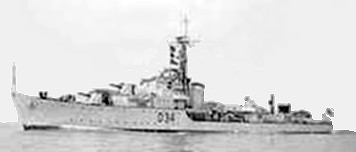 Whilst sailing off the coast of Malaya we would bombard areas of jungle where terrorists were thought to be. We also did patrols off Shanghai. A strange duty. At that time we traded with China and the USA did not. The US navy tried to discourage other nations from trading, intercepting ships in the South China Sea and warning them from proceeding. Our job was to look after the British ships to see that the discouragement didn't get out of hand. A captain of one of our sister ships in the squadron was credited with the following signal to headquarters after being told to head away by a US navy ship:
... I have no intention of taking notice of a signal of that nature from an ex colonial
or words to that effect. If true, a typically British response. On a more friendly note, we also took part in a large US Navy exercise to Iwo Jima in 1954: Exercise Mardivlex. Iwo Jima is a tiny island in the North Pacific on which there was a costly battle in the second world war. The US needed the island as a landing strip for planes going to and from Japan on bombing missions. The cost in lives for taking the Island was 6,000 US servicemen killed and the entire Japanese garrison of 23,000.
The Yanks were very generous. If in harbour with them, they were quick to send over big canisters of ice cream to our ship, an unheard of luxury for us. They would also loan us movies, which was good. On occasions we would exchange men for a day. Their meals were good. The Yanks, when on our ship, had a culture shock at meal times. They would make remarks to the effect that they wouldn't feed the hogs back home on what passed for our dinners. We would give them our rum ration to cheer them up. When my tour of duty ended after eighteen months we flew home, which was quite a change to our trip out there.
HMS Pickle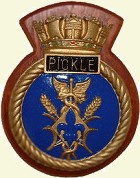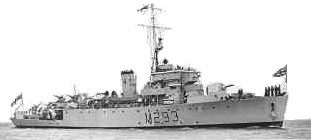 I joined the Pickle in Hull on a Sunday night, and on Monday morning we sailed for Norway. It was winter, and very cold. Our duty was fishery protection, looking after our deep sea fishing boats as they fished up in the northern seas. We also did a little spying on the Russians whilst up there. We sailed off Iceland and in the Norwegian and Barents seas.
We had special cold weather clothing - and we needed it. In the snow storms the radar wasn't much good so we had to do lookout in the bow of the ship. I remember how a film of ice used to form between one's eyelids. Our lookout stint only lasted twenty minutes at a time due to the severe weather.
We visited Tromso in Norway and saw the sunken hull of the German battleship Tirpitz. She was sunk by the RAF in 1944. We also visited Hammerfest, the most northern town in Europe. My legacy from that trip was frostbite on the rims of my ears. I didn't even get a "Blue Nose certificate" for sailing Arctic waters. Because I joined the ship on what was termed a "Pier Head Jump", at the last moment before sailing, I wasn't on the list to get one. A side line: it was a ship named the Pickle that brought the news to England of the victory at the battle of Trafalgar. At that time Pickle was a sloop - a small fast boat.
HMS Osprey
I joined Osprey in May 1959. At first Pat, Linda and I stayed with Pat's parents. We then moved to a small cottage in Preston, a small village outside of Weymouth. Just before Janice was born Pat's divorce came through and we were able to get married. I was at Osprey for over 12 months.
HMS Alcaston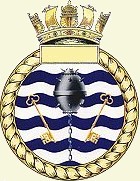 Alcaston was a small wooden coastal minsweeper. Wood made it less attractive to magnetic mines, but very attractive to the Teredo worm. This small sea creature was resposible for our time in the Mediterranian being cut short. It has a liking for a wooden ship's structure under water. Our vessel's bottom hadn't been copper sheathed so we became a victim to its appetite. In the few months we were out there we managed to take part in the Suez debacle. That was the skirmish with Egypt, who had taken over the Suez canal. They had sunk ships and laid mines in Port Said, and we went there to help clear them. However, the Teredo worm won the day and we had to sail home to Plymouth to colder waters where the worm wasn't active. I joined HMS Orwell in Plymouth.
HMS Terror
I was to spend eighteen months in Singapore. I can't say it was a happy time. Pat was now pregnant with Linda, and times for both of us were not easy. We were not married, so there was no marriage allowance. I allocated all the money I could. In fact, the navy made me cut back on the allowance, saying I wasn't allowing myself enough money for uniform renewal and living expenses. I used to do extra night watches for other seamen for cigarette money. Linda was born after I had been there a month or two. She was ten months old before I got back to Plymouth and saw her for the first time.
HMS Orwell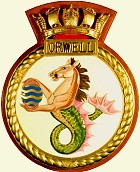 I only spent a few months on the Orwell before I got a draft to the Far East again. This time it was to be a shore base in Singapore, HMS Terror.
Whilst on the Orwell, Pat was still in Plymouth, so we were able to spend a couple of happy months together.
HMS Osprey
After Norway I sailed on the Pickle to Portland where we paid off ship. I joined HMS Osprey, the Naval base on Portland.
It was there that I met Pat, my wife to be. Pat worked at the White Ensign Club in Weymouth. It was a navy club that had a restaurant, bar and sleeping accommodation. Pat worked in the bar. We became friends, then more than friends.
After a few months I was posted to Plymouth. Pat came down and stayed with an old school friend of hers. After a few months in Plymouth I was posted to HMS Alcaston, based at Malta.
HMS Girdleness
I flew out to Malta to join the Girdleness which was an experimental guided missile ship. Whilst aboard her we visited Naples with trips to Rome and Pompeii. I served aboard her for about eighteen months. I then returned to Plymouth to be demobbed.
So ended my 12 years in the navy. I guess I would hardly recognise the Navy of today. The pay and conditions are far better now. They have bunks aboard ship where we had hammocks; they have a choice of meals, whereas our choice was to eat what was dished up or do without. Time spent away from home base is much shorter. They no longer have a rum ration, and there are woman aboard ships. I can't say I agree with women aboard ships, but then a woman's role in life seems to have changed out of all recognition to what it was when I was young.